Multi platinum-selling US singer-songwriter MAX has revealed his highly-anticipated album "Colour Vision". Following up his smash hit singles "Lights Down Low", "Love Me Less" ft. Quinn XCII and "Working For The Weekend (feat. bbno$)", the album is a world-class pop moment from the artist named a "Young Pop God" by GQ, named a "top popstar to watch" by Billboard, and nominated for "Best New Pop Artist" at the 2019 iHeartRadio Music Awards.

The album features MAX's addictively melodic collaboration with pop songstress Hayley Kiyoko, "Missed Calls", and a new track featuring Suga of record-breaking, Billboard number #1 K-Pop band BTS, titled "Blueberry Eyes", which has already surpassed 2 million views on YouTube.

Garnering more than 1.2 billion streams and touring the world multiple times over, MAX yielded an inescapable smash with "Lights Down Low", which generated over half a billion streams globally and is certified triple platinum in the US, platinum in Canada and gold in Holland and Australia.

"What people loved about 'Lights Down Low' was the story – I'd never been more honest," said MAX. "I only scratched the surface on Hell's Kitchen Angel though. I'm taking even more risks on my next album, Colour Vision. I want to be as authentic as possible whether it is about losing people in my life or just who I am as a person."

He followed up with his hit single "Love Me Less" ft. Quinn XCII. The song is certified gold in the US, reached No. 17 at Top 40 radio and has accumulated over 170 million streams worldwide.

MAX's new music continues to dive deeper into the idea of being true to who you are; whether that be by wearing what you want to wear, loving who you want to love, or just feeling accepted.


Interview with MAX
Question: How would you describe your music?

MAX: Honest, colourful, soul


Question: Can you tell us about your album Colour Vision?

MAX: Colour Vision is a full arc and reflection of my own story finding my voice again and being reborn in a sense after being silent through a vocal surgery for 4 months. It's really an album of embracing new perspective and the journey to get back to yourself and your own joy.


Question: Is there a particular message you hope listeners take from your music?

MAX: I hope people hear their own stories within different songs and that triggers something for them. Whether it's following their dream they've been putting off, feeling the spark of magic and inspiration, or just accepting feelings that they'd be ignoring deeply within themselves.


Question: What was your first performance?

MAX: I was 5 years old, king of the oopa loopas in Charlie And The Chocolate factory in the woodstock youth theater.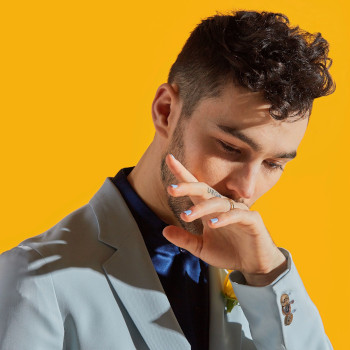 Question: Do you prefer performing live or recording?

MAX: LIVE LIVE LIVE LIVE


Question: If you could have anyone, in the world, attend a show, who would it be?

MAX: Wow this is a good one. Justin Timberlake or Barrack Obama. I'd be scared beyond belief but worth it.


Question: What moment in your musical career stands out the most?

MAX: I remember doing a show with my friends AJR in Boston a few years back. I sang my song Lights Down Low and thousands of people who I knew were new to me sang every single word. The magic of that room with people who weren't fans originally having a song of mine mean something so deeply to all of them was a moment I realized it all stemmed far beyond my own experience.


Question: What or who was your inspiration to go into the music industry?

MAX: I had no choice really it's just in my blood. I'd do anything to do music and I have in many ways. Some things you just now you're meant to do and fight for.


Question: If you could collaborate with another artist, who would it be?

MAX: Stevie Wonder would be a dream. Always been a fan and he's an idol of mine of course.


Question: What is the biggest challenge you have faced along the way to your musical success?

MAX: Fighting for my vision. Some people don't always get it and those people hold a lot of power to getting the music or visual heard and seen. That continues to be a challenge at every step but always worth the battle.


Question: What's a typical day like?

MAX: Soak up a few moments with my wife and my dog just taking in the morning for a bit. Eat some breakfast and check all of my phone stuff. Dive into recording or shooting or planning or rehearsing for most of the day. Interviews etc. Then back home to soak up time with my family and maybe watch stark tank or a new show we're obsessed with. Sleep. Sleep. Maybe a snack. Sleep


Question: What has been your favourite part of becoming a music artist?

MAX: The connection with humans you've never met. There's nothing like truly connecting with someone like you've known them your whole life just through their experience with music.


Question: What's next, for you?

MAX: A whole lot more of the same, just continuing to push the boundaries and creativity with my music. Working with people I love. Of course about to be a first time dad so that I'm ready to have complete flip my world in the best way ever.


Question: Can you share your socials? (links please)

MAX: YouTube
Facebook
Instagram
Spotify


Interview by Gwen van Montfort