Gold Coast local Talia Rose releases her indie, alt-pop tune 'Losing My Mind' through independent record label Beets & Bears.
With brooding lyrics blended with an alt-indie touch, newcomer Talia Rose debuts on the Australian music scene with her first single 'Losing My Mind', drawing inspiration from a relationship with an ex-girlfriend.

"It's about a relationship that isn't working even though you want it to. You've both hurt each other in the past and thought you could move past it but couldn't," Talia explains.

Born in 2001 in Blenheim New Zealand, Talia grew up performing music with her parents. She competed across New Zealand in country music competitions, winning multiple awards and at only 11 years old, Talia was awarded with a trip to Sydney for a session with ARIA-nominated artist Timomatic.

Talia made the move to Australia in 2011, and at only 16 moved out of home. Living on friends' couches, she busked her way from Darwin to Sydney before winding up on the Gold Coast in 2019.

Inspired by the likes of Billie Eilish, Benee and Ariana Grande, Talia continues to build her own sound with strong, soulful vocals and deep atmospheric soundscapes, with plenty of new music on the horizon.

'Losing My Mind' is out now on Beets & Bears.


Interview with Talia Rose
Question: How would you describe your music?

Talia Rose: I would say my music is a combination of genres and styles that reflects moments in my life. I love experimenting with my sound, so I love putting quirky unique flares in my songs. All my songs are really honest as well, which I always love in music.


Question: Can you tell us about Losing My Mind?

Talia Rose: 'Losing My Mind' is about a relationship I was in at the time that was really unhealthy. We were both trying to hold onto each other because we loved each other, but we'd both changed a lot and it was really taking a toll on both of us trying to make things work. After I got the final version of the song and listened to it, it really made me realise how painful it was putting myself through something that was making me feel so empty. So, I would say the song is about accepting that it's okay to let someone go in order to be happy. Sometimes it's better to keep the good moments you have with a person as happy memories, rather than driving yourself crazy trying to get back what you lost.


Question: Is there a particular message you hope listeners take from your music?

Talia Rose: I would just love for people to feel like someone else understands them. I write about things that I've experienced and are real to me, and I think that makes it easier to relate, because its genuine and authentic. Each song I write will no doubt have a different message, but as a whole I would just love for people to feel understood.


Question: You're very independent, how has this influenced your music?

Talia Rose: I've had to learn how to support myself, which I think has really helped me a lot when it comes to being resilient and not listening when people tell me that I should give up. I moved out of home at a really young age, so I've had to rely on myself to get things done a lot of the time instead of waiting around for someone else to do it for me. It's taught me to take initiative and put myself out there, and also not to dwell on things if a door gets shut in my face. I'm not sure if it's influenced the kind of music I create, but it's definitely had a huge impact on my career as a whole and getting my foot in the door.


Question: Which is your favourite song to perform live and why?

Talia Rose: I do a cover of 'Crazy' by Gnarls Barkley, and that's one of the most fun songs to play at a gig. Everyone knows the song and gets really into it, but also I love taking songs that are well-known and adding my own spin to it, and that song is a really awesome one to play around with.


Question: If you could have anyone, in the world, attend a show, who would it be?

Talia Rose: Missy Higgins. She was the first musical idol I ever had and I would so love to have her attend a show. That would be so crazy!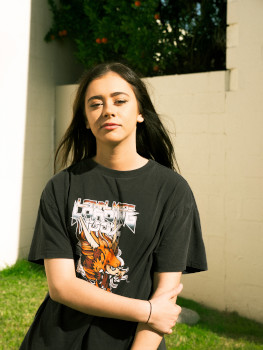 Question: What motivates you most when writing music?

Talia Rose: Honestly, the process of writing the song is what motivates me most. It's so exciting when you start working on a concept for a new track and then get to watch it blossom as you go along. I get so hyped up every time the song progresses, the anticipation is definitely the most motivating part of the process.


Question: Which music/artists are you currently listening to?

Talia Rose: I'm into a whole bunch of music but some of my favourite artists right now are BENEE, Kehlani, Jessie Reyez, Billie Eilish and Alexander23.


Question: What was your first performance?

Talia Rose: The first time I performed I was three, and I was competing in a country music competition in my small hometown in New Zealand. I don't really remember it very well because it was so long ago, but I know I always loved it. My whole family was really into those competitions and we travelled around New Zealand for most of my childhood competing in different shows. Those are what all of my favourite memories from growing up are based around.


Question: What or who was your inspiration to go into the music industry?

Talia Rose: I actually was watching the Grammys for the first time at the start of this year and listening to all the speeches, and I realised that all of them used to just be normal people with a dream too. I mean, two of my favourite artists are Billie Eilish and FINNEAS, and they just started making music in their bedroom one day and look where it got them. I don't think I'll ever get close to that kind of success, but it was really inspiring to hear all these artists that I've looked up to for ages talk about where they came from and how they got into the industry, and I kept thinking about it for a few days afterwards. After that I just decided that I wanted to try and see if I could get anywhere with my music.


Question: Was there a moment you contemplated throwing in the towel?

Talia Rose: Absolutely! When I was in my last year of school I was taking music as a subject, and I remember after every grade came back I would feel really disappointed in myself. Even though I passed the class, I was really struggling with managing my anxiety at the time, and standing in front of a group of people telling me whether I was good enough or not was a lot of pressure that I didn't know how to cope with. My self-confidence took a huge hit, and once I graduated, I sold my guitar and stopped writing music and performing for over a year. I kind of just had a lightbulb moment though at the start of this year where I realised it was silly for me to give up what I have loved most my entire life just because I was insecure. I'm so glad I got back into it and kept working on it, because now I'm releasing my own music and that's something I honestly never thought I'd be able to accomplish.


Question: What's a typical day like?

Talia Rose: I wish I could say something cool, but realistically I'm at work most days. I work in fast food, so I'm there a lot of the time. Outside of that though, I have a dog who I love to take out to different beaches and trails to see the Gold Coast with, and I'm always learning new music so I take some time out as often as I can to play around with some songs for fun. I also cook a lot, and I'm actually getting pretty good at it which is an added bonus! It's often not really that exciting to be honest, especially with restrictions making it really hard to go out or to meet new people over the past few months, but I always find new ways to enjoy my time.


Question: What has been your favourite part of becoming a music artist?

Talia Rose: I love going into the studio and being able to write music. I've written songs since I was a kid, but it's such an awesome experience going into a studio and working really hard on a track and just dedicating your days to music. I'm sure one day it won't be as exciting, but at the moment it's still so new and I learn so much every time I go in. Songwriting is the best way to work through your feelings as well, so I always leave feeling so much lighter and really pumped.


Question: What's next, for you?

Talia Rose: For now, I'm going to keep writing more music to release in the near future, and hopefully soon I'll transition to gigging full time as well. I definitely want to dedicate more time to music and creating and just seeing where this goes, really!


Question: Can you share your socials? (links please)

Talia Rose: Facebook https://www.facebook.com/its.talia.rose
Instagram https://www.instagram.com/its.talia.rose
Spotify https://open.spotify.com/artist/6eYjrfBSmbl3b8TijVnW3T?si=hRXCyDt1Sbqfq-i8-sWbng


Interview by Gwen van Montfort