After wowing audiences with her breathtaking debut single and video Greenhouse in 2020, Montana Sharp is back with her magnificent follow up single Power – a layered theatrical pop track about the pros and cons of wielding emotional power as a woman in a romantic relationship. Once again collaborating with Majella Productions (Maddy Jane, Julia Stone, Ecca Vandal) to create a fittingly epic music video to accompany the enormous song Power, this spectacle was inspired by the one and only Queen of Hearts from Alice In Wonderland.

Power is not quite the empowering song you might think it is upon first listen – and this nuance is Sharp's strength. Evocative of Eurovision stars Kate Miller-Heidke and Montaigne, Power is a tour de force, propelled by cycling piano, impressive percussion and an all-encompassing chorus throughout which sees that powerhouse voice soar to new heights. Speaking on the inspiration behind this intriguing song, Sharp offers some deep insight, saying, "I think I grew up sold on the idea that my life would be magically 'fixed' once a man came to rescue me…I'd get into a relationship and expect the guy to 'save' me from my problems, and I'd be so disappointed and bitter when they inevitably couldn't - so I'd cut them off abruptly in order to regain a sense of control. I know people will listen to this song and think it's empowering, and perhaps it was when I wrote it - but I think the head that wears the crown was very heavy, and there's a lot more subtext within the story."

The video clip for Power is nothing short of spectacular. Set in the world of Alice In Wonderland with Sharp cast as the Queen of Hearts, the video is dark, moving, vibrant and more than a little unsettling. It's the perfect reflection of this complicated song; of reclaiming a power dynamic in a relationship, for better or worse. Reflecting on the making of the clip, Sharp explains, "I've worked with Majella before on the video for my song Greenhouse, and I loved how I presented them with a concept and they one-upped my idea by a mile. I had an idea of a superhero WonderWoman vibe, and they took that and came up with the Queen of Hearts/maze idea to represent the story behind the song. Although I don't have anywhere near that many ex boyfriends - and in my view I'm way too weird to pull off the 'hot heartbreaker' vibe, I absolutely loved how they brought the story to life!"

With a background in classical piano since early childhood and studying pop voice at Monash University, this highly trained, highly skilled musician has managed to marry complex chord structures and motifs found in classical music with modern pop songwriting conventions – resulting in utterly brilliant, captivating songs that are so uniquely Montana Sharp. And as a busy session musician by day with her work for others topping AMRAP charts, it's now time to shine a light on Montana Sharp the solo artist.


Interview with Montana Sharp
Question: How would you describe your music?

Montana Sharp: If a James Bondesque soundtrack had a baby with Pop you'd get Montana Sharp.


Question: What inspired your new song Power?

Montana Sharp: I guess I was at a point in my short 21-year-old life where I was noticing the same patterns occurring in my romantic and platonic relationships. I'd rely on someone to save me or fix me, they couldn't, so I'd leave. I wrote the song out of anger at the situation, but mostly at myself for continuously putting myself in the same power dynamic. I felt like it was my fate to just up and leave for the rest of my life (Hence: "Lord tell me why goodbyes are my power").


Question: Can you tell us about the music video?

Montana Sharp: I love it because it's set in a very fantastically colourful world. The Queen of Hearts runs through the maze past her bevvy of boys chucking red roses around, it's very symbolic of my own mind games. I worked with Majella Productions who are so amazing and creative, they go all out to bring my vision to life. It was a very fun day to shoot and the cast and crew were so enjoyable to work with.


Question: Is there a particular message you hope listeners take from your music?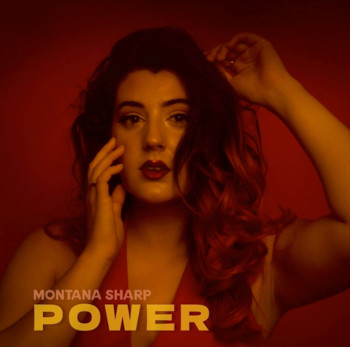 Montana Sharp: No there isn't really. I think I just like to relay how heightened the human experience can be sometimes, but there's so much scope within that to infer your own meaning based on your own story. Some people will listen to this single and think it's empowering, some will think it's full of angst - it's open to interpretation. No message here - just want to make my audience feel validated either way.


Question: Do you prefer performing live or recording?

Montana Sharp: So hard! They're different beasts. When you're recording you're connecting with yourself, when you're performing you're connecting with others - so I guess it's whatever you're in the mood for on the day.


Question: What was your first performance?

Montana Sharp: Can't remember my very first performance, but my first singing performance was when I did a duet with my friend (Hi Gaby Davis!) and we sang When You Look Me in The Eyes by the Jonas Brothers at our school's Soiree. I truly did not believe I had the guts to sing on stage but she convinced me that I had a good voice and here we are.


Question: Can we expect any upcoming shows?

Montana Sharp: Yes! I'm popping up around Melbourne. Next up is another show at the Wesley Anne and then another show at Open Studio.


Question: What motivates you most when writing music?

Montana Sharp: It's changed as I've gotten older. It used to be the need for catharsis, then it used to be the need to be a good songwriter or good artist, now I think I just enjoy the process of creating and turning something as fleeting as an emotion or lyric in your head into something a bit more tangible. That's very satisfying.


Question: Which music/artists are you currently listening to?

Montana Sharp: The Cranberries, Joss Stone, Fleetwood Mac.


Question: Did you always want to pursue a career in the entertainment industry?

Montana Sharp: I think I always wanted to be a mermaid, then a hairdresser, then a writer - the desire for a career in the entertainment industry became apparent in my teens, but I always wanted to write stories.


Question: If you could collaborate with another artist, who would it be?

Montana Sharp: Alanis Morissette!


Question: Did you have any pre-conceived ideas about the music industry?

Montana Sharp: Yes- that it would be difficult, and I was right! However, preparing myself for that reality has majorly softened the blow. In saying that, the idea of the music industry in my mind was very Hollywood-glamourised, and I think the Melbourne muso community is a lot more down to earth. Real people will find real people.


Question: What has been your favourite part of becoming a music artist?

Montana Sharp: It sounds cliche to say, but any opportunity or recognition that comes my way makes me feel like I'm making a childhood dream come true. Whenever the 24-year-old self feels self-critical, my 5 year old self chimes in and says: "holy f*** you're actually doing it though!" (just not in those exact words).


Question: What's a typical day like?

Montana Sharp: I wake up around 07:45am for work which is hard for me because I do not like mornings (don't worry my boss knows this). I watch youtube in the background while I get ready and do my makeup, usually just concealer and a bit of blush for a work day. I buy my large cap with one sugar, go to work, finish at five. I say I will cook dinner but me and UberEats are very good friends. My roommate comes home and we send each other TikToks while sitting next to each other on the couch. Then we say we're tired and go to bed, but still keep texting each other and sending TikToks two hours later. It's wild.


Question: What's next, for you?

Montana Sharp: Release EP at the end of the year, and then start the new one. In life? I'm not sure. I've gotten 4 grey hairs though this year so I'm guessing some more greys.


Question: Can you share your socials? (links please)

Montana Sharp: Instagram
Facebook


Interview by Gwen van Montfort