Morgan Spurlock One Direction: This Is Us
Cast: Harry Styles, Niall Horan, Zayn Malik, Louis Tomlinson, Liam Payne
Director: Morgan Spurlock
Genre: Documentary, Music
Running Time: 92 minutes

Synopsis: When Niall Horan, Zayn Malik, Liam Payne, Harry Styles and Louis Tomlinson auditioned for The X Factor in the summer of 2010, no one could have predicted the success they would achieve as One Direction. Just three years on, these five talented boys from across the UK have become global superstars, selling over 30 million records across the world and picking up a string of awards as they go - including their latest win of Global Success at the BRIT Awards 2013.

In the last year, they have embarked on a world tour - playing not only the UK, but also America, Australia and New Zealand - meeting fans who have loyally supported them from their first single release. They even became the first British band to reach No.1 in the US with their debut album Up All Night.

Their incredible and inspirational story is now a part of our music history. Here's their story...


One Direction: This Is Us
Release Date: September 19th, 2013



The Making of One Direction
In July 2010, five talented boys attended auditions for the UK's award-winning TV talent show, The X Factor. Their names were Niall Horan (from Westmeath, Ireland), Zayn Malik (from Bradford), Liam Payne (from Wolverhampton), Harry Styles (from Cheshire) and Louis Tomlinson (from Doncaster). They each entered the competition as solo singers, with dreams of becoming successful music artists. Their first task was to impress a panel of three judges - Simon Cowell, Nicole Scherzinger and Louis Walsh.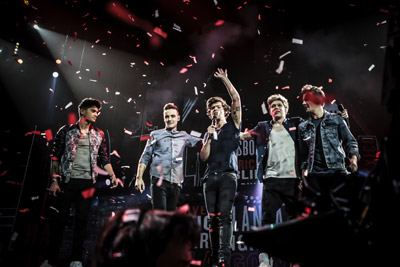 With their genuine talent and lovable personalities, all five boys made it through the first round with positive feedback, but it was at the Bootcamp stage of the competition, that they received some sad news - their auditions hadn't been strong enough to make it through to the next round. But with the judges determined not to lose them, the boys were offered a lifeline – if they were to join together to form a group, they could stay in the competition. With the chance of great musical success within their reach, the boys agreed to become a band – and One Direction was born.

"I didn't think I would ever want to be in a group," admits Zayn Malik. 'But when I was there and it was happening, and I knew the lads a bit, there was no way I was going to say 'no'."

Harry Styles continues, 'When we first got together we went to Wembley to see Take That and we thought, 'Yeah that's what we want to be doing." Fifteen years from now we want One Direction to be playing a gig together at Wembley."

As The X Factor went live across the UK, One Direction began impressing an average of 16 million viewers each weekend with passionate performances of Kim Wilde's Kids in America and Snow Patrol's Chasing Cars.

'We've all got quite different sounding voices and our own individual style," explains Zayn Malik. 'So we played up to that and played to each of our strengths."

During this time, fans were beginning to appear outside the London-based TV studio in the hope of meeting their idols. In the backstage green room, fan mail was being delivered by the sackful. When Niall Horan, Zayn Malik, Liam Payne, Harry Styles and Louis Tomlinson set foot on stage each Saturday night, the screams were deafening and it became clear that this new group were becoming a huge deal with the country's young music fans.

'It's been crazy but we love seeing the support," adds Zayn Malik, with honesty. 'There were so many people waiting for us outside."

On 12 December 2010, the boys took to the stage for the final time to perform She's The One with multi-million selling artist Robbie Williams. This was their last opportunity to impress the judging panel and the entire nation; to secure a future in the music industry. That weekend, One Direction were crowned the third place winners of The X Factor 2010.

Signing to Syco

Despite their success on the show, the boys had to face facts - they hadn't won the competition, and as a result weren't given the first prize of a record deal. Now, they were on their own and had to find the means to keep making music together. Although they made clear, disbanding was not an option.

"We came from nothing, and had no experience as a group at all. By the time we came to the end of the show, we were a completely different group," remembers Louis Tomblinson. 'We worked so hard, and achieved so much. We became really close mates."

Thankfully, there was someone who already had great belief in the boys; someone who could see that with some professional guidance and financial support, they could go on to be huge musical success. That person was their X Factor mentor, Simon Cowell – and just after Christmas, each member of One Direction received a call, asking them to attend a meeting at the Syco Records head office in London. That day, they were offered their first record deal.

Harry Styles laughs: "Simon Cowell was telling you your life was about to change! It was weird. I feel incredibly lucky to have the life I do."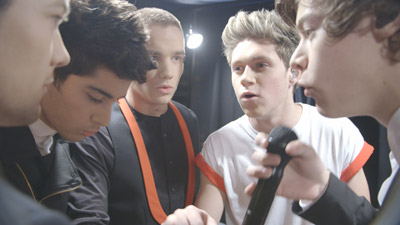 The Debut Album

Having signed to Syco Records, One Direction immediately began touring – spending two months travelling the UK with the X Factor Live Tour. They performed everywhere from Brighton to Aberdeen and met their growing number of supporters along the way. They even kept an account of their first experience -on the road' and put together a book, Forever Young, which went on to make the best-sellers lists that spring.

It was clear to anyone who knew them that these boys would work hard for their success. Their energy and passion for their new-found careers was contagious and once their first tour was complete, they excitedly headed straight into the studio to record their debut album with a brilliant team of well-respected writers and producers – including Rami Yacoub (Britney Spears, Backstreet Boys, Bon Jovi), Steve Mac (Westlife, JLS, Leona Lewis) and Red One (Lady Gaga, Jennifer Lopez, Sean Kingston).

'Basically, name one of the biggest hits of the past ten years, and the guys we worked with will be behind them," notes Niall Horan, excitedly. 'To even meet them was incredible. To work with them was even better!"

By the time Up All Night was released in October 2011, Niall Horan, Zayn Malik, Liam Payne, Harry Styles, Louis Tomlinson had already achieved their first No.1 single with What Makes You Beautiful (Rami Yacoub, Carl Falk, Savan Kotecha). It became the biggest single pre-order in Sony's history and the biggest track of the summer – selling an incredible 153,000 copies in its first week of release. The album followed suit, collecting the accolade of -fastest-selling album of 2011'. And it didn't stop there...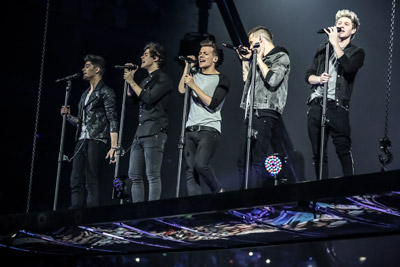 Going Global

While the UK continued to celebrate the success of this new pop phenomenon, the news came that One Direction had signed a record deal in North America with Colombia Records. It was now February 2012 and the boys were out touring the US and promoting their debut single on world-famous TV programmes such as Saturday Night Live and The Today Show.

Their hard work paid off - What Makes You Beautiful went in at No.3 on US iTunes – the highest ever single chart position for a UK band. And at the same time, the boys were beginning to be recognised for their staggering popularity and impressive sales figures.

In between playing the US shows, they were travelling between Los Angeles and London to pick up a string of prestigious awards. Also in February 2012, they won their first BRIT Award for Best Single – a tremendous achievement for any up and coming artist.

'I was genuinely quite close to tears," says Harry Styles quietly, thinking back to the moment he was on stage collecting the award.

Liam Payne interjects, 'It's amazing to think back to when we were first put together. Things have moved so quickly, it's got all of us in a massive state of shock. It's so surreal to think of everything - like winning the BRIT, doing our first UK tour, having our first number one. I can't believe all of this has happened to us five lucky guys."

All the while, hundreds of thousands of US fans were buying the debut album, and in March 2012, it was announced that Up All Night had entered the US Billboard chart at number one – a first for a British band and a sure sign that the boys had officially cracked America! In April they were awarded a Nickelodeon Kids' Choice Award for Favourite UK artist. Three MTV Video Music Awards followed, and then three MTV Europe Music Awards – including ones for Best New Act and Best UK & Ireland Act.

Harry Styles smiles, 'We actually can't believe we got a number one album in America. We're just teenage boys, how did that happen? And now we get to play some incredible venues out there. We're so lucky."

It wasn't just America either – Up All Night shot to number one in 17 different countries across the planet, including Australia, Sweden and Mexico. The group celebrated this astounding achievement by taking their tour from the USA to Australia and New Zealand – but not before announcing their most spectacular concert yet - a headline show at the incredible Madison Square Garden, New York – a place that has seen the likes of Michael Jackson, Elton John, Madonna and The Rolling Stones perform on the same grounds.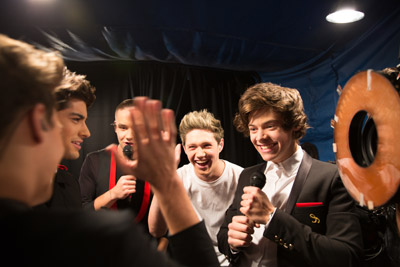 'You're never going to get used to having people scream at you," begins Harry Styles, thoughtfully.

While Niall Horan laughs, 'I love it. I love the screaming. The [fans] love it too: they've all got their tickets and they've waited a year to see you, so you've got to give it your best."

The Second Album…

In May 2012, the boys began recording their second album – once again, with a host of talented industry songwriters and producers in tow. Many of them had been a part of the creation of the debut record and had returned to work with the group – this included Tom Fletcher from McFly, who was joined by bandmates Dougie Poynter and Danny Jones to work on both lyrics and production.

Multi-BRIT Award-winning songwriter, Ed Sheeran, also contributed his expertise to the record, writing a stripped-back track called Little Things, to allow One Direction to show off their fantastic vocals with just an acoustic guitar for accompaniment.

'Second albums are the hardest," admits Harry Styles. 'We were a bit nervous before we started recording. But we have more experience this time, we had a bit more input and we've got better songs."

'It's more mature," adds Louis Tomlinson. 'We wanted the album to grow with us. We're a year older, our music sounds older. I do think it's a better album.

'Ed Sheeran is an amazing lyricist and we're very lucky to work with him. Tom is also a great writer and he writes great melodies. McFly are role models for us."

The sales spoke for themselves – as the release of Take Me Home was announced in September, pre-orders were once again at a record high with first single, Live While We're Young, going straight to No.1 in the pre-order chart in a staggering 50 countries. When Take Me Home finally got its much-anticipated unveiling in October, over a million copies of the album were sold worldwide during the first week of release. It has now topped the charts in 37 countries.

This Year

Having played their sell-out concert at Madison Square Garden in December, One Direction took a short break over Christmas – coming back in force this February, to be honored at the BRIT Awards once again with the award for Global Success and a nomination for Best British Group.

'It really is absolutely mind-blowing," says Louis Tomlinson, smiling humbly. We wouldn't be here without our amazing fans."

With yet another great achievement firmly in hand, the boys began working with tremendous British charity, Comic Relief, who work towards aiding under privileged people across the world. In fact, it was January when the boys had flown to the Ghanaian capital of Accra, where – together with workers and volunteers from Comic Relief – they had visited sick children who are in desperate need of support.

Liam Payne explains, 'I've watched Red Nose Day appeals before and been in tears. But seeing these babies so sick is another level of sadness. You just don't realise how hard life can be in other parts of the world."

On their return, all five members agreed they would record the official 2013 Red Nose Day charity single – the proceeds of which would go to Comic Relief. The single was decided on – it would be One Way or Another (Teenage Kicks), a cover of Blondie's 1979 hit and rather than making a professional music video to go with the track, the boys bravely created their own film while on the road. This meant the funds that would otherwise have been spent on a video, could be donated to Comic Relief instead.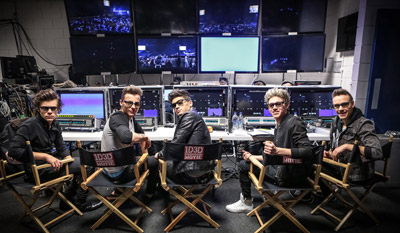 The song went in at No.1 the UK charts, and reached number 1 on iTunes in 63 countries on week of release - another huge achievement for these five young boys from the UK, who have worked tirelessly to not only make their dreams come true, but now support those less fortunate around the world.

So what does the rest of 2013 hold for One Direction? A world tour, of course!

With over 30 million records sold across the globe, the boys are off on tour. Right now, they're in the middle of visiting everywhere from Liverpool to London to Glasgow. In April, they will take the Take Me Home tour abroad – heading to Europe, North America, Canada, Australia, New Zealand and Japan – meeting and performing for the fans who have supported them since the X Factor days.

It will be while they're in the US that Niall Horan, Zayn Malik, Liam Payne, Harry Styles and Louis Tomlinson celebrate their third anniversary as One Direction - true global superstars.

Then, a new chapter will begin in the One Direction story. And who knows what they will achieve next…

One Direction: This Is Us
Release Date: September 19th, 2013