Melbourne songwriter Nat Vazer writes intimate guitar pop that unfolds like short fiction layered with rich melodies, emotional depth and whimsical storytelling with a bite of feminist defiance.
At the age of 5, Vazer started learning classical piano but became fascinated with an eclectic variety of artists having grown up in a household with her family's 60s and 80s record collection. A self-taught guitarist, she stole her father's guitar during highschool and started to learn Nirvana, The Strokes and Death Cab For Cutie based off internet guitar tabs. She soon began writing songs in highschool bands and recording on her computer using built-in microphones and free software. From there, her DIY ethic and love for recording in unorthodox places was born.

The last few years have been some of the most prolific for Vazer, who quit her 9-5 career as a lawyer to focus on writing. The songs have come out of late night walks, exploring foreign cities, long drives to unknown destinations and a collection of emotions, experiences and significant stories from over time.

In 2018, Vazer's debut single 'Keep Away From Parks!' was acclaimed as one of the 'Triple J presenter favourites' of the year, and subsequent singles 'You're Winning Me Over' and 'Struggletown' have earned her fans in Triple J's Richard Kingsmill, ToneDeaf and a feature spotlight by The Australian Independent Record Labels Association. Produced by Robert Muinos (Julia Jacklin, Saskwatch) and co-engineered by Callum Barter (Courtney Barnett, Kurt Vile), Vazer's debut EP 'We Used To Have Real Conversations' (2018) has received national radio play across Triple J, Double J and other stations, as well as international airplay in North America.

Since the release of her 2018 EP, Vazer has gone on to support Lime Cordiale on tour, Last Dinosaurs, #1 Dads, Carla Geneve and The Magic Numbers (UK). Her fast-growing reputation as a powerful songwriter and captivating performer has also landed her in on the festival line ups of St Kilda Festival, Kyneton Music Festival, Changes, Not Fest and more.

Latest single, 'Grateful' (2020) is an ode to all the inspiring female artists and role models, but also a deep vent about the strive for social equality. It's about acknowledgement and respect, with a sprinkle of sarcasm and the kind of non-conformist attitude that made Vazer's highschool teacher say 'girls like you are exactly what's wrong with the world


Interview with Nat Vazer
Question: How would you describe your music?

Nat Vazer : I often get asked this and I think it's hard to describe because I don't think I've ever really 'heard' my music, at least not in the same way other people do if that makes any sense. People often describe it as warm, intimate, indie-pop with vintage sounds. Some guitar jangle.


Question: Can you tell us about "is this offensive and loud"?

Nat Vazer : 'Is This Offensive and Loud?' is my debut album. I wrote most of it in 2018 after I had quit my job in Melbourne and went to live in North America for a while. In that time, a lot of the songs came out of late night walks, exploring foreign cities and long drives to unknown destinations. The album is essentially a collection of emotions, experiences and significant stories from over time.
The title 'Is This Offensive And Loud?' is taken from the first track of the album, 'Like Demi' and it's one of the many questions I was asking myself at the time I was writing the record. My answer to the question is: who really cares at the end of the day? People will always try to instil in you their ideas of what is sensible for you. Songwriting has nothing to do with sensibility. I think we can only learn who we are by being unapologetically ourselves and going where we have to go, doing what we have to do. So the title kind of reflects that state of mind I was in when I wrote the record and I'll leave it for listeners to decide for themselves whether it's offensive and loud.


Question: What inspired your latest single "For a moment"?

Nat Vazer : 'For a Moment' is a love song about an ex-work colleague. It's inspired by the fantasy of chasing something forbidden, a longing for someone you can't really be with and the overwhelming fear of the possibility. Also inspired by drippy guitar sounds.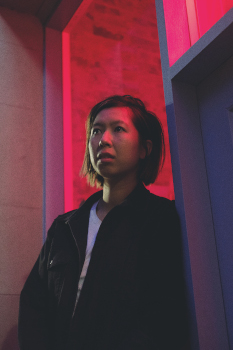 Question: Is there a particular message you hope listeners take from your music?

Nat Vazer : I like the thought of people deriving their own meanings from the music and forming their own interpretations. So no, there's no particular message I'm hoping listeners will take from the music. Have a listen, and find your own messages?


Question: Do you prefer performing live or recording?

Nat Vazer : I like both, but I probably prefer recording a tad more than performing. I used to strongly prefer recording because I used to be a very fussy, perfectionist kind of person who would relish any opportunity to get things absolutely right. That probably comes from my upbringing and classical music background. But over the years, I've learnt to let go of that and come to value mystery more than mastery. I used to dislike live performances because so much can go wrong and it can leave you feeling quite vulnerable at times. But it's grown on me over time as I'm slowly finding much more meaning and stimulation in intuitive playing and spontaneity, rather than focusing on perfectionism and technical things all the time - which I think can be overrated, predictable and less interesting. My band has really changed that experience for me too. Playing with a group of amazing musicians has taught me a lot and given me a new appreciation for performing live.


Question: Which is your favourite song to perform live and why?

Nat Vazer : Either 'Grateful' or 'Higher places'.
'Grateful' is a fave because there's always a great energy on stage when my band and I play it live. It's also the rockiest song on the album so it's my chance to headbang on stage like a complete wanker which is a rare privilege in indie music these days.
'Higher Places' is like a time machine for me sometimes. I remember one time my band and I played the song in a small town called San Remo. The folks there started swaying and dancing to it while my band and I were just synchronously immersed in the performance, and it felt like the whole room was transported back to high school formal night. There might have even been a disco ball - I can't remember, but it felt like a dream.


Question: What motivates you most when writing music?

Nat Vazer : I get such a high from creating. That alone is pretty motivating. Also, self-exploration, self-expression and self-recovery. I get that from the music and those things are usually pretty insightful, empowering or therapeutic for me, in one way or another.


Question: Which music/artists are you currently listening to?

Nat Vazer : At the moment, I'm listening to Andy Shauf, Aldous Harding, Simon & Garfunkel, The Who and Art School Girlfriend.


Question: What or who was your inspiration to go into the music industry?

Nat Vazer : I don't think I can really pinpoint what or who got me into the industry. It was like a sneaky, natural progression. The more songs I wrote, the more I wanted to show my work, the more I wanted to connect with an artistic community, and the more I wanted to make this project grow.


Question: If you could collaborate with another artist, who would it be?

Nat Vazer : I feel like I never answer this question consistently. Today, I think it would be Will Toledo from Car Seat Headrest. He was a big influencer on my approach to writing and recording my debut EP. I think we share a similar love for old sounds, old gear and have a similar DIY ethic. I think he has a remarkable way of channelling the old classics and making it his own without chasing trends. So I think it'd be cool to co-write some synthy, Beach Boys-ey song together.


Question: What's a typical day like, during COVID-19?

Nat Vazer : I haven't had a typical COVID day yet because I've been focusing on this album mostly which has kept me pretty busy. I've been busy making film clips. When I've been able to catch a break, I've been reading books, making pasta and banana bread, drawing and watching films.


Question: What has been your favourite part of becoming a music artist?

Nat Vazer : The creative freedom. The time and space to explore that unfettered freedom as a solo artist. You learn a lot going through that and I'm continuing to learn a lot.


Question: What's next, for you?

Nat Vazer : My band and I will be back to playing shows and touring when it's safe to hit the road again. But until then, you can expect more new exciting music from me and I'm stoked to be releasing my debut album 'Is This Offensive And Loud?' on 29 May 2020 on Hotel Motel Records.


Question: Can you share your socials? (links please)

Nat Vazer : Nat Vazer Website
Nat Vazer Instagram


Interview by Gwen van Montfort