Are you a Diva of Decadence?
Take the Inika quiz to find out if you are truly a Diva of Decadence because if you are truly a Diva you will be rewarded with an incredible offer... (and freebie)
www.inika.com.au
Inika Cosmetics are world leaders in the field of advanced mineral cosmetics. They are proudly Australian owned and all their cosmetics are made of Australia, literally from the very rocks that form our land.
The dense, natural pigments used by Inika mean that you can completely hide conditions such as acne and rosacea with one simple, quick application and yet your skin can still breathe. You get incredible coverage but you hardly even feel like you?re wearing make up, you just look like you have an incredible healthy and natural complexion.
Get in quick for this great Summer special.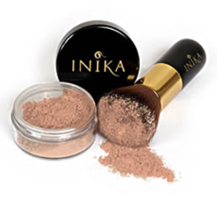 This Inika Bronzer and their revolutionary Vegan Kabuki Brush for only $59.95!
Normally $86.90 SAVE $26.95!
Inika's Bronzers are made from all natural ingredients, they are 100 % Vegan and 100% Cruelty Free. These are beautiful, natural looking, pigment based bronzers which will add colour for all skin types, plus a little summer sparkle for those hot balmy nights out on the town!!
Inika Bronzers add sumptuous, sexy colour to your skin that looks and feels natural, no orange fake tan tones here! With a built in all natural sunscreen, these bronzers can be worn all over the face or body for a gorgeous, natural, sun kissed look. The unique properties of minerals are resistant to water which makes Inika Mineral cosmetics the best thing to wear on a summer's day!
Inika Cosmetics have designed and developed a revolutionary new Kabuki Brush. The Inika Vegan Kabuki is thick and luxurious and is soft and silky to the skin. Most people believe that you can only get a brush this soft using animal hair but Inika have found a way to achieve incredible softness without compromising animals or the environment. It has been specially formulated to work with Inika powders giving you the most amazing seamless application of Foundation, Setting Powder or Bronzer.
This Inika Bronzer and their revolutionary Vegan Kabuki Brush for only $59.95!
Normally $86.90 SAVE $26.95! Hurry to take advantage of this offer before stocks run out.
One of our hottest things about Inika cosmetics is how their Eye-Shadows combine with their Eye-Liners to change Shadow pigments and give you a metallic sheen. It means that you can achieve 3 different looks and shades with just one Eye-Liner and Eye-Shadow. Plus you'll find that if you apply their Eye-Shadows over their Eye Liners not only does the colour jump out at you, you can dance the night away and your eye make up is exactly as it was when you left the house.
You can also mix Inika Eye-Shadow powders with a little water to create a creme shadow for added luster and depth and great stay-ability.
"We capture Mother Nature's richest and most flamboyant hues with makeup that is natural but sexy, with vibrant colours and versatile products," said Miranda Bond, Diva of Decadence AKA Inika's CEO "Our goal with Inika is to introduce the world to a new era in cosmetics, one where you don't have to compromise colour or performance to be kind to your skin and gentle to the earth."
Many women who have never been able to wear make up before due to allergic reactions or sensitive skin are fine using Inika. Inika use dense natural pigments and they don't dilute their products with cheap fillers like most commercial cosmetic companies. This means the coverage their products provide is unparalleled - you can completely hide skin conditions such as acne, rosacea, redness or scarring and yet your skin can still breathe.
Check out the Inika website to see their full range www.inika.com.au
Read also the natural cosmetics article on our Big Sister site femail.com.au.