Australian-born, LA-based actor and musician Nicholas Hamilton has released his sparkling new single In Line, a song about coming of age that was two years in the making, out now. As a young actor and musician, Nicholas took the plunge and moved from his home in Byron Bay to Los Angeles. As an actor he has starred alongside Nicole Kidman, Joseph Fiennes, Hugo Weaving and Jessica Chastain to name a few, and has an evergrowing list of successful films under his belt, including roles in global blockbusters such as It, It: Chapter Two, Captain Fantastic, Strangerland and more.

In Line is evocative of Elle King – it's modern pop but with a slightly retro twist that feels perfectly unique to Nicholas Hamilton. There's plenty of room in this expert arrangement for Nicholas' voice to soar – and it's that voice that takes centre stage even as the beat ramps up and the chorus fills out. Written alongside Ben Kuhl and produced by Arthur Pingrey (Sia, Karen O), this track is expressive, emotive, and it feels appropriate for the subject matter as Nicholas explains, "I wrote this song just before I moved to the US. It's all too fitting, as the song is about how I felt before and after getting on that plane to come over to the States and start my independent, adult life. I was battling my own headstrong decisions about making that leap and leaving my family, friends and childhood behind. The whole track is me singing to my brain, which was something I didn't lean into until later on in the writing process."

Nicholas Hamilton's influences are eclectic, as he explains, "I listen to a ton of chill pop, similar to what I write. People like Quinn XCII, Jordan Mackampa, Ruel…but I grew up listening to Mum and Dad's musical tastes. I remember driving with my Dad to football practice on Tuesdays and Thursdays and listening to The Eagles and Cat Stevens, or driving up the coast to my extended family with my Mum and listening to Kenny Rogers and Charley Pride." These varied influences shine through in this layered release, and Nicholas' deep passion for music is clearly evident when he discusses his craft.

After a year like no other, Nicholas has returned to Australia just in time to celebrate the release of In Line, a song about his life-changing move to America when he was just 18 years old. It feels like a full circle moment, as he says, "I haven't been home since Covid, so I'm very excited to be back. The idea of releasing a song that I wrote about moving from Australia to the US, as I'm returning to Oz, is an opportunity I'd be silly to pass up. It just feels right, it makes me comfy."


Interview with Nicholas Hamilton
Question: How would you describe your music?

Nicholas Hamilton: I think, if it falls into any category, it's just honest. Candid, pop-py retellings of things I've lived through and feelings I've felt.


Question: Can you tell us about "In Line"?

Nicholas Hamilton: I wrote In Line with my guitarist and collaborator Ben Kuhl at his place in Ballina, near Byron, just before I moved out to the US. It started as this push-and-pull ballad between two people in a relationship nearing a breaking point, but when I realised that there wasn't anyone in my life that I had that sort of relationship with, the song changed into being directed at my brain. Basically detailing a rough conversation between my heart talking and my head, about my trepidations about moving to the US from my tiny hometown.


Question: Is there a particular message you hope listeners take from your music?

Nicholas Hamilton: Not really. I think the best thing I can do as a singer-songwriter is to write songs that even the smallest group of listeners can relate to. I'm only 20, about to turn 21, so I don't think I'm in any position to tell people how to feel or to give anyone any advice, but if my words in a song make people feel heard, or better in some way, or just make someone bop their head a tiny bit, then my job's done.


Question: Did you always want to pursue a career in the entertainment industry?

Nicholas Hamilton: I wasn't born into it. My family's a very regular, grounded group. I did a school play at my primary school when I was 11 and just really enjoyed it. Signed with an acting agency, got some small jobs, got a bigger agent, got bigger jobs, and it's kinda just snowballed from there! As for music, I've always loved listening to music and loved singing since I was younger and much, much worse at it. For some reason music's been in my blood for as long as i can remember, and now I'm finally turning it into something bigger, and I'm loving it.


Question: How did you experience moving to the US at such a young age?

Nicholas Hamilton: It was a trip! I was always a very independent kid. As soon as I started acting I wanted to get out of my small hometown and move to LA, London, Sydney, even. Somewhere bigger. Right when I graduated high school I moved to the US without blinking, and it took me a minute to realise how big of a deal that was. Maybe I shouldn't have moved so quickly, but if I hadn't, I wouldn't be even close to the person I am now. I wouldn't have matured as quickly as I did, and lived through as many experiences. I have no regrets about moving to the states, and I'm happy to be back in Australia now, for at least a little bit.


Question: Will you be settling in the US or Australia?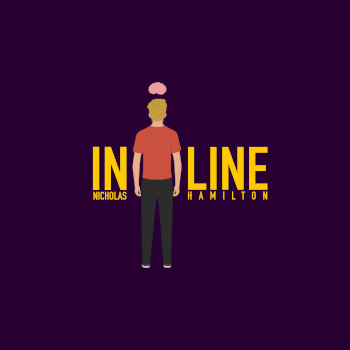 Nicholas Hamilton: I'd like to think I won't be settling anywhere. I love change, I always have. I'm very excited to be back home and to release music, perform shows and film some projects, but I'll be back to the States I'm sure. Or maybe I won't! I'm letting the wind take me where it wants to, and that excites me the most.


Question: If you could have anyone, in the world, attend a show, who would it be?

Nicholas Hamilton: Lewis Capaldi. Easily my favourite artist right now, by far. Even if I could be at one of his shows, it would be an honour.


Question: If you could collaborate with another artist, who would it be?

Nicholas Hamilton: Same answerrrrrr! Writing a song with someone like Lewis Capaldi or Ed Sheeran would be a full and proper dream of mine. I also need to work with FINNEAS and Billie one day. I just need to.


Question: You've achieved so much, can you provide your tips for creating a successful schedule?

Nicholas Hamilton: Again, I'm so young, so I don't even really know myself. I take it all one day at a time now, planning my schedule by what I can get done by the end of the day, but that wasn't always the case. I used to have these wild dreams and goals that I hoped to one day achieve, but 2020 and the pandemic kind of shut that part of me down. I still have goals, they're just next-minute now. What can I do this week that will make next week a better experience? Those are the kind of goals I'm rocking with now.


Question: What has been your favourite part of your career?

Nicholas Hamilton: It hasn't happened yet. I've loved every experience I've had in my career, and I couldn't be more grateful for the opportunities I've been given, but I'm yet to have that moment where everything stops and I realise that this is the moment I'll remember for the rest of my life. Which I'm now realising is a very young person thing to say haha.


Question: How does it feel to hear your song played or see yourself on the big screen?

Nicholas Hamilton: It's still super trippy. I've been seeing myself on screens for almost half my life now, and it still weirds me out. Music even more so. I've had a few experiences where I was in a session with someone that I respected with all my heart, and who had years and years of experience in the industry, and they're sitting there breaking down and talking to me about my songs. That I wrote. I've gotten chills every time. It makes it so much more real. I also think it's a control thing. My songs are mine. If I'm in a movie or show, that's someone else's baby. I'm reading someone else's words into someone else's camera, to then be edited by someone I've never even met. It's still special, but it's not mine. I have full creative control over what I release and write in the music world, and that's what makes music such a special thing to me.


Question: What's a typical day like?

Nicholas Hamilton: It's been shaken up as of late! I'm answering this in hotel quarantine in Sydney, which is obviously different to how I've lived my life for the past 2 years in LA. I'm yet to go back to my hometown and start working and living there, and I'm sure that will be different too. I'm going with the flow, adapting what I do on a typical day to where I am that day. As a general rule though, I like to write a song and do an audition each day or two. Keeps the rhythm consistent!


Question: What's next, for you?

Nicholas Hamilton: I'm back! I'm really looking to expand my music base while I'm in Aus, so be on the lookout for shows and new music over the next few months. It's gonna be fun!


Question: Can you share your socials? (links please)

Instagram
Facebook
Website
Twitter
TikTok
YouTube


Interview by Gwen van Montfort