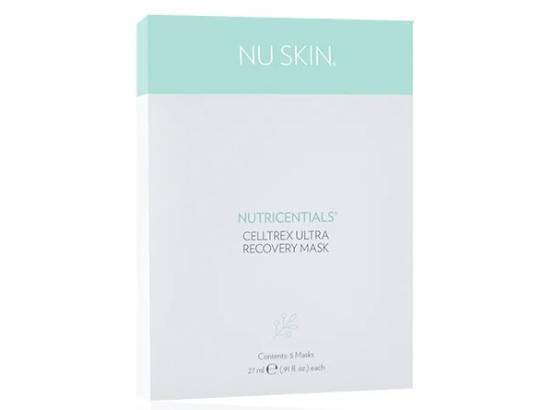 Recharge tired skin after a long day.
Celltrex Ultra Recovery Mask is infused with shea butter and other powerful ingredients that help restore and revitalise your complexion. Plus, a blend of botanicals, including ginseng and mushroom extract, helps protect the skin from environmental stressors. Each 100-percent cotton sheet is lightweight and packed with long-lasting hydration to make your skin the best version of itself.
Benefits
Helps support skin's natural repair process to protect and revitalise your skin.

Combats the effects of environmental stressors on skin.

Promotes a smooth, glowing complexion.

Works across all skin types.

Uses 100-percent cotton sheets that are lightweight and non-irritating.

Promotes a more energised appearance.

Leaves skin clean and refreshed.

Renews tired-looking skin.

Transports easily.
Shea Butter"moisturises and improves skin's ability to maintain moisture.
Agave Extract"helps calm and soothe irritated skin.
Hollyhock Extract"provides antioxidants to protect skin from free radicals.
Caffeine"gives skin a more energised appearance.
Botanical Blend"helps protect the skin from environmental stressors.
SIZE

5 Individual Sheet Masks
Review: Often we don't realise how harsh winter can be on our skin, cold air, wind, along with indoor heating can really take a toll on your skin leaving it dry and lifeless, showing more flaws. Nu Skin Nutricentials® Celltrex Ultra Recovery Mask has great restoration properties restoring and revitalising your skin giving it a healthy glow and refreshed feeling. I recommend once a fortnight throughout winter to not only look great to feel even better.