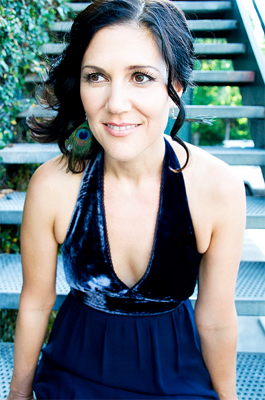 Pi Fire Horse Girl
Los Angeles-based singer-songwriter Pi released her new album, Fire Horse Girl, through indie label TCC Music. Her fourth album, Fire Horse Girl, evokes the whispers of 70's singer-songwriters, yet its approach and lyrics are fresh. She has been compared to Rickie Lee Jones, Joni Mitchell, Chrissie Hynde, Jewel, and Norah Jones. With over 40 film and TV placements, Pi - a smoky alto - has been heard on such networks as MTV, Oxygen, and Nickelodeon.

Pi collaborated on the new album with veteran producer/engineer Randy Wine (U2, Bruce Springsteen). Additional core members of Pi's recording team include such talented musicians as Fredo Ortiz, the Beastie Boys' drummer, on percussion, and Michael Bluestein on keyboards, the consummate sideman who has played with Foreigner, Boz Scaggs, and Enrique Iglesias. Joel Alpers, who composed and produced the music for the upcoming '09 John Travolta/Robin Williams film Old Dogs, played drums, and the amazing bassist Paul Eastburn played upright and electric bass, violin, and viola. Guitarist Aaron Jacobs was a co-writer on two of the album's top songs, "Reckless" and "Santa Ana," and Justin Reinhardt, a killer pianist and the composer of the score to the 1996 film Swingers, played grand piano on a few tracks and often plays live with Pi during her LA shows.

The name of Pi's new album relates to the year of her birth. According to Chinese Astrology, females born in the year of the Fire Horse, which only comes around once every 60 years, are said to consume everything in their path and wreak havoc wherever they go. They are considered dangerous, headstrong, and are seen as deadly to men.