Author: Adam Hunt
Imprint: Random House Australia
Price: $16.95
Subject: Family/Pregnancy
Format: Paperback
Release: 1-07-2003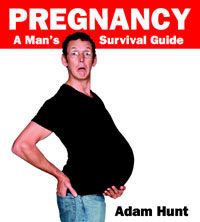 Pregnancy is a bloke thing too!

Description of the Book
"Thinking of having a baby? Then go out now and buy that killer car stereo or that Harley you've always dreamed about because babies cost and you're about to discover that a "contraction" has nothing to do with giving birth and everything to do with your bank account. So get in first."

Pregnancy is a big deal for her, but what about you? Will you ever have sex or money again? Should you tell the truth when she asks if she's put on weight?

Pregnancy for men can be a confronting and frightening experience. And the best survival weapon against that is laughter. There are hundreds of pregnancy books for women full of expert medical and psychological advice to guide women through the pregnancy experience. This is not one of them. This book is all about providing you with the laughs you'll need to survive. And the one thing that the author has learned from the pregnancy experience is that you need to laugh hard and often!


Review
Refreshing, blunt and extremely funny. Adam Hunt captures the male perspective of pregnancy with some rather amusing imagery to accompany his take on pregnancy. An excellent gift for any expecting fathers.