Reece Mastin Beautiful Nightmare CD & Tour
Reece Mastin's highly anticipated sophomore album, BEAUTIFUL NIGHTMARE, is set for release through Sony Music Entertainment Friday October 19th, 2012.
Reece spent time overseas penning tracks and collaborating with exciting artists for his forth-coming album such as; Benji Madden, Cassius (Bruno Mars), Matthew Gerrard (Kelly Clarkson, Delta Goodrem, The Jonas Brothers), Andy Stochansky, Damon Sharpe, Rune Westberg (Daughtry), Brian Howes (Puddle Of Mud, Hinder, Boys Like Girls) and local artists such as Ilan Kidron from The Potbelleez and Jenna & Wac from Tonight Alive.
This album is certainly something for Reece to be proud of. "Recording this album was an amazing experience - I'll never forget the process of writing my first real album with my own original songs. I had the opportunity to work with so many talented and creative people. This one's the big one! I couldn't be prouder of these songs - I can't wait for the Lil Rockers to hear it. I think my sound has developed - it's so rock! It's fused in with everything. It's really me."
To celebrate the release of BEAUTIFUL NIGHTMARE, Reece will be making his way around Australia to see his Lil' Rockers where he will perform and be signing copies of his new album at the following locations:
MELBOURNE
- WESTFIELD FOUNTAIN GATE AT 4PM - FRIDAY 19TH OCTOBER
ADELAIDE
- WESTFIELD TEA TREE PLAZA AT 2PM - SATURDAY 20TH OCTOBER
BRISBANE
- WESTFIELD GARDEN CITY AT 2PM - SUNDAY 21ST OCTOBER
SYDNEY
- WESTFIELD MIRANDA AT 6PM - THURSDAY 25TH OCTOBER
WOLLONGONG
CITY MALL AT 12PM - SATURDAY 3RD NOVEMBER
Reece's win on The X Factor last November and the consequent single release of 'Good Night' resulted in him selling a single every 2.7 seconds the entire day of release and achieving Gold status within 24 hours. 'Good Night' currently stands at 4 x platinum sales, whilst his 2011 self-titled debut album is 2 x Platinum. His second single 'Shut Up & Kiss Me' was also a hit achieving Platinum sales, and his most recent single 'Shout It Out', also certified Platinum, debuted at #1 on the ARIA Charts, making Reece the first Australian this decade to score two chart-topping singles.
Reece's social media and fan base continues to grow at a rapid rate, with over 180k Facebook Likes, 156k Twitter followers, 37k Instagram followers and YouTube clip views at over 3.8 million.
Stay tuned for more information regarding Reece's forth coming tour!
TRACK LISTING:
1. Addictive
2. Rock$tar
3. Beautiful Nightmare
4. Stars
5. Dirty Paradise
6. Shout It Out
7. Alive
8. She's A Killer
9. Freakshow
10. Timeless
11. Ex-Girlfriend
12. Outta My Face
13. Shut Up & Kiss Me
14. She Calls This Love
15. Give Up The Girl
SINGLE: ROCK STAR - AVAILABLE NOW
ALBUM: BEAUTIFUL NIGHTMARE - AVAILABLE OCTOBER 19TH 2012 THROUGH SONY MUSIC ENTERTAINMENT AUSTRALIA
www.bandit.fm/reecemastin
www.ReeceMastinOfficial.com
www.youtube.com/reecemastintvvevo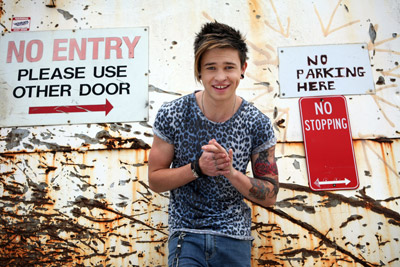 Reece Mastin The Beautiful Nightmare Tour
Question:
What are you looking forward to most about sharing the stage with Justice Crew and The Janoskians?
Reece Mastin
: It's going to be great, the boys are great sports and they'll get the kids pumped up before the band comes on! I can't wait to get out there with them as I know it's going to be a very, very big tour with a huge tour party and we'll see how much mischief we can get up to (laugh)!
Question:
What songs will feature on this tour?
Reece Mastin
: All my singles and then everything off my Beautiful Nightmare album as well; the fans will have to grab the album and learn some lyrics and come down and scream it, during the shows!
Question:
Can you tell us about Beautiful Nightmare?
Reece Mastin
: Beautiful Nightmare is awesome and the best thing about it is that I wrote it all and that's a big thing for me. There is a lot of variety on the album including sexy, cheeky and slow songs. I hope that everyone likes it!
Question:
What's your inspiration when writing?
Reece Mastin
: My inspiration comes from everything although for me I mostly write about girls (laughs) although it depends what I'm feeling that day and what my mood is like.
I wrote She Calls This Love, one of the closing tracks, when I was 13 and I have revamped and modernised it and it's turned out really well.
Question:
Describe Beautiful Nightmare:
Reece Mastin
: Energetic, sad at times but overall it's amazing and bouncy - I think everyone will want to dance to it.
Question:
Which song holds the most memories, for you, on this album?
Reece Mastin
: I'd say the song called Stars, I really love it and it's a slower song and I get a real kick out of that song. All of the songs hold memories but Stars would be the stand out.
Question:
Why did you title the album Beautiful Nightmare?
Reece Mastin
: Beautiful Nightmare catches your ear and makes you want to know what it is all about! There is a lot of dark music on the album in the sense of the music which has a weird vibe.
Question:
What music/artists do you listen to when you are not playing your own?
Reece Mastin
: I listen to anything I can get my hands on; I listen to a lot of radio but I love old music too.
Question:
Do you prefer performing live or recording?
Reece Mastin
: I love them both in different ways, I couldn't pick!
I love performing because of the energy you get - it's a high when you're on stage in front of crowds who are screaming your lyrics back to you! There is nothing like performing live!
I'm always writing as I'll never know when the next album, will be.
Question:
What/who was your inspiration to go into the music industry?
Reece Mastin
: The big 80's rock bands were my main inspiration and driving force.
Question:
What was it like working with Benji Madden?
Reece Mastin
: It was awesome! Benji is a good bloke and we still stay in contact, which is good! Benji helped write the track Give Up The Girl. It was good to get in the studio and write with him and I'm always trying to find people to learn from when writing and Benji was a great person to learn off and he is the type of genre that I'd like to head in.
Question:
If you could collaborate with another artist, who would it be?
Reece Mastin
: I'd love to work with any older icon such as Steve Tyler, Axel Rose or Slash!
Question:
What was your first memory of music, during your childhood?
Reece Mastin
: My first memory of music is when I first got my first guitar and I started playing after I moved to Australia and that's when I knew I wanted to be a musician.
Question:
What advice would you give someone looking at auditing for the next X-Factor?
Reece Mastin
: Go out and do it because you never know what is going to happen! I auditioned for fun and I promise it's worth getting out there and giving it a go! I learnt not to take anything for granted when I was on the show and to always take it one step at a time but to always have fun because you never know when it might finish.
Question:
What is a typical day like, for you?
Reece Mastin
: Very full on! I do a lot of interviews, photo shoots and recording but I'm having the most fun I've had in my entire life which is good! However writing comes first and I enjoy being in the studio!
Question:
Why is it so important to you to make contact with fans using social media?
Reece Mastin
: It's vital that I communicate with my fans and social media gives me the opportunity to let everyone know what I'm doing, it's great to be able to stay in contact.
The fan attention is not a bad thing! My fans are vital and they're the main reason I'm doing this and I've written songs for fans before, although they haven't made this album - I hope to release them in the future. I'm always thinking about the fans when I'm writing, they're behind every track.
Question:
What do you love most about your fans?
Reece Mastin
: I love that my fans are everywhere and that they go crazy whenever I'm around!
Interview by Brooke Hunter