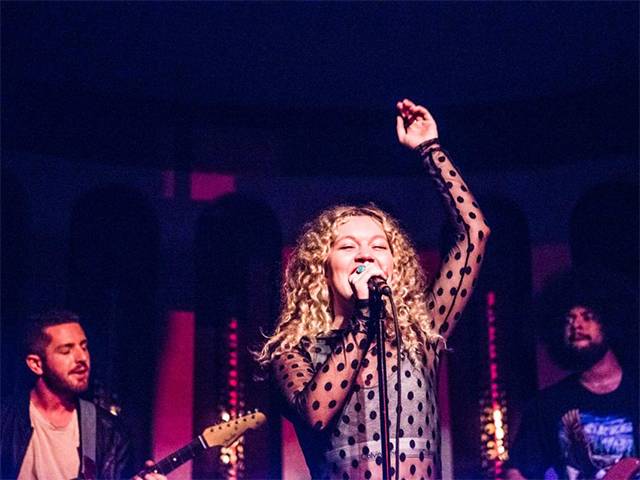 Remarkable singer-songwriter, and actress Ren Martinez (formely Ren Farren) is the next rising star in the world of music and entertainment. The youngest daughter of singer Leslie Martinez and actor A Martinez ("Longmire"), Ren's performing roots run deep and she is now taking the music world by storm with her captivating vocals, heartfelt songwriting, and electrifying performances. She has a distinctive blend of music - a fusion of poetic lyricism and captivating pop sensibilities with her small-time charm and big-city ambition, Ren has released two EPs and multiple singles that reflect her evolution as an artist. Recently collaborating with producer and close friend Madison Scheckel, known as Wolfy, Ren is on the brink of unveiling her upcoming record.
From a tender age, Ren's affinity for music was evident. She sang before she could talk and embraced acting from the age of six, participating in local plays. Fond memories of singing along to Spice Girls and Backstreet Boys tunes and dozing off to her parents' musical selection, including Joni Mitchell and Jackson Browne, shaped her musical palette and ignited her artistic spark. She graduated from the Popular Music Performance program at the University of Southern California where she honed her songwriting and vocal skills. During her college years, Ren discovered contemporary artists spanning pop, hip hop, rock, and country genres. This unique blend of classic influences and contemporary training has given her a sound that effortless bridges the gap between introspective storytelling and infection melodies. She has since released albums like "Good Girl" and "Where I am Wild," with hit singles including "Uncool," "Lose the Night," "See Me Through," and "Crier." Her music is currently available on Spotify, Soundcloud, and iTunes.
Moreover, Rem's performances are not be missed. From a dynamic show at Madame Siam in Hollywood to a moving tribute to Joni Mitchell at the Odyssey Theatre Ensemble alongside Jean Claudes, she continues to grace the city's stages with her soulful performances. Her tracks have found its way into screens being featured on popular television shows like Hacks, New Girl, Friends from College, Single Parents, and The Young and the Restless, solidifying her status as a versatile artist with a sound that resonates far and wide. Ren's impact isn't confined to the studio alone. She's also making waves in the acting world, engaging in voiceover work and recently performing in a Sam Shepard play.