Twenty-two-year-old singer-songwriter Sammy White from Townsville in Queensland became the 41st Toyota Star Maker winner after performing an exciting rendition of her 2019 debut hit single Drowning my Sorrows in the Grand Final held at the Toyota Country Music Festival in Tamworth.

Sammy joins an illustrious list of country music stars including Keith Urban, Gina Jeffreys, Sam McClymont, James Blundell and Lee Kernaghan who all got their big break after winning the Toyota Star Maker competition.

Sammy won over the judges ahead of the nine other predominantly female finalists: Chloe Styler (QLD), Clancy Pye (NSW), El Cosgrove (QLD), Hannah May (NZ), Jarred Taylor (NSW), Juliet Oliver (SA), Leigha Moore (QLD), Taylor Pfeiffer (SA), and Zoey Mills (QLD).

In winning the 2020 Toyota Star Maker, Sammy took home a prize package worth more than $100,000 including the use of a Toyota vehicle for a year, recording of a four-track EP and a trip to Nashville in the US to attend the CMA (Country Music Association) Fest.

Far more than a talent quest, the Toyota Star Maker is designed to give talented musicians a significant boost in their careers with the prize also including performances at other music festivals and events throughout the year, production of two music videos and a recording session with some of Australia's best musicians and a producer.

Growing up in Townsville with Johnny Cash, Charley Pride and Willie Nelson on high rotation in the family home, Sammy had country music ingrained so it's no surprise that her debut single Drowning my Sorrows, shot straight to #5 on the iTunes Country Charts within 24 hours of its release.

Since then Sammy has toured extensively, also fitting in a trip to Nashville for a week-long songwriting trip, a place she will relish returning to as the winner of the Toyota Star Maker.

Sammy was chosen as the 2020 Toyota Star Maker by a judging panel of industry professionals including CMAA Chairman and artist manager Dan Biddle, Program director of KiX Country Radio Network Justin Thomson, Manager of the Pub Group Craig Power, founder of HSF Artist Services Tom Inglis, artist manager Greg Shaw, and journalist and presenter on the ABC's Saturday Night Country program Scott Lamond.


Interview with Sammy White
Question: How would you describe your music?

Sammy White : My sound is alternative country. A mix of country roots with hints of blues and soul.


Question: Can you tell us about Lay it on Me?

Sammy White : I wrote this song with my good friend Peta Cherae Peters. It came off the back of a personal experience where someone was keeping me in the dark. We sat down, had a chat and this song basically wrote itself in that session.


Question: Is there a particular message you hope listeners take from your music?

Sammy White : No streamline message flows through my songs. I just usually write about what I feel and experience, almost as a way of therapy, and hope that people can relate.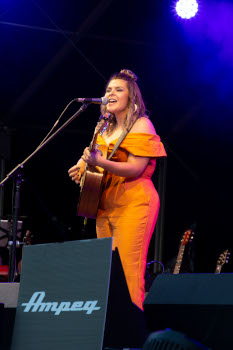 Question: How has Toyota Star Maker influenced your music?

Sammy White : Growing up, each year I would eagerly watch Toyota Star Maker. I'm fortunate to have some really close mates who have either taken part in the competition or won the title over the years. So I'd say it has influenced me in two ways. As young singer looking up with stars in my eyes at the opportunities that could be. And as an artist seeing first hand the platform and career boost Toyota Star Maker provides.


Question: Do you prefer performing live or recording?

Sammy White : As much as I love hearing my songs coming to life in a recording session, I can't go past performing live. There's no feeling quite like seeing your music resonate with people.


Question: Which is your favourite song to perform live and why?

Sammy White : Either "Lay It On Me" - the first release with the Toyota Star Maker team. Or "Drowning My Sorrows" - my debut single. Both songs are 'sing along' songs and never get old for me as a singer.


Question: Can we expect an upcoming tour?

Sammy White : As soon as possible! We've bumped the release date of the debut album back to coincide with a tour. I don't think it would be right to pour years of songs and recording sessions into a body of work and not be able to take it on the road. At the end of the day, I'm super proud of the album and want it to reach as many people as possible.


Question: What advice do you have for other up and coming artists launching music during COVID19?

Sammy White : Without touring, there really isn't another way of music being heard at the moment. I'd say go for it. And pour the extra downtime into creating a product that you're really happy with.


Question: What or who was your inspiration to go into the music industry?

Sammy White : Singing/music was something that I enjoyed doing and the only thing I was half good at growing up. I entered into talent quests and kept working on my craft to be better than I was at the last competition. I didn't really have someone that "got me into the industry", music was just something that found me and I continued to peruse it.


Question: If you could collaborate with another artist, who would it be?

Sammy White : Miranda Lambert, Brandi Carlile or Bonnie Raitt. Some of my favourite female musicians of all time.


Question: What is the biggest challenge you have faced along the way to your musical success?

Sammy White : Comparison. There are so many ideas and ways of becoming successful in the music industry. Surrounding yourself with a solid team who understands your vision as an artist definitely helps. I'm really lucky to have found these people to keep me on track.


Question: What's a typical day like, during COVID19?

Sammy White : Vacuuming. Teaching online lessons. Snacks. Meetings. Interviews. Snacks. Cuddling my dogs. Baking. Snacks. Sleeping.


Question: What has been your favourite part of becoming a music artist?

Sammy White : I love meeting fans at the end of a show. Hearing their stories and connecting with them is definitely a highlight.


Question: What's next, for you?

Sammy White : Releasing the debut album with the Toyota Star Maker team. We've put a lot of time and energy into this project and I'm really excited for it to be out there.


Question: Can you share your socials? (links please)

Sammy White : Instagram
Facebook


Interview by Gwen van Montfort