New face RIIKI has been steadily establishing herself as a fixture in the pop scene in her home country of New Zealand, as well across the pond in Australia. She has hit 2020 running with her third single, "Share Your Luv", a groove-laden track that showcases RIIKI's gorgeous vocal tone, and effortless talent for creating pop hooks.
Delving into the feeling of being on the receiving end of a drastic and unexpected change of heart, the track is a heartfelt exploration of heartache and longing, while also being a celebration of the realisation that you have the strength to get by on your own.
"I'm usually the friend helping people I know around me in these situations," said RIIKI. "But it just feels so damn real when you're in it and you truly experience that really sad feeling you never saw coming. Although, it is so important that if you fall into that situation you remind yourself 'you were never the problem or held responsible, they were'. Don't blame yourself, instead have a lil boogie, because this only made you way stronger."
With a refreshing blend of elegance meets edge, Raquel Abolins-Reid is indie-pop newcomer RIIKI. Raised in New Zealand's creative capital city and now aged 20, RIIKI is still young, but has many stories to tell.
Her second single "High Heights" is testament to the raw skill in her songwriting. Co-produced by Simon Gooding (P!nk, Dua Lipa and Migos), the track made an appearance on the Hot 20 NZ Singles Charts for a number of weeks, as well as making it onto Apple Music's A-list Pop and New Music Daily playlists, and featuring on Spotify's Pop Edge and New Music Friday playlists in NZ/AU, Sweden, Denmark, Iceland, and Norway.
Interview with RIIKI
Question: How would you describe your music?

RIIKI : Hrmmm, It's definitely a bit of a weird blend of things, but I think this keeps it exciting and very honest. I'd say it's a bit indie, a bit pop, a bit alternative, a bit grungy or RnB at times too. There is consistency, but each song feels like I'm jumping into a new RIIKI game character.


Question: Can you tell us about Share your Luv?

RIIKI : 'Share Your Luv' is pretty much about sitting on the receiving end of a friendship/relationship where the other person unexpectedly turns their back on you. You're shown a side you didn't really know existed and it hurts because that person you loved is now the furthest person away from you. I've had of couple of experiences with this which has been pretty heartbreaking. Although it sucks to want those people back in your life, the track is also a celebration of realising that you'll get by without them.


Question: Is there a particular message you hope listeners take from your music?

RIIKI : Absolutely! Every song has a different message and I think all sorts of people will relate in many different ways too, which is super cool! Overall, what I really want is for people to see a bit of themselves in me and get to know my music because every song has a different narrative that I hope will hold some meaningful value to someone else. If the music helps someone then I know my job is done right.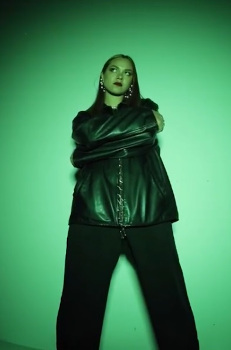 Question: When was your first performance?

RIIKI : I was a tiny little pipsqueak when I first sung publicly, about 7 or 8 years old. It was a Westfield Mall talent quest which I entered right through my childhood. I officially started to perform under my nickname RIIKI in 2018.


Question: Which is your favourite song to perform live and why?

RIIKI : There's something about performing 'One Day' live that makes me extremely happy. It's my little baby and my first ever song release so it will always be a special song for me.


Question: What motivates you most when writing music?

RIIKI : It changes a lot. Most of the time I become super motivated to write when I'm driving in the car. I will think of something, gasp a little over it (if it's good), record it on my phone (at a stop light) and then as soon as I articulate that idea with production I get way too excited! I'm always motivated to write when I find/make a new sound too. Also generally when I know I need to get something off my chest.


Question: What or who was your inspiration to go into the music industry?

RIIKI : I've always been so fascinated and heavily involved with the performing arts from a young age, but I was always around so much different music growing up from my family and also being a dancer, so I guess I fell in love with listening to the instrumentation, different textures and messages and wanted to create my own. I idolised Beyoncé from a super young age because she was an example of someone who could do it all (act, sing and dance). She was doing everything that I loved to do but blended all together, so she's a big inspiration too.


Question: If you could collaborate with another artist, who would it be?

RIIKI : Probably everyone saved on my Spotify, to name a few I can see right now: Jorja Smith, James Blake, Dua Lipa, Steve Lacy, Toro y moi, Frank Ocean, King Krule, SG Lewis, Sampha, Beyonce… Too many. This is a dream list.


Question: How does it feel to hear your music played all over the airwaves?

RIIKI : It is very weird, but very cool to know people are cranking it. Warms my heart a lot to see the positive reactions to it.


Question: What is the biggest challenge you have faced along the way to your musical success?

RIIKI : I think because I am at a very early stage in my career and because I have a heck of a lot to learn, the biggest challenge has been launching myself independently. My team right now consists of myself and my manager. We both have started this career path together from rock bottom with lots of learning on the go, which has been so rewarding, but definitely been the biggest challenge managing all areas between the two of us. We can't wait to hug a wider RIIKI team one day :-)


Question: What's a typical day like?

RIIKI : Snuggles with my dog in the morning, smoothie, a large chunk of music/writing/creativity brain farts/uni work, wave and say hello to pals, do some dance choreography, go to the dance studio, come home and watch an episode of Modern Family. Weehoo.


Question: What has been your favourite part of becoming a music artist?

RIIKI : Meeting the coolest people I have ever met through music is my absolute favourite. I love with all my heart making new connections, networking, creating and bonding with people on all sorts of wacky things. The people you meet is 100% the best part.


Question: What's next, for you?

RIIKI : Releasing as much new music as I can is number one on the agenda, gigging is right up there also. You can expect both very soon!


Question: Can you share your socials? (links please)

RIIKI : Instagram
Facebook


Interview by Gwen van Montfort