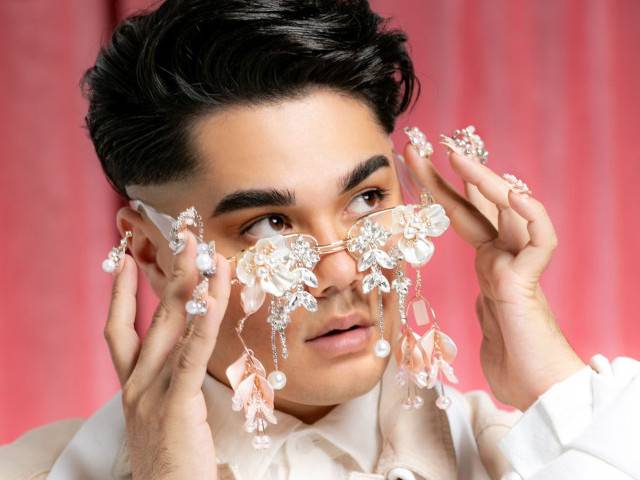 SBS and production partner Blink TV revealed on Friday 26th November that Sheldon Riley has joined the Eurovision – Australia Decides line-up in February 2022.

Hosted on the Gold Coast and broadcast live and exclusively on b, avant-garde performance artist Sheldon Riley will join powerhouse entertainer PAULINI, multi-media artist Jaguar Jonze, six-piece girl group G-Nat!on, charismatic pop star Andrew Lambrou, and Australia's 2017 Eurovision Song Contest representative Isaiah Firebrace. All artists will perform original songs for their chance to represent the country at the Eurovision Song Contest 2022 in Turin, Italy. Four more artists are still to be revealed.

Speaking on his announcement, Sheldon said, "It has always been the highlight, waking up at 5am every year to watch from Australia. Growing up on the Gold Coast, watching Conchita for the first time was proof to me that the world will choose different if given the chance to see it. I am different but I have found my place on mainstream television where I never fit the mould, on radio that has never played music like mine, festivals you'd never think I'd fit the bill for because I always dare to dream... in my fashion and my music always bringing that little bit of Eurovision magic with me every time. I'm so proud of the artist I am today, wearing my crystal mask in so many parts of the world. It would be an honour to represent Australia and bring my sparkle to Europe! After all these years of dreaming and creating the artist I am today. It's all coming to life in epic fashion, LIVE on stage!"

Hosted by radio host and music buff Myf Warhurst, and comedian Joel Creasey, Eurovision – Australia Decides will showcase the best of Australian music and bring the nation closer to the Eurovision action.

In association with the Queensland Government via Tourism and Events Queensland, Major Events Gold Coast, Screen Queensland, APRA AMCOS, and official artist accommodation partner Dorsett Gold Coast, Eurovision – Australia Decides will be presented at the Gold Coast Convention and Exhibition Centre on Friday 25 and Saturday 26 February.

The winner will be revealed during the Live TV Final which will be broadcast exclusively on SBS and SBS On Demand on Saturday 26 February. Be a part of history and see it live at the Gold Coast Convention and Exhibition Centre. Tickets for the Jury Preview Show, Matinee Preview Show and Live TV Final are now on sale.