Imagine yourself being cocooned in a warm blanket as the undulating sea waves tickle your ears, while the sand and saltwater trickle through your feet in a tempo and rhythm that synchronizes with your heartbeat. This is the cinematic equivalent of Melbourne-based Lo-fi Hip Hop Artist Steve Adams' newest single 'Boys Like Me'.

Written by Steven himself, with production by GC Beats and mastering by Ande, the single fiercely and unabashedly elevates the theme of valuing one's worth in a deluge of effortless rapping, wrapped in fuzzy jazz and spacey beats. The track is a perfect blend of warmth and coldness, with calculated distortions that exemplify the message of brokenness and embracing wholeness again. Steven took inspiration from listening to 'You're So Last Summer' by New York-based Alternative Emo Rock band Taking Back Sunday"whereby the pain of being mistreated and acknowledging your self-worth is also discussed.

"Always value yourself, and learn from every experience you encounter in life.""Steven Adams Influenced by the Gothic/Emo and Hip Hop sonic and lyrical styles of My Chemical Romance, AFI, the Used, and Senses Fail, among others, Steven is set to make his own mark in the music scene with honest and vulnerable songwriting, with fiery vocals and a rapping precision that elevates him from his contemporaries in the underground scene.

For someone who is relatively new in the industry, he has proven to be a prolific act"releasing a ten-track EP in 2019, a single earlier this year, and one more to follow in December"on top of his latest single. Make sure to catch all the Bedroom Pop and Lo-Fi treats this rising star has to offer, by following his socials below!


Interview with Steve Adams
Question: How would you describe your music?

Steve Adams: My music is predominantly hip-hop sounding, accompanied with lyrics that explore themes such as love, heartbreak, and the importance of self-worth. My music is a blend of all my favourite genres, presented in rap form, taking inspiration from blues to early 2000s emo.


Question: Can you tell us about 'Boys Like Me'?

Steve Adams: My new single 'Boys Like Me' was influenced by the song 'You're So Last Summer' by Taking Back Sunday. I had the song practically on repeat for about a month and wanted to write a song that touched on similar motifs. 'Boys Like Me' explores themes such as being undermined and under appreciated by others. This song is for anyone who has been in a position in which their self-worth has been compromised. I hope those listening, particularly males, can find solace in my work.


Question: Is there a particular message you hope listeners take from your music?

Steve Adams: The key message I hope listeners can take away from 'Boys Like Me' is to never let others undermine or exploit you as a person, particularly intimate partners. Always value your worth and understand that you're doing great.


Question: Which is your favourite song to perform live and why?

Steve Adams: It's been a while since I last performed due to COVID, and since then I've released new music that I can't wait to perform. But prior to COVID, I really enjoyed performing the song 'Autumn', it's an old lo-fi song of mine that aims to provide people with the confidence to love again. I can't wait to perform 'Boys Like Me' next, though!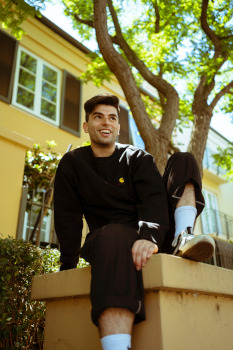 Question: What motivates you most when writing music?

Steve Adams: I think my main motivation is people, and to help them through music. I believe that by delivering a strong positive message that can ultimately resonate with someone is such a powerful thing to do. So I think helping others is what truly motivates me. Most of the songs I have written are or were for friends who were struggling, and I thought that through music I could help them, to show them that there is always a brighter day.


Question: Which music/artists are you currently listening to?

Steve Adams: I'm currently going through such a weird phase with music. One day I'll be listening to Stevie Ray Vaughan's Texas Flood Album, and then the next I'll be listening to AFI. My music taste is so capricious, I really can't pinpoint it at times.


Question: What or who was your inspiration to go into the music industry?

Steve Adams: The key inspiration for me venturing into the music industry was the type of bands that I listened to growing up as a kid. Bands such as MCR, Senses Fail, and The Used shared a similar goal in helping save others through music. The messages that were imbued through their music, are the type of messages that I have tried to convey through my music. Helping others is key.


Question: If you could collaborate with another artist, who would it be?

Steve Adams: I'd love to work with Loyle Carner, he seems like such a genuine person, who shares similar ideals that I do.


Question: Did you have any pre-conceived ideas about the music industry?

Steve Adams: Not necessarily. But I always carry a healthy sense of cynicism towards it, particularly in regards to how labels treat their artists. I feel that any big corporation, whether it be in the realm of music, commerce or service, has a proclivity to mistreat their employees. It's just something that happens I guess.


Question: What has been your favourite part of becoming a music artist?

Steve Adams: I think the ability to share a story and convey a message has been my favourite part of becoming a musician. Although it's taken a long time to finally produce a product that I consider to release-worthy, it has been worth it, knowing that someone can take something away from every song I release.


Question: What's a typical day like?

Steve Adams: A typical day usually begins early, and is occupied with work, study and music. I will have finally completed my JD at Monash come mid-December; an exhausting yet rewarding journey. Throughout the day, I will always be conscious of music, whether it be penning down new ideas or lyrics, or even recording a melody into my iPhone, I feel that music is always present through every day.


Question: What's next, for you?

Steve Adams: Following this release, I aim to release some new singles, with a new single of mine dropping in January. I will also be releasing new music with a good friend of mine, his artist name is Ande (insta: andethebanshee). If restrictions ease further, I'd love to start performing again. I've missed it a lot.


Question: Can you share your socials? (links please)

Steve Adams: Instagram
Spotify


Interview by Gwen van Montfort