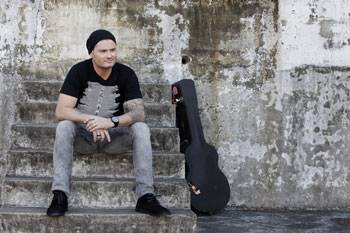 Teale Jakubenko Good Times Start Right Now Interview
On the back of the release of his EP Good Times Start Right Now, singer-songwriter Teale Jakubenko has just completed a cross-country tour where he was able to share his unique modern pop/rock music with fans.

Teale, also a guitarist, is most noted for his success on Australian Idol, making it to the top four in 2008. On the show he performed with the likes of Good Charlotte, Evermore and Thirsty Merc as well as being fortunate enough to write with popular artists such as Southern Sons and Small Mercies.



Interview with Teale Jakubenko
Question: How would you describe Good Times Start Right Now?

Teale Jakubenko: It is my first bunch of recordings in which I finally believe in, in the quality and in the first stage of the evolution of my musical sound and style. Good times start right now is a bit of a life motto of mine that no matter how bad or tough things get make the good times start right now.


Question: What was it like to tour your EP?

Teale Jakubenko: It was awesome to finally get to see and hear people's reactions to my style as not many had heard it after the show. To travel around the country and to please every crowd we played to and get their approval is to me a great success and very fulfilling.


Question: What did you learn about yourself, as an artist, whilst on tour?

Teale Jakubenko: That this industry is tough but playing live and evolving as a musician is definitely what I was put on this earth to do.


Question: Do you write your own songs? What's your inspiration?

Teale Jakubenko: I do write my own songs yes, but lately have been really enjoying collaborating as two or three minds are better than one.


Question: What music/artists do you listen to when you are not playing your own?

Teale Jakubenko: I am honestly a self-confessed radio listener. All stations and all styles. A go to band for me is Maroon 5 due to their similarities to my style but also enjoying lately a new band called Young Lions.


Question: What's next? Tour/Album/Single?

Teale Jakubenko: Next for me is to really try and raise awareness that I am here and ready to perform for the country as its about being heard so if another album and tour is what it takes then so be it. I am also looking to really try and shoot more YouTube content as this will help people see what I am all about.


Question: Was there a moment you contemplated throwing in the towel?

Teale Jakubenko: There have been many moments that I have contemplated giving up as the music industry is the hardest in the world I believe and everything costs money. After investing so much into myself as a musician financially and emotionally it is not in my blood to give in.


Question: Do you prefer performing live or recording?

Teale Jakubenko: Live for sure hands down. You never really get the emotional attack in recording then you do live. I think I will be looking into doing a lot more live recording in the future.


Question: What/who was your inspiration to go into the music industry?

Teale Jakubenko: When I started singing very casually I was told I sounded a lot like Rick Price. So after discovering him and what he can do as a musician and vocalist, it intrigued me enough to practise very hard to become the best musician I can be, so I would have to say Rick Price.


Question: What is the biggest challenge you have faced along the way to your musical success?

Teale Jakubenko: I would say being pigeon holed as a reality TV singer! After being on a show like Idol you get great exposure but to try and rise above all the negative aura that comes along with it is very tough. This is another motivation and passion of mine to perform now to as many people as possible to show that I can sing and perform up there with the best of them.


Question: What's a typical day like?

Teale Jakubenko: Well it is no secret that the music business can cost a lot of money to record etc so many of my days are taken up by working in the family business to help fund my career adventures but to also feel like I am living somewhat of a normal life and using any spare time I have for music.


Question: What has been your favourite part of becoming a music artist?

Teale Jakubenko: Performing and finding those really big fans of what I do and making that musical connection.


Question: If you could collaborate with another artist, who would it be?

Teale Jakubenko: Wow so many to choose from. I think at this time in my career it would be to try and create a hit that is current and true to my style so I would have to say Maroon 5.


Question: Do you have a website fans can visit?

Teale Jakubenko: www.facebook.com/tealejakubenko


Question: What message would you like your music to say to your fans?

Teale Jakubenko: Please listen and enjoy and spread the word (laughs) if only a song could do that so specifically.


Interview by Brooke Hunter