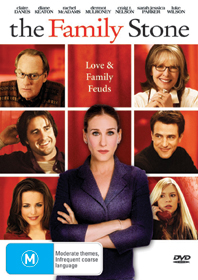 Engage in the laughter, feel the love, and experience the dramatics that unfold at the annual gathering of the New England family - the Stones, when The Family Stone is released on DVD (May 3). Like many family gatherings, before this visit is over relationships will unravel, new ones will form, secrets will be revealed, and the family Stone will come together through its extraordinary capacity for love.

Led by Sarah Jessica Parker in her Golden Globe nominated performance as Meredith, the uptight girlfriend of the Stone's favorite son, an all-star cast joined to make up the quirky and protective family. Others in the family include Diane Keaton, (Father of the Bride); Claire Danes (Shopgirl); Rachel McAdams (Wedding Crashers); Luke Wilson (Legally Blonde); Dermot Mulroney (My Best Friends Wedding); Ty Giordano (A Lot Like Love); and Craig T. Nelson (The Devil's Advocate).





DVD SPECIAL FEATURES
Delve further into this nontraditional family through the wide selection of special features included on the disc:


Feature commentary by Sarah Jessica Parker and Dermot Mulroney - the two lead actors give their perspective of what is happening in the film and anecdotes of what went on behind-the-scenes during production.
Feature commentary by Director Thomas Bezucha, Producer Michael London, Editor Jeffrey Ford and Production Designer Jane Ann Stewart - the creative team behind-the-scenes take you through the making of the feature as it plays on screen.
Deleted scenes with optional commentary by Thomas Bezucha and Jeffrey Ford - your opportunity to view the scenes that wound up on the cutting room floor. View each scene on its own or with the option of listening to the director and editor explain why it didn't make the final cut.
Fox Movie Channel presents Casting Session - this Fox Movie Special shows the casting process for The Family Stone and what it takes to put together the perfect ensemble cast.
Fox Movie Channel presents World Premiere - be part of the fun through this look at the world premiere that celebrated the launch of the films theatrical release.
Behind-the-Scenes - be an insider on the set of The Family Stone. Experience the hard work, good times and camaraderie this group of talented actors shared while making the film.
Q&A with cast at the Screen Actor's Guild Theater - gain insight into the actors views of the film and its production through this Q&A session held prior to the theatrical opening.
Gag reel - even the best actors make mistakes. Here's a montage of some of their best "bloopers."
Strata recipe - the infamous dish that resulted in one of the most famous scenes in the film. With the recipe you can make the strata your tradition just as it is in Meredith's family.

An incredible all-star cast shines in this deliriously funny comedy with a "sharp comic edge" (Rolling Stone magazine)! Featuring Sarah Jessica Parker in a Golden-Globe nominated* role, The Family Stone is a captivating, feel-good film that'll leave you reeling with laughter! Uptight and ultra-conservative corporate executive Meredith Morton (Sarah Jessica Parker) ventures out of Manhattan to meet the family of her boyfriend Everett Stone (Dermot Mulroney). But the Stones are a quirky protective group that need time to warm up to the frosty stranger. It will take a surprise guest, two shocking romances and several beers to thaw Meredith's icy exterior and melt the hearts of the Family Stone!

www.foxmovies.com.au