Valquer Laboratorios Shampoo Bar with extract of blueberry and avocado
Cranberries for your hair and Avocado: the perfect combination for hair health in Valquer's solid shampoo. Cranberry extract is rich in vitamins, amino acids, fruit acids and natural antioxidants capable of neutralizing the action of free radicals and has, in addition, stimulating and revitalizing activity for the hair. This ingredient contains all essential oils in micellar suspension, mineral salts and trace elements. And due to its physical and chemical composition, it helps to restore homeostatic balance and constitutes an essential moisturizing element. Together with avocado extract, it provides an unbeatable formulation for hair treatment. The latter is a fruit rich in vitamins, whose topical application helps to maintain the natural functions of the skin and hair, and facilitates its normalization when there have been alterations due to various causes.
Válquer's solid shampoos, soap-free, and vegan shampoo
For this reason, Válquer Laboratorios introduced the new Sustainable Beauty concept and launching the innovative solid.
Excellent development that brings beauty to our hair, without giving up the benefits of liquid shampoo. Join the zero waste movement with plastic-free solid shampoos.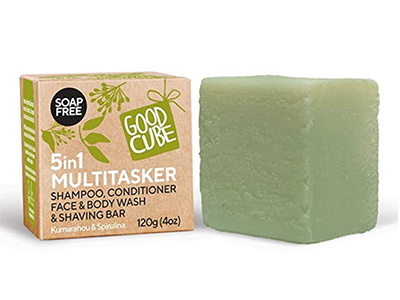 GOOD CUBE 5 in 1 Multitasker Bar
For the daily washing of body, face and hair, and perfect for shaving. The Multitasker Cleansing Bar is formulated with clarifying NZ native kumarahou extract, nutrient-rich spirulina, & detoxifying green clay
ZERO WASTE Using one Good Cube bar is equivalent to four 350ml bottles of liquid shampoo & conditioner. Bars will not crumble upon use and are long lasting. Each bar funds the removal of 1 litre of plastic from coastlines and beaches around New Zealand to benefit precious sea birds, marine life and the enjoyment of all New Zealanders
VALUE Each economic double pressed 120g bar provides over 100 washes and lasts up to 16 times longer than regular liquid shampoo and conditioner. Be sure to keep the bar well-drained and dry between washes. Best if hung in the Good Cube Bar Saver Bag
VEGAN FRIENDLY All ingredients in Good Cube are plant-based. There are no animal-derived ingredients and saves over 1 litre of water per 120g bar. CRUELTY-FREE Good Cube conditioning shampoo is not tested on animals, and never will be
NO NASTIES Good Cube is free of parabens, sulfates, polyethylene glycols (PEGs), EDTA, Silicones, SLS, GMOs and Propylene Glycol. Good Cube only contains plant-based ingredients, specially chosen for their unique properties that clean, nourish, repair and rejuvenate with a clean, fresh, natural fragrance from essential oils
RRP: $24.99

Shampoo Bars available on Amazon Australia