Sydney-based rapper ZEKIEL is set to return with his new single "9 Days Straight", a low-fi, trap pop-infused track that combines his signature melodic flow with the relatable and poignant message of feeling like a misfit.

The follow up to his 2019 track "Skipping School", which saw ZEKIEL praised by the likes of PileRats and Life Without Andy, "9 Days Straight" tells the story of the exciting artist's move to Sydney from his small hometown in Queensland. The lyrics speak to the heart of anyone who has ever felt misunderstood, overworked, and far from home, intolling, "take me back to the place I know, where the grass is green, and the love I get ain't on a screen."

More info: Growing up in the Queensland town of Mackay, 23-year-old ZEKIEL is one of six children. Moving to Brisbane at 18, ZEKIEL flexed his newfound passion for writing and performing, while working hard independently promoting his music, before the hustle saw him move to Sydney in 2019.

Quickly building a network of talented next-generation artists around him, ZEKIEL puts a particular emphasis on collaboration and championing the success of those around him. It's something he believes that makes this new generation of musicians unique. Instead of viewing each other as competition in this cut-throat industry, they work collaboratively on each other's projects.

Since moving to Sydney he's worked with the likes of Thelma Plum, Cosmo's Midnight, Jack Gray and Cyrus - as well as working as a topliner and guest writer.


Interview with Zekiel
Question: How would you describe your music?

Zekiel : I never know how to answer this.. I guess I make music that I think sounds good. At the core I feel its hip hop, but the nuances and sounds used often appear in the pop world. My goal is to be original and authentic in whatever way I present it.


Question: Can you tell us about 9 Days Straight?

Zekiel : I wrote this song when I was going through an episode of insomnia in late 2019. For almost six months I was struggling with family tragedy, personal turmoil and the heavy burden of financial stress. I'd been through some stuff before that, but this experience was really jarring.. I couldn't handle the ups and downs in my train of thought and I needed to start/continue writing to give myself clarity.. It turned out to be an ode to duality and the two very different people inside me. Something I have accepted and nurtured moving forward.


Question: Is there a particular message you hope listeners take from your music?

Zekiel : We are often so stimulated (by the outside world and everything going on) that our internal discussions are drowned out and our personal growth is stunted. For '9 days straight' in particular, which is a song about reflection and acceptance, I want my message to be one of connection and understanding. Of empathy and compassion. Of love and self-acceptance. Things we often forget are important.


Question: Do you prefer performing live or recording?

Zekiel : I enjoy writing/recording with my whole heart. Some of my fondest memories come from inside a caravan, writing songs with my two best friends. BUT. Playing live is one my favourite things in this world. The energy. The people. The noise. Very few things could top that for me.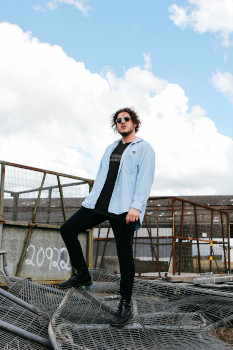 Question: Which is your favourite song to perform live and why?

Zekiel : I do indeed. It's called 'LIL B' and it never fails to get a crowd reaction and comments after the show always make me laugh. I'm sure you'll hear it and understand in a few months when I release it.


Question: Can we expect an upcoming tour once the restrictions are lifted?

Zekiel : A little something something is in the works but no official word yet.


Question: If you could have anyone, in the world, attend a show, who would it be?

Zekiel : Ian Mckellen or Patrick Stewart or Halle Berry or Hugh Jackman or any of the OG X-men really.


Question: Which music/artists are you currently listening to?

Zekiel : I'm currently listening to a playlist that has Stormzy, Adele, Russ, Doja Cat, Dom Fike, Noname, lil peep & a whole lot of Juice WRLD. Just to name a few :)


Question: What or who was your inspiration to go into the music industry?

Zekiel : It was always something I had in the back of my mind. Performing and acting were passions of mine since I was young and I always ended up in performances of some kind. But it was actually Melbourne rappers like (Pez, 360, Justice, Kaos) who inspired me to start writing and performing in front my webcam. Which is where this musical journey started about 9 years ago.


Question: If you could collaborate with another artist, who would it be?

Zekiel : Alicia Keys or Kimbra.


Question: Did you have any pre-conceived ideas about the music industry?

Zekiel : Yeah I definitely did. Meeting the heroes and idols who had made the soundtracks for my childhood was completely surreal. In my head they were Gods with an unattainable image and status. When in reality they were just extremely talented people who worked hard for everything they got. It made me realise I could do this if I just nurtured the right relationships and put my mind to it.


Question: What's a typical day like?

Zekiel : Everyday is different for me. But something like this I guess..
Wake up, check the news cycle and acquaint myself with what's going on in the world. Update my socials. Eat. Exercise. Shower. Roll up. Then put a minimum of 3 hours everyday into writing, editing and brainstorming any current projects I'm working on. I like doing jujitsu when there aren't pandemics too.


Question: What has been your favourite part of becoming a music artist?

Zekiel : Playing live shows with people singing your lyrics back at you. Those moments are validation and encouragement for the days when I'm ready to stay in bed.


Question: What's next, for you?

Zekiel : I have releases planned for the next few months so I will be rolling out an E.P with a bunch of video content along side it. A few film clips.


Question: Can you share your socials? (links please)

Zekiel : Instagram
Twitter
Facebook


Interview by Gwen van Montfort