Attitude Is Everything
Cast: Emily Ratajkowski, Amy Schumer, Rafe Spall, Michelle Williams
Director: Abby Kohn, Marc Silverstein
Genre: Comedy
Running Time: 111 minutes

Synopsis: In I Feel Pretty, a woman who struggles with feelings of deep insecurity and low selfesteem that hold her back every day, wakes from a brutal fall in an exercise class believing she is suddenly a supermodel. With this newfound confidence she is empowered to live her life fearlessly and flawlessly, but what will happen when she realises her appearance never changed?

When Renee Bennett (Amy Schumer, Trainwreck) looks in the mirror, she sees a woman who isn't good enough and who feels invisible with a steady job, decent apartment and loyal friends.

But she has always dreamed of more. She wants to be pretty – the kind of pretty that is undeniable, and all the perks that go with it. One rainy night, inspired after watching the movie Big, she heads to a local park, tosses a coin in a fountain, and begs the universe to grant her her greatest wish: to be beautiful.

The next day, disappointed that her wish hasn't been granted, she goes to her spin class. The SoulCycle scene is intimidating, but she puts on her game face, stares into the instructor's eyes and focuses – so hard that she flies off the handlebars, crashes to the floor, and smacks her head – not once, but twice – before going unconscious.

As she wakes, woozy, bloodied and minus a major clump of hair, she gets the shock of a lifetime when she looks in a mirror. Her wish has come true. For the first time ever, she can say I Feel Pretty – and mean it.

Unbeknownst to Renee, her outward appearance hasn't changed at all. To BFFs Vivian (Aidy Bryant, Saturday Night Life) and Jane (Busy Philipps, Vice Principals), Renee looks exactly the same. But they play along because 'new" Renee's confidence and charisma have surged. And that's a good thing. Thanks to her newfound confidence, she puts herself out there and meets a great guy (Rory Scovel, The House), aces a job interview, and even enters a bikini contest without a shred of fear or insecurity.

After six years in a grimy basement office, Renee joins the glamourous people at cosmetic giant Lily LeClair's Fifth Avenue headquarters. The elite beauty company is about to launch a line for everyday women. For CEO Avery LeClair (four-time Oscar® nominee Michelle Williams, Manchester by the Sea) and her grandmother, company founder Lily (Lauren Hutton, American Gigolo), Renee provides the perspective they need to make their new line appealing to the commonplace shopper. Renee finds her ideas in demand for the first time ever, Avery's playboy brother Grant (Tom Hopper, Game of Thrones) also finds himself intrigued by Renee's confident sense of self, and eager to get to know her better…

Feeling pretty is just as awesome as Renee imagined, but with some unexpected realisations. For example – Avery, despite her perfect life, has real confidence issues. And Mallory (Emily Ratajkowski, Gone Girl), the flawless model in Renee's SoulCycle class, doesn't have all the answers either and is capable of being just as heartbroken as someone who looks like Renee. Even Renee, propelled by her newfound confidence, runs into complications that can't be fixed by appearance alone. But her extraordinary 'transformation" leads Renee, and those around her, to fully realise that how you feel about yourself truly epitomises your potential as a person for realising your dreams and for happiness.

I Feel Pretty
Release Date: April 19th, 2018
About The Production
Get Your Life!

Accepting the role of Renee Bennett was a no-brainer for Amy Schumer. The character's hopes and hang-ups offered endless opportunities for comedy, as well as some real truth about women's lives.

'The thing that attracted me to the movie was the message," said the prolific actor, writer, stand-up comic and producer. 'It's the exact thing I wanted to communicate at the exact time. All I ever want to do is make people laugh and feel better, and I think this story does just that."

Relating to Renee was easy. 'She's a compilation of all my friends and me, and how you wish your best friends could see themselves as you see them," Amy Schumer said. 'Renee doesn't know the potential she's working with. I hope that watching her have this kind of arc will help other people."

Aidy Bryant, who plays Renee's friend Vivian, thinks it will. 'The core of the story is about wanting to live your life in an uninhibited way, and not let a little doubting voice change your behaviour," said Aidy Bryant. 'That's how Amy Schumer is, a total bad-ass. You can't intimidate her, which is cool to see in action."

Actor and stand-up comedian Rory Scovel, who plays Renee's boyfriend Ethan, agreed.

'The ongoing social conversation of women, body-shaming and perception are themes Amy Schumer touches on in her comedy and they're all in this film," he promised. 'It's important that this message has a face to go with it and Amy is perfect for putting it out there."

The idea of a film about a head injury changing a woman's self-image began brewing with writer-directors Abby Kohn, Marc Silverstein several years ago.

'We knew we'd be threading the needle with the tone, but thought it could be really funny and say something we believe in," said Abby Kohn. 'We also knew we wanted to direct it, so we kept it on the back burner until we could give it time."

Inspiration came from some of their mutual favourite films.

'It's an homage and also makes fun of Big and Tootsie and some of the other great switcheroo movies we loved growing up," said Marc Silverstein. 'They don't really make movies like that now so we had to make this one feel fresh, not like something from the 80's or 90's." Their solution ended up being pretty simple: keep it real.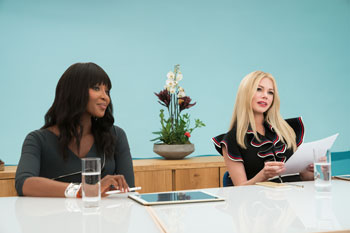 'No magic, no visual tricks, no shots that are anything other than the reality of the movie you're watching," said Marc Silverstein. 'It all pivots around Renee's perception of herself and the tension with how the world sees her."

Abby Kohn recalled: 'One of the challenges was getting everyone on board with the idea that we are never going to see this girl any differently than she is – and that's what the fun is!" Still, Renee's internal transformation gives her a glow and a strut she's never had before, which was fun to play.

'The biggest challenge was to play Renee before she hits her head," said Amy Schumer. 'To really let that vulnerability and low self-esteem flow through you while you live it out on camera is hard and emotional. It's easier to play the Sasha Fierce version of her where she feels she's got it going on."

Amy Schumer's commitment to both versions of Renee thrilled the filmmakers. 'Amy Schumer is fearless and will go for these scenes without ego or vanity which is so much fun with a comedy that revolves around one person," said Abby Kohn. 'You would not get the same kind of comedy or emotion with someone who is worried about how they look."

Abby Kohn, Marc Silverstein and the I Feel Pretty producers (from Voltage Pictures and Wonderland Sound and Vision) all had Schumer at the top of their wish lists for the role. But back in March 2017, when the filmmaking team came together, she was already attached to another female-driven comedy scheduled to shoot that summer. Soon after, she was also committed to an autumn Broadway debut in Steve Martin's Meteor Shower, which would take her into early 2018.

But wait.

'A few days after we closed the deal on the script, it was announced that Amy Schumer was no longer doing the other film, so there was a tiny window in her schedule," recalled Voltage's Dominic Rustam.

The producers pounced. 'Her agent and manager read the script over the weekend and loved it," said Rustam. 'The following Friday we got an email saying Amy Schumer had read it, too, and wanted to Skype with the directors the next day. We closed the deal within two weeks.

I've never seen anything happen that quickly but obviously Amy Schumer's a force of her own. She's also a producer on the film and has been a great collaborator."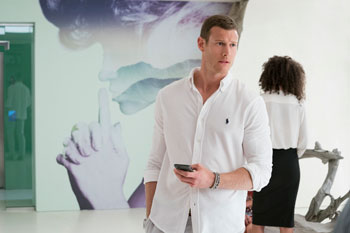 The planets had aligned. Production began July 27, 2017 with two days of filming on New York City streets, then moved to Boston for the remainder of the shoot.

'The fact that she was available and we were able to make this movie before she went off to Broadway made it feel meant to be," said Wonderland's Mary Viola.

No one savoured the news more than Abby Kohn and Marc Silverstein.

'Not only is Amy Schumer the funniest woman working in show business, but she also has a deep underlying sweetness and optimism," said Marc Silverstein. 'The character needs this – we don't want her coming off as mean or snide when she starts to feel attractive. Amy Schumer's able to push the comedy, yet keep it real and grounded, and make people root for her. The places she goes as an actress and the depth of feeling she gets to in this performance will resonate with a lot of different people."

Friends and Family ….

Abby Kohn and Marc Silverstein waited a long time for a chance to direct their work. 'It's something we've wanted since we met in film school, and we've pictured how we'd direct everything we've written since then," said Marc Silverstein. 'It's satisfying to finally have that control.

'Our directing partnership is definitely an extension of our 20-year writing partnership," he continued. 'We've built this movie in our heads, so we're already on the same page when we have to make decisions on set."

The duo found supportive collaborators in their producers. 'McG and I have a history of working with first-time directors," said Wonderland's Viola. 'As a director himself, McG can be hard on other directors, just to make sure they're prepared. But Abby Kohn and Marc Silverstein blew us away when they walked us through their vision for the film. They wrote a script with an amazing uplifting message, but cloaked it with laughs and dialogue that make it feel edgy and hip and cool."

I Feel Pretty's empowering message is also about friendship, and how the change in Renee affects her relationships with her old friends.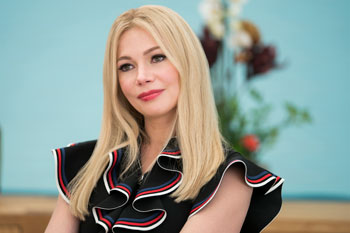 'Jane and Viv are normal girls living their lives in New York, doing their best," said Busy Phillips, whose character Jane is a vet tech. 'They're the barometer for Renee when she believes something magical has happened to her."

Amy Schumer and Aidy Bryant, who plays Viv, already had a 10-year, real-life friendship when I Feel Pretty began filming. Busy Phillips was new to their squad.

'Aidy Bryant has become one of my best friends," said Amy Schumer. 'We're the same. We just want to do bits all day and make each other laugh and kind of trash each other. Busy fit in great with that dynamic."

Aidy Bryant agreed. 'There's a comedy rhythm that Amy Schumer, Busy Phillips and I share. We're all comedy ladies so it felt easy to work together."

Their shared vibe was in full effect for a sequence at the kitschy Bar 169, where the BFFs' meeting with a trio of on-line dating prospects (from the 'GrouperDate" site) inspired a lightning round of raunchy improv.

'I had a hard time keeping a straight face in the bar scene," Busy Phillips confessed. 'Amy Schumer was like an insult comic with Aidy Bryan and me and the guys for like an hour and a half – and we just had to take it!"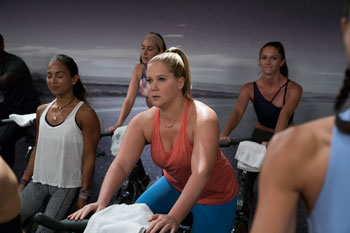 The turns that scene took didn't surprise co-producer and long-time Amy Schumer collaborator Kevin Kane. 'With Viv and Jane, there's a parallel with Amy Schumer and her very close friends," he said. 'She really powers up with the underdogs and we wanted those girls to embody that. They become lovable and open and show all their flaws, and when everybody's willing to do that, it opens up a lot of fun on set. The guys in the scene were comics we know from New York and they all just fed off each other."

For Aidy Bryant, it set the tone for her time as Viv. 'Our bar scenes were shot early in the schedule and we got into a groove there," she said. 'I went in a little nervous and left thinking this is so fun. There's nothing better than improvising with funny people."

The directors were also pleased. 'Amy Schumer, Aidy Bryan and Busy Phillips hanging out together – I can't imagine many women will watch that scene and not want to be their friends, too," said Abbey Kohn. Abby Kohn and Marc Silverstein's openness to improv was appreciated. 'Improv can be a hot button issue for writer-directors, but they let people try new things and got some great material with Amy Schumer and Nikki Glaser and Dave Attell," said Viola. 'In Bar 169 with the GrouperDate scene, they were just going for it. We got some awesome bits there, and some of the moments when Renee enters the bikini contest, too."

Marc Silverstein saw it as the best of both worlds. 'Most of the time we'd shoot the scene as is, then give people the opportunity to do alternate jokes or try different things," he said. 'We wanted to be open to what the scene was going to be and what people were bringing to it. We got the script we wrote, plus a lot of other great stuff."

Not everyone in the cast had an improv background, but all rose to the occasion. 'Emily Ratajkowski, for example, is not known for comedy," said Rustam, 'but I knew from working with her before that aside from being grounded and humble, she's funny and comfortable, so it was an easy decision to throw her into the mix. Once she got into the flow, she was able to riff and ad lib with Amy and the scenes were fantastic."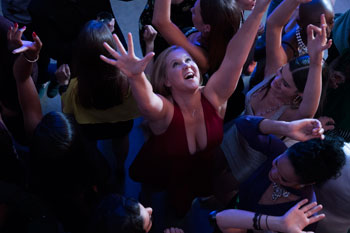 Tom Hopper, who plays the suave Grant LeClair, also had a good time. 'Amy Schumer has this great talent to lift an actor up who might not be as well-versed in comedy," he said. 'She pulls things out of the bag you're not expecting. I really enjoyed reacting to what she throws out."

Comedy connections ran deep on the I Feel Pretty set. 'I've worked with Amy Schumer four times, three on Inside Amy Schumer" said Adrian Martinez, who plays her first office-mate, Mason. 'I'd walk on glass for her. I'd be wearing boots, but would still walk on glass for her."

Cast members including Scovel, Bryant, Attell, Glaser, Sasheer Zamata, Phil Hanley and Kyle Grooms have also crossed paths with her on Inside Amy Schumer and Saturday Night Live – not to mention in the stand-up world. 'I opened for Dave Attell on the road for years," said Amy Schumer. 'He is my favourite comedian and one of my best friends."

Busy Phillips had deep connections, too.

'Marc Silverstein is my husband and Abby Kohn one of my closest friends," said the actress. Her real-life BFF and fellow Dawson's Creek star, Michelle Williams, was also a cast member.

'I Feel Pretty is co-written and directed by one of my closest friends, Marc Silverstein, who's married to my very closest friend, Busy Phillips," said Michelle Williams. 'It was a great opportunity for me to work with family and also to work with Amy Schumer, someone I've admired from afar for a long time. I love what Amy Schumer stands for, what she represents." The cast and crew were excited to see Michelle Williams in action. 'My agent said Michelle Williams and Amy Schumer and that's why I took the role," said Lauren Hutton.

Busy Phillips knew that Michelle Williams would show them all something new, and she wanted to see it, too. 'She gravitates towards really intense work but the Michelle Williams I hang out with is goofy and funny and light," she explained. 'This is a brilliant opportunity for her to showcase some of those sides with Amy Schumer. The role is really fun and a safe space for her because she's known Abby Kohn and Marc Silverstein as long as I have. There's built-in trust, like family. We only had one scene together, but I stuck around a few extra days to watch her work."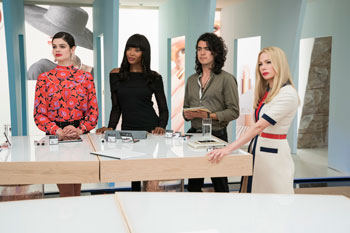 Diffusion ….

Michelle Williams portrays the chic Avery LeClair, a woman who is in no way average. She's a lawyer, a Wharton MBA and CEO of a prestigious international company. She's also stricken with doubt and shame whenever she speaks.

'Avery sounds different from other people," Michelle Williams explained. 'She's the boss, a go-getter, well-studied and well-travelled, but she's also the object of ridicule because of her unfortunate voice." The script describes the voice as 'Kinda HIGH. With some serious VOCAL FRY. Like it doesn't match her demeanour at all." Michelle Williams took it from there.

'We have a dog at home called Lucky who talks like this," she revealed. 'When I read the script, I thought, oh gosh, I don't really have any voices, I'm not a funny person. But I could do the dog voice. We have a lot of fun in our house now talking about how Lucky's starring in a movie.

'The biggest challenge is not doing the voice because it's actually soothing and weirdly addictive," Michelle Williams continued. 'It makes you feel like people are going to protect you. Sometimes I use it when I call for room service or book a car, just to keep Avery close to me."

But Michelle Williams withheld the voice from her I Feel Pretty colleagues until she reported to set. It caught a few people off guard.

'I wasn't expecting Michelle Williams to be this funny," said Hopper. 'The voice was hard to act against at times because it's so funny."

Avery's flaw served an additional purpose. 'We tried to give each character something they feel is not great about themselves – a thing that exposes them as not perfect," said Marc Silverstein. Even the legendary Lily LeClair.

'Lily is the girl who came from very meagre beginnings and built an empire but still feels unworthy, like the poor kid from Baltimore she used to be," Abby Kohn offered.

'Everybody has something, even if it's buried deep, that other people don't know they're carrying, that makes them feel less than." Even the man Renee falls for. The guys at his job call him 'Wheat Thin." As Abby Kohn said: 'Ethan never feels like he fits into a boys' club, despite being male himself."

That's because of Marc Silverstein. 'Ethan is more based on me," he explained. 'I'm not really into masculine things. I do like sports but certain parts of that culture really bug me. It's kind of embarrassing."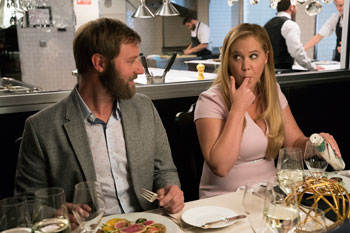 Scovel describes himself in similar terms. 'Ethan's a laid-back, stay-out-of-the-way guy until he meets Renee. I'm also a bother-nobody type guy."

Renee's confident pursuit of Ethan was life-changing for this unassuming man.

'Ethan goes quickly from someone who gets asked on a date by a stranger at a dry cleaner's to seeing his extremely confident date perform in a bikini contest," said Scovel. 'At that point, he's not even comfortable being at a bikini contest, let alone on a date with someone participating in it."

Filmed over two days at the Carousel Lounge in Salisbury, a Massachusetts beach town about an hour north of Boston, the bikini contest sequence was Amy Schumer's favourite. 'The way it was originally scripted, I just came out, did a pivot and smiled at the judges," she recalled. 'What it ended up becoming was so insane and so fun and really empowering to shoot for me."

After introductions by emcee Attell, Renee danced to four-minute song 'Swalla," by Jason Derulo featuring Nicki Minaj & Ty Dolla $ign, as a cluster of bikini models posed behind her on the Carousel's small stage. 'Danielle Flora, who is the SNL choreographer, gave me the idea to pour water on myself," said Amy Schumer. 'She couldn't be on set physically so she sent a video. When I saw her dump water on herself, I said, -I'm doing that!'"

At the end of the second long day of work in Salisbury, which was also the location for a romantic boardwalk scene, Amy Schumer was not quite ready to go back to the hotel and chill. She had other things on her mind. Heather Heyer had been killed protesting the white power march in Charlottesville, Virginia, a few days earlier.

'While we were working in Salisbury, Amy Schumer noticed a music hall (Blue Ocean) on the boardwalk and coordinated a stand-up show for herself, Dave Attell and me after filming that night," said Scovel. 'It was very cool to get onstage while shooting a movie with people who are also stand-ups for an audience that wouldn't necessarily get a show like that in their town. All the money went to a worthwhile cause."

The cause was a scholarship in Heather Heyer's name.

Headquarters …

Renee Bennett is living her dream behind the reception desk at the posh Fifth Avenue offices of Lily LeClair. Her own modest apartment, situated above a Chinatown restaurant, is where her dreams are hatched.

Production designer William O. Hunter created both of these dreamscapes on improvised soundstages in Boston.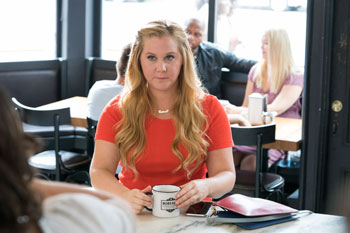 'Downtown real estate is expensive but the Boston Flower Exchange was empty and had just enough space for us to build our sets," said executive producer Justin Bursch. The Flower Exchange hosted 10 days of filming and also served as basecamp when production moved to various locations in the adjacent South End.

In addition to its jaunt to Salisbury, I Feel Pretty travelled to Celley's Pub & Grub, a former speakeasy in the nearby city of Lyn (a.k.a. 'City of Sin") for the Bar 169 scenes, and to Worcester Regional Airport, which portrayed both New York and Boston airports on the production's final day of filming. Other notable locations included the China Pearl Restaurant in Boston's historic Chinatown, Menton Restaurant in the Seaport District, the Ames Hotel and the Langham Hotel, both downtown, and, of course, SoulCycle at the suburban Dedham Legacy Mall. Liberty Hall at the Boston Commons Revere Hotel portrayed the Brooklyn site of the Lily LeClair launch event.

But the Flower Exchange was home. Hunter had a lot to do in a short time to create his centrepiece sets. 'We built a fictitious company and the brands within it, and kept it fully contained on a stage," he said after completing the LeClair offices. 'We skirted the edge of slightly fantasy, slightly storybook and slightly real, based on what Renee's going through and her misperceptions of what's happening."

In other words, it's a one-of-a-kind joint, although some of its outlandish amenities and design features do exist in modern corporate digs. Or as Abby Kohn said: 'William O. Hunter gave us the zeitgeist of eco-chic at Lily LeClair, pumped up by like 15%. It photographs beautifully and gave the actors fun stuff to deal with." The contrast between Renee's worlds was stark.

'Her apartment has the gritty feeling I was going for, a sweaty New York box," said Hunter. 'The IT department where she works in the beginning is another Chinatown sweat box. I wanted a pre-gentrification New York vibe, so you could feel her struggles in the grit of the city as she grinds and tries to step up the ladder."

Renee brightened her little nest with colourful thrift store finds. Set decorator Bridget Keefe shopped on Craigslist and at prop houses, architectural salvage yards, antiques stores, thrift shops and consignment stores for the furnishings. 'Being in an older part of the country helps a lot, as far as what you can find" she said.

Mirrors, though very challenging to shoot around on a film set, play an important role in I Feel Pretty. 'We had six or seven pretty large mirrors placed around her apartment," said Bridget Keefe. 'The crew had to work around them so that we could see the mirror in the frame without seeing everybody looking at it from behind the camera. But it was worth the trouble to Abby Kohn and Marc Silverstein. The apartment is where Renee is completely herself. Everything there represents where she's been and where she is, though not necessarily where she wants to go."

Renee's sights were set on Fifth Avenue and Hunter used fanciful elements of the natural world to create an exotic environment for this part of the story.

'She goes from claustrophobic to a world that vastly opens up, a world of luxury where people have the ability to infuse nature into their environment," Hunter explained. 'This is a Manhattan skyscraper with a cafeteria where you can actually eat the walls. A lot of places have fern walls for oxygen, but these people can fill their plates from a garden in the middle of their workspace."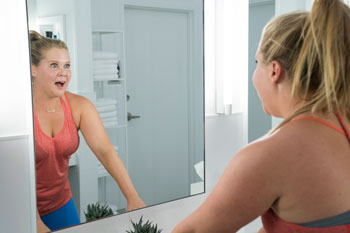 The trappings of success at LeClair headquarters also include a conference room surrounded by a shallow moat with floating lily pads. Renee's desk is a huge desert boulder set in the middle of a lobby decorated with gnarled pieces of driftwood. The ocean coloured walls hold photographs of beautiful women, including company founder Lily LeClair at various stages of her fabled modelling career. These photographs include familiar, iconic images of Lauren Hutton, who plays Lily, from various stages of her phenomenal modelling career.

'Lily got the best photographers in the world, the best hair and make-up people, the best lighting and then put up pictures of herself," said Hutton with a laugh. 'She didn't pay for models."

Costume designer Debra McGuire had fun dressing the LeClair ladies. 'I wanted Avery to be something people would aspire to, and to show a relationship between her and her grandmother," she explained. 'I did Lauren in vintage Chanel and wanted Avery to be a more modern version of that with her own flair. Gucci and Dolce & Gabbana were what spoke to Michelle Williams, and to me and to the directors."

There were also dozens of background actors to dress for scenes at the office and at the launch event.

'The Lily LeClair office preoccupied me from the beginning," said McGuire. 'Michelle William and I worked together. The set was a hipster environment with a bit of Malibu, but I still wanted the clothes to look like New York. I did black and white with pops of colour, but very high fashion and editorial looking. We wanted them to look really upscale and above the norm to make it a place that was far-reaching for Renee."

But Renee, it turns out, has what it takes to become a jewel in the LeClair crown. Just by being herself.

'Renee is a girl everyone will fall in love with because she's wanted so much to be out of her own body and be this other person, but the whole time, it's all there," said Naomi Campbell, who plays snooty CFO Helen. 'We all have a bit of Renee in us at some point in our lives." And we all know that being yourself can take some work. But Lauren Hutton, once 'a tall, very skinny girl from the Florida swamp," has some advice.

'I know how girls out there feel, and old ladies," she said. 'I've run the whole wide, long gamut from one end to the other and am still in shock. But just know that whatever your mother tells you is the problem with your looks – or your dad, boyfriends, aunts, uncles or other kids – you've got to look at yourself in the mirror with a kind eye, not through other people's eyes."

I Feel Pretty
Release Date: April 19th, 2018