Based On Anna Todd's Best-Selling Novel
Cast: Meadow Williams, Hero Fiennes Tiffin, Josephine Langford, Swen Temmel, Samuel Larsen, Pia Mia
Director: Jenny Gage
Genre: Drama, Romance
Rated: M
Running Time: 106 minutes

Synopsis: Tessa Young (Josephine Langford) is a dedicated student, dutiful daughter to her single mother Carol (Selma Blair) and loyal girlfriend to her high school sweetheart Noah (Dylan Arnold). When Noah and Carol drop Tessa off for her first year of college, her course is clear: get good grades to continue on her path to finding a successful career and living happily ever after. But her roommate Steph (Khadijha Red Thunder) has other ideas, wooing Tessa to experience the social side of college by introducing her to her wild group of friends (Samuel Larsen, Inanna Sarkis, Pia Mia, Swen Temmel), including Hardin Scott (Hero Fiennes Tiffin).

British import Hardin is smart and mysterious and disarms Tessa with his alternatingly standoffish and flirtatious demeanor. When a truth or dare game at a party has Tessa poised to make out with Hardin, she declines to play – a rejection Hardin hasn't experienced before. Tessa and Hardin go on to spar over literature in their shared English class, after which Tessa's new pal Landon (Shane Paul McGhie) divulges that Hardin is his soon-to-be step-brother and the son of the college's Chancellor (Peter Gallagher). Tessa is surprised that rebellious Hardin would be related to such a respected campus figure. Landon hints that Hardin is a complicated character and may not be exactly who he seems. Tessa makes up her mind not to play into Hardin's games.

But when Hardin invites Tessa to visit his "secret place" – a beautiful, secluded lake deep in the woods outside of campus – he shows her a vulnerability that ignites a desire in her. Tessa starts to let go of the reins she's held so tightly and allows herself to open up to Hardin, discovering they have more in common than she ever would have imagined. As both their romantic and physical relationships blossom, Tessa begins to find her independence and question everything she thought she knew about herself and what she wants out of life. And then she's thrown into even deeper disarray when it appears that Hardin is hiding a secret that threatens to tear their love apart.

After
Release Date: July 4th, 2019


About the Production
My life before him was so simple, and now there's just… after. – Tessa

After – an authentic tale of first love and self-discovery – began as fan-fiction online, posted one chapter at a time, almost daily, with the fans weighing in on what author Anna Todd was creating. "The beginning of After was me reading fan fiction," says author Anna Todd. "I've always loved fan fiction, and I saw on Instagram where people were writing fan fiction about the band One Direction. I was the only one of my adult friends who liked One Direction's music. There's something infectious about them and their music that makes people happy. I joined the app Wattpad so I could read it. I had never thought about really writing fan fiction myself."

Soon Todd had read everything available about the boy band on Wattpad, an online social storytelling platform where you can read and write for free. "I only wanted to read fan fiction about One Direction specifically, so I though I'll just write a chapter. It was literally this random thought. I'm glad I didn't really think about it, otherwise I would've never done it," laughs Todd. "I'll write a chapter to entertain myself. After about three months it really started picking up, and eventually crashed the website. Wattpad reached out to me about publishing it as a novel. The book went to an auction and I got to choose the editor and publishing house that I wanted, which is literally like a writer's dream come true."

After became Wattpad's most-read series with over 1.5 billion reads, and in the years since Wattpad has grown to a global reach. The print edition of After was published in 2014 by Simon & Schuster and has since been released in over 30 languages with more than 11 million copies sold worldwide. After has been a #1 bestseller across the globe including Italy, Germany, France and Spain. The main male character in the posts was, at first, inspired by one of the band's popular singers, whose name's initials matched Anna's character's. "But Hardin Scott definitely became the exact opposite of what Harry Styles seems to be in real life. Once I wrote that first chapter, nothing about One Direction stuck in my head, beside their appearances. Nobody in my story is even in a band, no one sings. Nobody is even British in the book, except Hardin. Most of my characters have a bunch of tattoos. When I first started writing the book on Wattpad, Harry Styles had three little tiny tattoos and I had Hardin with his whole chest covered in ink. Then slowly Harry kept getting more tattoos, so that was fun because I just wrote it into the next chapter. Every time Harry would get another tattoo, I would mention one of Hardin's that looks exactly the same. When Harry's hair started getting longer, Hardin's hair got longer too."

It took time for Todd to solidify the overall arc of her story and come to choose its somewhat enigmatic title – whose relationship to the story also evolved with time. "In the beginning on Wattpad the book didn't have a title at all - it literally said 'A Harry Styles Fan Fiction' until I was almost halfway done," remembers Todd. "Once I started getting into the story and started realising how the characters were changing through the entire story, the title 'After' referred to who Tessa is after she meets Hardin and how she becomes this different person. But then as the series progressed, the title became more of who he becomes after her. I've had a million interpretations from fans, including what happens after they fall in love. I like the explanation of what happens after you fall in love, who these people are after they meet each other."

Todd really responded to the community on Wattpad. "The best thing to me about Wattpad is that the people that write and read there, for the most part only write and read there, and only do it out of passion," comments Todd. "The readers are so organic and it's a place where people literally write stories just because they want to write them, they don't care about what's selling, or what their editor thinks. They just write for fun and that is magic to me."

As a young Army wife, Todd wrote much of the first book while her husband was deployed. "The fans just wanted to know what happens next. It felt like they were as much owner of the story as I was, because we were doing it together," Todd adds. "Literally I would write and post, I didn't edit or re-read. It is a social way of writing and I like it. Later I wrote a book called The Spring Girls and I wrote like a proper writer, sitting in a room by myself, and I was miserable. I'll never do it again, ever. Writing on Wattpad is way more fun and social and I found I'm not a reclusive type of writer."


Todd has hardcore fans – who call themselves Afternators – who have been following her right from the beginning on Wattpad. "Their influence has been this sea of fish that's a friend for me. Their comments in the beginning sometimes made me write the next chapter. Their passion – having all these people say 'I need another chapter, I need another chapter' – really did help me write fast. I wrote a million words in a year," comments Todd.

The After Series now includes five published novels: After, After We Collided, After We Fell, After Ever Happy, and Before; as well as two books about an After character in The Landon Series, called Nothing More and Nothing Less. "My foreign publishers have never seen sales like this from an American author writing on a random website with no experience whatsoever," shares Todd.

Interest in making a film version began even before the story was published in book form. "We were in talks with publishers, and Wattpad said somebody wants to make this into a movie. Really?! It's not even a book yet. What a strange but also amazing thing," comments Todd. "But a movie felt like such a far-off concept. A book made sense because the story was already written word. But honestly until the movie was to set to film, it was compartmentalized in another part of my brain. Most books that get optioned don't ever get made into a movie, so I focused on publishing books. The movie would always be a dream, but probably not reality."

Producer Jennifer Gibgot was the first filmmaker to come on board. "When I first set this project up, it was still the beginning of Instagram. I'm not sure if I even had Facebook at the time," shares Gibgot. "When my daughter put me on Instagram, and Anna posted a picture of the two of us, all of a sudden all of these young girls from all over the world would write me these direct messages through my social media. That was when I really became aware of what a big thing this was becoming."

Gibgot was struck by the relatable story and characters. "Honestly, I love the love story between Hardin and Tessa because it's a very imperfect love that felt authentic. Their love didn't feel fluffy. The story is two damaged people coming together and healing each other, and learning to trust one another," Gibgot comments. "The other thing I really responded to is that it's about first love. When you read the books, it's a very visceral emotional experience of what it feels like for a young girl to fall in love for the first time, and it brought me back to being a teenager. Hopefully everyone has experienced a first love, a first heartbreak, a first time of being touched by the right person, and people want to be brought back to that experience."

Just as with readers of the novel, Todd agrees that moviegoers can also find commonality with the characters in the story. "The short version is two unlikely people coming together – one college freshman Tessa Young, raised by a single mother struggling to get by, and their whole goal was to get her to college and have a career. The other Hardin Scott, who doesn't really have any goals. He's smart, actually gifted, but he's just skated through. He is a very angry, lost person. In fact, they are both lost in their own way. She thinks that she is an adult and she's not. He thinks that he is an adult and he's not. They make a lot of mistakes together and separately."

Mark Canton, iconic film and television producer (300, "Power") and studio executive known for many action franchises, and Courtney Solomon, a writer/producer/director with great success in the horror genre, were the next two producers brought into the fold. As Canton remembers, "Courtney got the material and asked me to take a read and I was amazed that this had never been done. It's about a time in one's life, college, where often one has a first love, a first romance, first passion, first love-making, and first heartbreak. From a business standpoint, there's a real opening in the marketplace, no one has really done this well since Twilight. I really gravitated toward this, because I haven't seen a young authentic romance like this in a long time, and because I instantly became a big fan of Anna Todd's work."

"Jennifer Gibgot has produced a lot of very successful movies in the genre like 17 Again and the Step Up movies. We loved the book and the script and thought it was a really interesting take on young romance, young love, young heartbreak, and that first sexual awakening. As a producer and a director, I've worked in fantasy, science fiction, horror, action, and most recently several dramas. But I've never done a romance," comments producer Courtney Solomon. "I was interested to take on the different challenges of a romance, and it's proved to be actually more challenging than I anticipated. Will they end up together? The story has a big speed bump. But what I liked about it is it's very simple. It's about falling in love from her perspective, it's about sexual awakening, and then it's about heartbreak."

Next, Diamond Films also came aboard, with Meadow Williams and Swen Temmel taking on producer and executive producer duties. "Our partner Meadow Williams is great," says Canton. "We recently did Den of Thieves together and she is a fantastic, quite brilliant and ambitious filmmaker herself. She gives us incredible support and ideas."

Williams adds, "After is an absolutely fantastic read - so much more real than many love stories. Anna actually makes you feel like these people are your friends, and sometimes your enemies. The characters are flawed, and they touch you. I always tell my girlfriends when they're trying to be perfect… diamonds have flaws. The fake ones are perfect, but they're fake. Real is beautiful and real is what makes a true gem. Real love is not a storybook fairytale, amazing bittersweet love is a sloppy story. Life gets messy, and love is messy, and it takes a lot of forgiveness and spirit to fight for true love, but it's worth it."

The producers felt it was essential to find the right director who could bring the story to life on-screen without sacrificing any authenticity. "Particularly for the first movie, because the story is from Tessa's point of view, it felt completely right for me to have a female filmmaker tell that story," comments Gibgot. "I saw Jenny Gage's documentary which I absolutely loved, and I thought it was so beautifully shot. I loved how authentic and real it felt, and I really cared about those characters."

For Gage, After came about at just the right time in her career. "After my documentary [All This Panic], about teenage girls growing up in Brooklyn, I was very interested in making a feature film and I was looking for projects that were coming of age and sexual awakening, first love stories about young women, told through their eyes," comments Gage. "The love story of Tessa and Hardin in After really fit all those boxes. I immediately read the book in about two days and fell in love with Tessa and Hardin. Another thing that attracted me was After was also a great vehicle for a very fresh, young aesthetic, so I started by developing a Director's Mood Board, and after meeting with Anna and the other producers, it was more of a refinement process - starting with the bigger vision and then honing in on what the movie would look like."

Todd appreciated Gage's take on the project. "I wanted a director who could make the movie visually beautiful," Todd notes, "but I also wanted to make sure that the novel wasn't taken word for word because I've also seen adaptations where it's exactly like the book and it's not the best thing. I wanted somebody who would take the essence of my story but make it modern and visually appealing, and Jenny is a talented photographer. There was no question that she could make it visually stunning. She also presented a great mood board, and was really in touch with the story itself, and that made me feel comfortable."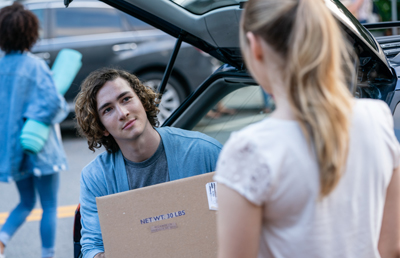 Canton was also impressed with Gage's previous work and felt her vision would suit the production quite well. "There were a lot of people that wanted to direct the movie, but the whole team felt a woman would be best. This movie is told through the eyes of a woman," shares Canton. "Courtney and I got a call out of the clear blue from director Lawrence Kasdan, who is an esteemed writer and filmmaker and a friend of ours. He had seen Jenny's documentary about three friends between the ages of 16 and 18, and he said she'd never directed a feature film but, visually, Jenny's eye was amazing."

Once Gage signed on, she immediately went to work on the script. "I met Anna Todd early on in the process of pitching for the project, and always loved talking to her about her vision. As I started screenplay revisions, I always bounced ideas off of her," comments Gage. "She's captured this amazing story of youth and first love. Anna is the mother of Hardin and Tessa, so she's a vital part of making this film."

As the script developed, several writers including Susan McMartin and Tamar Chestna made contributions. "In the beginning, Susan McMartin and I worked very, very closely together and she came to be my friend. Then Jenny Gage came along, she wanted a different take," remembers Todd. "The thing I was most worried about was the story. There's no way to make a 600-page book into a 90-minute movie without some changes. There will always be scenes that don't happen, but I always said to everyone involved, as long as the characters don't change, I will be very open to things. It's been a pretty good collaboration. It's also been a long road and I'm so glad that it took this long, because now all the pieces of the team are exactly what they should be."

First and foremost, the filmmakers knew they needed to stay true to the story. "All along we knew a few iconic things in the book that there was no way we were going change: number one was the lake scene, but also Tessa's arrival to college with her mom and Noah that sets up that fish out of water feeling of her in this new world; when Hardin's dad gets married; the truth or dare game; and the reveal at the end – those were things that we just didn't want to touch from the book because we knew that the readers would be upset," says Gibgot.

At the same time, the film needed to resonate with more than just the fans of the book. "The messages in this movie are a huge thing that I think about a lot," shares Gage. "One of the reasons why I was attracted to the project is, in this day and age, everyone has a responsibility to tell authentic, inspiring stories. First love is never perfect. It's often messy but that doesn't mean that it can't be something that we learn a lot from, and that is inspiring. As a female filmmaker, as a woman, as a mother of a daughter, I think about that all the time when making any art."

With Gage came co-DP Tom Betterton, her husband and frequent collaborator in still photography and documentaries. "The thing that Jenny and Tom brought to the script that I loved so much was that book one ends with a reveal that none of us felt was going to be a satisfying enough ending to a feature film. We also wanted it to be not just a story about first love, but also about female empowerment," says Gibgot. "Tessa started off the movie as this young innocent girl and she ends an awake, in charge, whole person. To me that felt like a really satisfying character arc."

For Todd, seeing the characters she created come alive on film has been a revelation for the author. "Jenny's take made the film more of an awakening story. Jenny has pointed to directly what Tessa's feeling and experiencing through her eyes the entire film, which has been cool to watch."

"Directing a feature film has been very different and very similar to what I thought it would be," comments Gage. "It's like running a marathon with your feet in place. Directing feels like the longest journey over a short period of time to accomplish something. I didn't realize how close I would become with the cast, with the producers, with the author, and with the whole team of crew making this movie… you really become a family. I learned how important it is that everybody is working in sync to make that vision come forward."

Gigbot concurs that the family atmosphere helped fuel the production, as well as keeping in mind the responsibility they had to the wider After community. "We're an independent film so there's this great feeling of pulling together and using the resources we have," says Gibgot. "There is also a big sense of serving the fans because they've been so much part of this from the beginning."

"I'm a big believer in the entire village. No one does it alone. You have to take your ego out, which is very difficult in an ego-driven industry," comments Canton. "With this team, it's simple. Anna Todd created these characters. We all benefit from her knowledge and her passion because, to her, these characters are real. This is her journey. This is her life."

Todd also serves as a producer on the film and was on set daily for the shoot in Atlanta. "We embraced Anna's involvement, and it's important that Anna is here is because when you have the author present, she can assure certain iconic lines or moments or items, like the dress, that when you're a filmmaker you might overlook," comments Canton. "For instance, she'll tell us that the fan base is crazy about this maroon dress that Tessa wears. Her fan base is rabid about every detail."

Solomon adds, "Fortunately, we've had Anna working with us to have the most important things in the movie. We feel like we have the lines that the fans have been waiting and wanting to hear. We're bringing their characters to life and they're living and breathing. The fans can also look forward to the surprises we're putting in the movie that they very likely aren't expecting, but that have the blessing of Anna."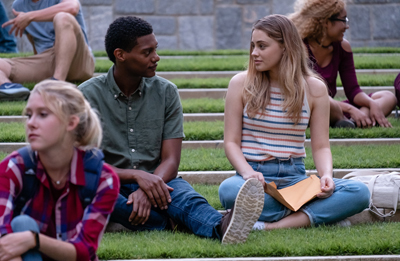 Finding "Hessa"

Australian actress Josephine Langford and British actor Hero Fiennes Tiffin play the leading roles of the natural beauty Tessa Young and mystery man Hardin Scott.

Casting began about six months prior to filming After, and the roles of Tessa and Hardin were essential to get right. "Hardin Scott was written loosely based on a famous UK singer - Harry Styles - as original inspiration, so we obviously had to cast a British guy for authenticity," says Solomon. "We did a good two months of casting in the UK and narrowed it down."

"We found Hero early on in the process," remembers Gage. "His tape from London was one of the first auditions that we all saw. We didn't meet him in person until later, but even on tape there was something about his vulnerability in his performance that really captivated me. He was perfect for Hardin."

The character of Hardin Scott is described as having intense green eyes, an English accent, brooding good looks, and a piercing stare. Todd knew the moment she saw Hero that he was the perfect choice. "When I got in the room with Hero, about 30 seconds in, I said to Jen, 'What just happened? This is it. No one else can be Hardin.'" Todd continues, "I was to the point where I was literally saying, 'If you guys even think about trying to hire someone else, we're going to be making a mistake.' Hero has something."

Despite being unaware of the source material, Fiennes Tiffin was interested in what makes Hardin Scott tick. "I had never heard of the book After when I first auditioned, but as soon as I mentioned it, everyone and their mum around me knew what it was," remembers Fiennes Tiffin. "I don't relate to Hardin in too many ways, and that's why I find him funny to play, because there are aspects of his personality that interest me – his lack of self-control, the fact he's very logical but also impulsive and can be very erratic and unpredictable. Hardin is a womanizer who changes throughout the film, thanks to Tessa. Hardin is a dangerous character, he can go either way, you think you know him and then he will surprise you."

The search for the role of Tessa proved to be more challenging and continued until just before shooting began. "We did a long search for our Tessa and had actually cast an incredible actress, but then due to scheduling conflicts, we had to open up the search again," explains Gibgot. "At the exact right moment, this girl happened to Skype in from Perth, Australia auditioning for the role of Molly, and the second she came on screen, I said 'That is our Tessa.'"

Langford recalls, "I was back home and did a self-tape for Molly, then I did a Skype callback, then a week later when I was waiting to hear back about Molly, I got a call at 5:00AM from my agents who said, 'The producers want to meet with you for the lead role.' So I got on a plane with about sixteen hours' notice, read the script on the plane to LA, had a meeting and about two other meetings and then got the job."

"The most important thing in casting Josephine and Hero was, honestly, their energy," states Todd. "It's so hard to explain. It wasn't an accent or an eye color or hair color… in fact Hero first came in with his head shaved, and his accent was the only thing that reminded me of Hardin at that point. But there was something about him that was movie magic when he started reading those lines. Seeing him in that room, I realized this is that thing that everybody talks about, and it was the same when we first saw Josephine."

"Hero comes from an incredible lineage of actors: his uncles are Ralph and Joseph Fiennes," states Canton. "Also, Josephine's older sister Katherine, has been a big star on the Netflix series '13 Reasons Why.'" But it was more than their famous gene pools that made Josephine and Hero right for these roles. As Canton explains, "The performances of Josephine and Hero as well as their chemistry together are the heart of the movie."

The importance of that chemistry and the relatability of their story was not lost on the two young co-stars. "People are drawn to the story of Hessa - Hardin and Tessa - because they are completely different people who have an obvious attraction at first sight, but initially they don't ever know how much they're going to love each other," says Fiennes Tiffin. "This is one of those great stories where you can learn to love someone. Their story does not shy away from showing the difficulties of love and the intimate parts and the complicated parts."

"After is told from Tessa's perspective, and I liked that I was going to have the opportunity to play a lead female character in a movie for young girls who isn't perfect," reveals Langford. "Because Tessa's not. She's not faithful to her boyfriend. She can be judgmental at times. So often in romances, you don't get that. But in After, there wasn't just this girl who never makes a mistake who meets a boy who never makes a mistake and it's happily ever after. They challenge each other and their story isn't perfect in any way, shape, or form. Real relationships can be messy and complicated, and the people in them can be messy and complicated - which is why I think so many people are drawn to the novels. I actually saw this film as two separate stories - the sexual awakening and coming of age of an 18-year-old girl, and the beginning of an opposites attract love story between Tessa and Hardin."

"I could go on for ages about working with Josephine, but I'll start with her acting ability, which helps me so much, and the fact she's such a nice, considerate person. She acts so well, especially in emotional scenes, and really gives me a lot to feed off. She's really carrying this film," says Fiennes Tiffin.

Langford is equally complimentary of her leading man. "Hero brings this vulnerability and sincerity to Hardin which is difficult to find with a character like that. I've loved working with him," Langford comments. "When you're doing this type of content - a lot of intimate and intense scenes – it's so important that you feel safe and comfortable with the person you're working with. So I feel lucky to have had him as a partner through this experience."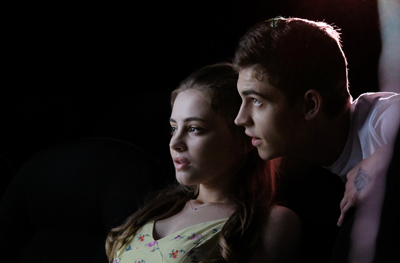 The World Around Them

A young, high-energy, fresh-faced cast was assembled to surround Langford and Fiennes Tiffin, and to support the story reveals as Tessa dives deeper into the mysteries of Hardin's social circle.

"When you're making a movie, it's so important to have well-rounded characters that don't just feel one-note," comments Gibgot. "We wanted to cast actors that felt authentic and real, who could create fully fleshed out three-dimensional people. When you only have 120 pages of script to do that, versus 600 pages of book, you have to make some real choices about what these characters are going to be saying and the scenes that they're going to be in."

"I love authentic, very personal storytelling about human relationships and friendships, so one of the things that was important to me was really bringing out the secondary characters of Hardin's group of friends, such as Steph and Landon," comments Gage. "Landon already had layers in the book, but in a screenplay, you have much less time to develop them."

The character of Landon, played by Shane Paul McGhie, is a kindred spirit to Tessa, and family of sorts to Hardin. "To me, Landon is the third most important character in the entire series," states Todd. "Like some of the others, Shane came in and read for multiple roles that are completely different and he killed all of them. He was mind-blowing the way he could slip into a character, and then slip into another. From the moment he came in, I kept saying, 'He needs to be Landon.'"

McGhie explains, "Landon becomes Tessa's confidante, and we bond through our love of literature and school. But there's a little bit of a twist, which is Landon is going to be Hardin's stepbrother, so they have an awkward relationship, but I'm also able to give her a little insight into Hardin's world and his backstory. My character is very protective of Tessa and they are definitely cut from the same cloth, so he is looking out for her in every way that he can."

The first person Tessa meets at school is Steph, played by Khadijha Red Thunder, who makes her acting debut in After. Steph is a year older, has crimson dyed hair, a nose ring, thick eyeliner, and never misses a party. "The college experience includes meeting all kinds of people from all backgrounds, different countries, different history, different social strata, different beliefs, and different passions," says Canton. "So having a very diverse cast was very important to all of us to, because we recognize that's what college is. To keep it real, I knew we had to cast this movie in a way that was diverse across the board. Khadijha Red Thunder is a first-time actress, although already a very successful model. She's raw, she's urban, and her character is a gateway into the reality of college life."

"In the fall of 2017, I had worked with Jenny Gage on a campaign for Abercrombie & Fitch and we just hit it off. Jenny was aware that I wanted to become an actress, and thankfully she saw a little bit of me in Steph, and a little bit of Steph in me," chuckles Red Thunder. "She asked me to do a self-tape audition back in early springtime of 2018. I never had done self-taping, so I didn't really know how. Everything's new. I got busy with modeling and then come July, a week before I ended up leaving to come to Atlanta, Jenny contacted me again and asked me to do another audition. That was my first time actually going in to do a proper audition with a casting director."

Todd adds, "Khadijha looked like the person who the fans had fan-casted. She has this really cool energy and I could see her calming Tessa down, but she also had the qualities needed for Steph's plot twist in a later book, so she just was perfect."

Hardin's best friend Zed Evans is played by Samuel Larsen. "Zed's a cool guy and Sam's already a heartthrob," Canton comments. "Remember, Anna was influenced by Harry Styles and his bandmates, and the Zed character is based loosely on one of the bandmates. Sam, who is handsome and cool, is perfect." It doesn't hurt that Larsen is also a musician in his own right, having previously won the reality series "The Glee Project," securing him his first role as Joe Hart on "Glee."

"When I started reading the script, I couldn't put it down," adds Larsen. "Coming of age has been done many times, but Anna's take is done in a unique way. We have loads of high school movies, but most movies set in the first year of college are comedies, and this is a proper love story. This is the sweet spot of when you're going to college, but you're still very young, and really trying to find yourself on your own, in this new freedom."

To round out Hardin's friend group, filmmakers cast social influencer and content creator Inanna Sarkis as Molly; multi-platinum recording artist, songwriter, and fashonista Pia Mia as Tristan; and rising-star Swen Temmel as Jace.

"Inanna Sarkis is sharp-witted and always brings energy to a scene; Pia Mia has been a true pleasure as she's thoughtful and always game for whatever goes on; and Swen has got this great energy - the perfect person to cast as a bad boy, because somewhere underneath he's likable and always wanting to tease out something fun in the person he's playing against," comments director Gage.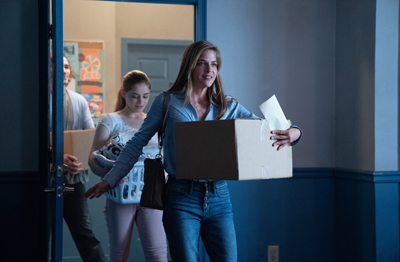 "At the beginning, Molly is a total pot-stirrer. She's jealous of everyone, but mostly Tessa," comments Todd. "But she's not what she appears to be, especially in the first story. Molly is that overly confident girl who knows what she wants. She says it, she goes and gets it, where Tessa is more reserved and not as comfortable in her skin yet. The moment Inanna turns on Molly, it's so incredible. She's the most perfect Molly, not because she's mean or super bitchy – because in real life she's a goofy, fun, sweet girl – but there's something about her that makes her the perfect mean girl in the movie."

"I'm super excited that I ended up playing Molly because she's so me and I'm loving the pink hair extensions. I also love Molly because she's a villain, and she really goes after what she wants. She has an interesting dynamic with Hardin; she has had a thing with him and she is super protective over him. When Tessa comes in the picture, she's just sees red. She knows that Tessa is now her competition. She feels super threatened and wants to take her down and get her out of the picture," laughs Sarkis. "I also love her backstory from the book Before, which is one of the After books. She's a really strong and powerful character and that's one of the main reasons I wanted to play her. I admire that she tells it as it is."

"Inanna is full of life and energy and a lot of sass," laughs Solomon. "Pia Mia, who plays Tristan, also has a lot of sass and is a lot of fun."

Tristan, a petite girl with cool attitude, was originally male in the novel, and always Steph's significant other. "Pia Mia is a cool person. She's cool online. When we were going through casting, she was the one that I had even heard of honestly," admits Todd. "Making Tristan female is a twist. For the film, we did a couple of gender swaps, to even out the guy-to-girl ratio. Pia Mia is so sweet, and Tristan is supposed to be really trendy but also has the sweetest little personality, and that's Pia Mia."

"During the audition process, I had time to check out the book series. I love a good love story. Finding your sexuality and coming of age are relatable; we're all human, and it's important to know that we all go through the same things. I love talking about real things," recalls Mia. "Tristan is the moral compass, the glue, and the level-headed one in the group. She doesn't really go for the crazy drama: she's more low-key. Tristan is also very loving, and everyone will appreciate that about her. I think we can all relate to her because there's a Tristan in every friend circle. She's the most chill, the blender of the group; she keeps everyone together."

The last of Hardin's friends is played by rising star Swen Temmel, who also serves as an executive producer. "I was attracted to the material because we've all had first love, and made stupid mistakes hanging out with the right people or the wrong people. As a male, I was fascinated by reading this book. I've certainly made my fair share of mistakes in relationships," laughs Temmel. "Everyone's got a first love and a first heartbreak."

"Jace is tall and menacing, and while Jace is not a big character in the book, he is an important character because he represents the dark side of Hardin's world," adds Gibgot. "He wants to undermine Hardin and is actually quite integral to his unraveling."

Beyond the school crowd are the loved ones Tessa leaves at home, who still have a huge influence on her when she first goes away to college. Key to the narrative and the dilemmas Tessa faces is the outgrowing of her relationship with her high school sweetheart Noah, played by Dylan Arnold.

"Noah and Tessa have been together a little under two years," explains the boyish Arnold. "They have a very sweet, friendly relationship, and they've known each other since they were kids. He's a year younger than her, living three hours away, yet he's still trying to maintain their relationship and hopes to go to the same college next year."

Arnold perfectly encompasses the well-meaning boyfriend that Tessa must shed to come into her adult self, although not without a healthy dose of heartache and loss. Todd states, "Dylan feels like Noah. Every time he came in, he was better and better. He played a similar but not as heartbroken character on 'Nashville,' so it was just an easy fit."

Noah and Carol (Tessa's mom) individually represent ties to the expectations that have been set out for Tessa's future, but their relationship with each other contributes to an ever-increasing stifling of Tessa's natural drive to assert her independence and experience new things once entering college. "Noah and Tessa's mom Carol have a very unique relationship," Arnold explains. "Ideally when you're in a relationship with someone, the parent will like the partner and vice versa. But they have such a bond, which is difficult for Tessa. You want to be able to keep your family and your social life separate. But they really like each other and think that Tessa would appreciate that they get along, but that not always how it works. They're co-conspirators who create a lot of anxiety for Tessa."

The filmmakers cast iconic actors in the film's adult roles, including the pivotal Carol Young. "Selma Blair as Carol is my teenage dreams coming true, because I loved Cruel Intentions," shares Todd. "Selma and Jo not only look alike, their spirits are the same. I honestly feel like every single person in the cast is exactly who they should be, even if they are these huge movie stars."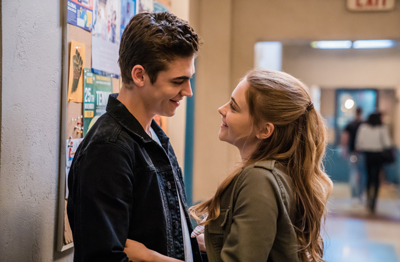 "I did a photo shoot with Jenny right when I was starting out. I was the first celebrity she had ever shot," comments Blair. "Plus, I loved her movie All This Panic and even moderated a screening, so I was invited on board. I hadn't read the books, but I immediately went and downloaded them, as billions have done. I love being a small part of something that has an energy around it and people really want to see it already."

"The experience is also a throwback to Cruel Intentions, except I'm playing the mom instead of Christine Baranski," laughs Blair. "Carol wants so much for her daughter. Tessa is beautiful and has promise and they've worked really hard to get her to school. This is really a defining moment in Carol's life and, of course, in Tessa's life. We see her struggling with how to let her daughter be her own person."

Peter Gallagher plays Hardin's father Chancellor Ken Scott, and Jennifer Beals plays his bride Karen.

Todd raves, "Peter Gallagher as Ken! I was obsessed with 'The OC.' He is so impressive. As soon as we announced him, the fans were mind-blown… especially on Facebook, where I tend to interact with my older fans. Many of them were even more excited about the parents than the kids."

"I was invited to get involved by the same producers I worked for in the Step Up movie and had a great time working with them," shares Gallagher. "But I have to really credit my daughter, because I was half way through a vacation in Ireland, on the way to the airport to pick her up to spend a week together exploring and seeing family, when I got the call about After. And then my daughter called to tell me her plane was delayed almost 24 hours and I told her about After and she said: 'This is a sign. You have to do the movie.' So I got on a plane and started looking at the scenes on the plane, and the next day I shot two thirds of them. Having Anna Todd on set has been great, especially having had only the nine-hour flight to prepare. She gave the background and future of my character, which was very, very helpful."

Gallagher adds, "I had never heard of the book, but I loved the script, particularly a feminine point of view, which informed the story really powerfully. It's a compelling picture, and I love that Jenny Gage is directing Anna's story - all these really bright, wonderful women telling this story."

Gallagher and Beals shot their wedding scenes in one day. "The wonderful and the fabulous Jennifer Beals plays Ken Scott's new bride, and we've been friends forever," shares Gallagher. "We've done at least two movies together. I've admired her forever, and I was so thrilled to get to work with her again." "We've been in the same films, but we've never had any scenes together, so this is a great first," laughs Beals.

Todd adds, "Jennifer Beals was the first adult that we cast and, later on in the series, the friend group gets smaller and the adults get much bigger. When I heard, 'Jennifer Beals wants to be Karen,' I was shocked. I didn't think that we were going to have legends in this movie. As the series progresses, Karen and Tessa become really close and Jennifer has this motherly softness about her. She played Karen perfectly to set up for the future movies."

Beals comments, "I basically become Hardin's stepmother and am stepping into a tense familial situation. Even though the part is relatively small, I was offered the film by a really wonderful producer Mark Canton, who I've wanted to work with for so long, and I was told that in the subsequent films Karen has a larger presence in the story, and Tessa comes on rely on her. After having played so many people that were really tough, I really am looking forward to playing somebody who operates more out of a heart space then a head space, somebody who is a caregiver. That will be a nice, refreshing change. I feel really grateful to have been cast as this woman who is so beloved and so warm and is obviously such an amazing mother."

Producer Meadow Williams takes on a small yet important role. "Professor Soto is a really integral part of Hardin and Tessa's journey," states Todd. "Meadow did an amazing performance as Professor Soto. In the books, she is a very different character, but it made sense to bring her into the first film as the literature professor who, without knowing it, starts this thing between Hardin and Tessa … and then later finishes it by handing this letter to Tessa that Hardin wrote disguised a paper. Soto brings the story full circle. The center of Hardin and Tessa in the novels and the movie is their love of literature, and it starts in the classroom and ends in the classroom, which is cool."

Williams comments, "Anyone who's had a great teacher knows that person can really touch you. Professor Soto is one of those great teachers who inspires and challenges. She influences these young adults with her deep love of literature and her belief in romance."

No matter their generation, the cast and crew created solid bonds on the set that paralleled the closeness that exists between the characters on-screen. "One of the similarities in making this film to making a documentary about teenage girls, and one of the things that I love as a director, is the family that surrounds you," comments Gage. "The cast has really become family with each other and with me and Anna. They come over to my place for pizza and hang out with our kids, while Tom and I work. This is a great group."

"The sole reason Jenny has managed to direct us so well is the fact that we've spent enough time to get to know her. I'm at her house all the time playing Fortnite with her kids and doing my laundry there. She's almost like motherly figure to me," says Fiennes Tiffin. "The fact Jo and I feel so free to discuss everything that we think make all of our visions of the film very similar. We have a very easy and practical relationship between the three of us. We're always very much on the same page, all very much in the same bubble."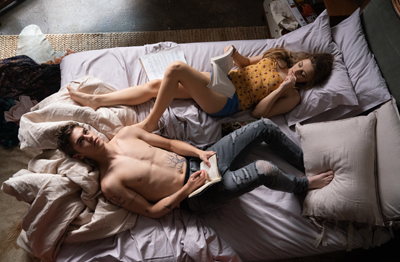 "Jenny has an amazing eye. That's the first thing I noticed working with her," says Langford. "Her interpretation of the material was very feminist, and it was just the little changes and revisions she made to the script that I loved. For example, in the sex scene, she added in a condom. It's only a two second shot and still it's something that's so rare and so important - to see safe sex represented on screen - especially when you're making a movie for young girls and boys." She adds, "We were fortunate enough to have had a week of rehearsal time. She created this environment where we felt really at ease and free to explore. It's been wonderful working with her."

On Location

Principal photography on After began on July 17, 2018 for a thirty-day shoot on location in Atlanta, Georgia.

In recent years, Georgia has become a hub for film and television production, but often playing other cities. "Atlanta is a gorgeous city, so lush and green and there are so many beautiful colleges here," explains Gibgot. "The fact is we considered shooting the movie in Vancouver, since the story in the book takes place in Washington State. But since the Twilight and Fifty Shades movies had all been set there and filmed there, we decided to go somewhere different. Atlanta gave us a good opportunity to set After apart from some of these other films it will inevitably be compared to and gave us a chance to showcase this amazing city."

Filmmakers shot the lion's share of the film on practical locations around Atlanta. Emory University provided the beautiful old college campus, complete with elegant stone buildings and a lush central green, for the fictional University of Atlanta where the main characters go to school; The Howard House – a Queen Anne Victorian estate that features 125-year-old architecture in the historic Kirkland neighborhood of Atlanta – is where the characters go to party; and the lake at Stone Mountain Park is where a key love scene takes place.

"The lake is Hardin's favorite place, but was the hardest location to find because the way that the scene had to be shot, knowing we would have to put filmmaking gear in the water, knowing the actors would have to go swim, and all the logistics of doing that safely," comments Gibgot. "We were also up against weather, having to work around storms. Weather delays left us with a very small window of time to get a really important moment, but that sense of urgency actually creatively helped this magical moment come alive."

Gage adds, "I love the lake scene because for me, it feels like the first time that Tessa says yes to a new experience in the movie, and that feels emblematic to her story in After. It is one of the most beautifully shot scenes in the movie and really shows Tom's strength as a cinematographer and why his image making was essential to the impact of the film."

Afternators descended on Atlanta and managed to meet the cast all over town – Red Thunder at the art store; Larsen at the guitar shop; and Mia at the airport. Fiennes Tiffin adds, "Meeting the fans who allow us to make this film is not only nice but really genuinely good for us. They are all very respectful and a great ego boost, but it's also really nice to give back to them and see that you're making them happy. Signing your name and getting in a picture is so easy for us and it means so much to them. We love it."

Cognizant of the passionate and opinionated After fans, filmmakers chose the details of the costumes, hair, make-up, locations, and music with great care, and with Todd's approval. Gage and Betterton brought their naturalistic aesthetic to the film. Gage comments, "Tom and I have always relied on each other in our visual storytelling, so this film feels like a natural extension to the still photography world where we've always worked as a team. We have a very organic process to who does what. In filmmaking, there are definitely lines between jobs more, but filming has been an amazing experience, and bringing our visual style to a youthful story like After felt like the right thing for us to do."

Gibgot adds, "Jenny and Tom wanted everything to feel very real, very authentic. They use the term 'epic naturalism' often while we were in pre-production. They wanted everything to be beautiful, but not unreal. It all had to feel grounded." Many key details from the book were included in the script – Hardin's black jeans and tight black t-shirt, Tessa's maroon party dress, many of the characters tattoos and hair colors.

"What the characters wear and how they carry themselves and how they do their hair is very similar," assured Gage. But beyond matching up with their characteristics in the book, these elements were important to building relatable characters at this stage in their lives. "These things are really important to young people creating a new identity for themselves away from home. I was really excited to dive in with our costume designer Alana Morshead, and with the hair and makeup team, and really find the looks for all the characters."

"I've been heavily involved in the production side of this movie, more so than usual, but the interesting thing is the book is very clear about how these characters are supposed to look. There's a lot of tattoos, different colored hairs, and very interesting styles to the various characters – in particular Molly and Steph," shares producer Solomon. "Tessa has her own unique style, Hardin has a very clear cut style. The book really provided a style guide to begin with and then Jenny took it to a different place, with the whole team chiming in, to find what everybody felt was the right balance."

Certain appearance elements did change. "First of all, if we had any One Direction lookalikes, it would be like creepy and like weird. I didn't want to try to make an actor look like Harry Styles. For the film, I wanted to change a lot about Hardin's appearance. I knew no matter who would play Hardin, I did not want the piercings," states Todd. "In the book, his lip pierce and his eyebrow pierce are very relevant, but it doesn't look the same on screen."

"Because Jenny's style of filming includes a lot of really tight close-ups, when we looked at Hero in the screen test, we didn't want to put a bunch of piercings on his face," remembers Gibgot. "We included the most iconic tattoos like the tree on Hardin's torso. Hardin also has the infinity symbol tattoo. While we were filming, Anna and Sam got the infinity sign tattoo for real on a Saturday night, as a bonding experience. It was really cute. Hero's is actually a makeup, but Sam went full on. Hero and I debated whether we were going to go with them, but we chickened out at the last minute."

Fiennes Tiffin describes his Hardin tattoos, which take about an hour to apply and can last up to five shooting days, "I have a tree on my stomach, a ship on my back, Arabic on my wrist and other places, several quotes, an infinity symbol, an anarchy symbol, three monkeys, a book, a king and queen with a love heart playing cards-style on my knuckles, a bird on the thumb, a rose on my palm, and birds - the same as Anna has on her arm."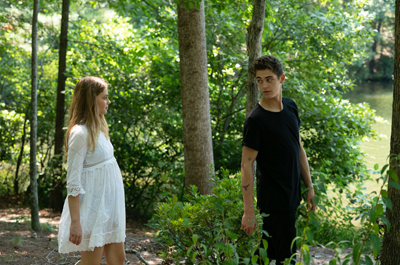 The Lasting Impression

Although younger audiences may find the experiences in the film aspirational, the cast relates to the authentic representation of what they went through at the same life stage. "I remember growing up super innocent and even sheltered," says Larsen. "When I finally got the chance leave home and be my own, you are faced with who you really are. Starting again is a big theme of life. You can't take back what happened, but you have to continue from where you are now."

One of the defining moments of being on one's own is that first adult relationship and the complexities that come with it. "Audiences will love this film because you have a true modern romance with all of the wrinkles and imperfections of people," says Williams. "The story is absolutely riveting and will keep you glued to your seat, as you just fall in love."

"All love stories are different, but this one is so interesting because there's no holding back. It is what it is. There's no sprinkled sugar on top. Love is so unpredictable. There are a lot of twists and turns, and you never really know what's going to happen. I hope people will love this film because it has that raw authenticity that makes good cinema," says Fiennes Tiffin.

In After, the romance is also tinged with mystery, as for most of the story, the audience is kept in the dark about Hardin's secret and the brewing threat to his relationship with Tessa. "I didn't see the reveal coming, it was definitely a shock to me," admits Fiennes Tiffin. "More interestingly is the fact that it drives and motivates so many of the actions of my character throughout the film. The surprise is great story telling."

"I hope audiences will get that same feeling of the old time love story, like from Pride and Prejudice, Wuthering Heights, or from She's All That or even Cruel Intentions," says Todd. "Our movie has a nostalgic feeling of a love story but very modern, and painful, and angsty, and happy. The same story that readers loved, but with a couple surprises I love."

Gibgot adds, "I hope the movie brings audiences back to all those feelings of their first love, the first time they were kissed, the first time they were touched, and the first time they fell in love with someone. It's an emotional ride."

After
Release Date: July 4th, 2019