A young woman reluctantly joins her boyfriend on a summer trip where things quickly go awry.
Cast: Will Poulter, Florence Pugh, William Jackson Harper
Director: Ari Aster
Genre: Drama, Horror, Mystery
Running Time: 147 minutes

Synopsis: Dani and Christian are a young American couple with a relationship on the brink of falling apart.

But after a family tragedy befalls Dani, grief keeps them together, and Dani invites herself to join Christian and his friends on a trip to a once-in-a-lifetime midsummer festival in a remote Swedish village.

What begins as a carefree summer adventure in a land of eternal sunlight takes a sinister turn when the insular villagers invite their guests to partake in festivities that render the pastoral paradise increasingly unnerving and viscerally disturbing.

From the visionary mind of Ari Aster comes a dread-soaked cinematic fairy tale where a world of darkness unfolds in broad daylig

Midsommar
Release Date: August 8th, 2019


About The Production
From writer-director Ari Aster (Hereditary) comes a journey into the heart of darkness as an American couple, Dani and Christian (Florence Pugh and Jack Reynor), find themselves unexpectedly drawn into the world of a mysterious and dangerous primeval cult during a vacation getaway with their friends in a bucolic, hidden Swedish village.

Exhibiting a similar horror-genre foundation as Aster's widely acclaimed debut feature Hereditary, Midsommar is also a major departure from its predecessor, as Aster pushes the genre in new and unpredictable directions. An apocalyptic adventure on a grand scale, Aster and his creative team construct a mesmerizing and unique world from the ground up, replete with its own language, history, mythology, and traditions. Working with production designer Henrik Svensson in Hungary, where the film shot, the team also built an isolated Swedish village entirely from scratch.

Precisely executed down to the last detail of every frame, Aster's second feature is a dark and hallucinatory fairy tale that is as thought provoking as it is viscerally disquieting. As Dani journeys from emotional neediness to questionable empowerment, Aster examines a rich array of ideas"from personal fidelity to social influence to cultural legacy" confirming him as a filmmaker of uncommon richness and depth, whose work transcends genre and becomes a singular experience unto itself.

Before Hereditary

Midsommar began taking shape well before cameras rolled on Hereditary in early 2017. Several years prior, Aster was coming out of a three-year relationship and found himself reflecting back on the break-up as he embarked on a new script. Like Hereditary, which was a family drama disguised as a horror movie (based on Aster's own experiences navigating grief and trauma), Midsommar became an opportunity to explore the downfall of a relationship through the lens of a twisted fairy tale, once again rooted in personal experience.

"The initial image that sort of catalyzed Midsommar involved the sacrificial burning of a temple," says Aster. "I got excited about fitting the 'breakup movie' into a new setting, putting an operatic spin on the rote sort of cathartic ending we've seen in those movies before"you know, where the jilted protagonist burns the box containing all the items she collected over the course of the relationship she's finally liberated herself from."

As he tried to overcome heartbreak, Aster wrote his own struggle into the character of Dani Ardor, a young American woman navigating personal loss as her relationship with her boyfriend Christian crumbles. Setting the bulk of his story in Sweden, where Dani and Christian go on vacation with their academic friends, Aster turned to Stockholm-based set decorator Henrik Svensson to help him understand an environment and culture that was utterly foreign to him. In 2013, with Midsommar in its nascent stages, Svensson was in Sweden recovering from a minor stroke, taking a year off from work in order to heal. As he slowly recovered, he began researching Swedish folklore and pagan traditions, sending some of his findings to Aster in Los Angeles. This was the beginning of a years-long creative process in which Svensson and Aster co-assembled a 100-page story bible detailing every aspect of the movie's unique, richly detailed world. In California, Aster was doing his own research into Swedish, Nordic, English, and German folkloric traditions, consulting everything from James George Frazer's The Golden Bough, a globe-hopping anthropological study of paganism as it yielded to Christianity, to the spiritual traditions of philosophers such as Rudolf Steiner.

Aster traveled to Sweden, joining forces with Svensson to visit folklore museums, tour preserved hälsingegårds (farms) in the deep north, interview experts in the field, and meticulously study Swedish tribal customs. "We tried to get a grasp on how people in rural and religious Scandinavian communities lived, from 500 years ago up until the present day," says Svensson. "We looked at the natural elements" how people took care of nature, including plants and animals"as well as the structural elements and the art that surrounded them, including wall paintings. Culture is very strong in these parts, we wanted to get a sense of how they communicated, which was more often than not through music."


As their research grew darker, they found themselves immersed in more nefarious customs, including Viking torture methods. Juggling darkness and light, Aster began writing his screenplay, inserting a group of modern young Americans into the alien environment of an eerie cult performing a once-in-a-millennium series of rituals during a summertime festival in remote northern Sweden.

From its inception, Aster seldom envisioned Midsommar as a horror movie"instead viewing the project as an epic adventure unfolding in a strange hermetic world. "When the Americans enter this landscape, they walk through pearly gates into a new realm," says Aster. "We looked at it like an anthropologist might approach Candy Land"how do we create this entirely new place, so the characters can truly live in it? What was crucial for us was to create a world the audience could stand in, live in, and viscerally understand" so that by the end, even though this tribe remains a mystery, it's also intricately defined."

Dani and Christian

At the outset of Midsommar, Dani's relationship is on the rocks, as Christian selfishly places his academic pursuits and male friendships before Dani's emotional needs. Then tragedy strikes. "She suffers a devastating loss and becomes orphaned, left with nothing in the way of family except Christian," says Aster. "The closest person to her is this guy who is on the brink of leaving her. He's decent enough that he doesn't leave, given the situation. But it's a matter of duty for Christian, and Dani is well aware of not being embraced by his friends."

Those friends include Josh (William Jackson Harper), a PhD student whose interests lean toward anthropology and folklore; Mark (Will Poulter), a caustic and chauvinistic goofball with negligible boundaries; and Pelle (Vilhelm Blomgren), a Swedish exchange student who has invited his friends"but not Dani"on a summer trip to his ancestral home in remote Scandinavia.

After initially concealing the trip from her, Christian feels pressured to invite her along, much to the chagrin of his close-knit boys' club. Josh, Mark, and Pelle simply want to cut loose with their own kind, threatened by anything that will distract them from their personal and selfsh goals, whether it's furthering their academic glory or getting laid in Sweden. Eventually Christian caves, inviting Dani on the trip. "She accepts a false invitation, knowing Christian's friends don't like her, and from here the movie becomes a question of how this toxic dynamic will resolve itself," says Aster. "He's staying in the relationship out of obligation, and she's clinging to him as a result, sensing he wants to leave"but also knowing she can't survive on her own. They're at a standstill. Midsommar has always been a kind of horror movie about codependence."

Adds British actress Florence Pugh, who plays Dani, appearing in virtually every scene in the movie: "Their relationship should have ended a long while ago. Despite circumstances and the need for comfort, it continues."

Complicating the dynamic is an unspoken academic rivalry between Josh, a natural-born scholar utilizing the trip to do research for his PhD thesis on Pelle's ancestors, the Hårga, and Christian, who doesn't seem to have a genuine affinity for academia. Aster establishes a quiet tension between them that explodes when Christian decides he is also going to write his dissertation on the customs and rituals of the Hårga. As multiple relationships unravel over the course of the flm, it becomes clear that everyone in this boys' club is just out for themselves"they're not even true friends to each other.

Evil Under The Sun

Arriving in Sweden, Dani and company travel to remote Hälsingland, where Pelle's tribe is in the midst of celebrating a purification ritual occurring once every 90 years. Joining the Americans are Simon and Connie (Archie Madewke and Ellora Torchia), British travelers of color"an important clue to one of Midsommar's more sinister undercurrents. After consuming psychedelic mushrooms, the new arrivals journey into the forest, eventually wandering through a wooden portal into what appears to be a shimmering fantasy world. Lying at the heart of Midsommar is the ancestral Hårga village, a series of rustic buildings including a bunkhouse, kitchen, and temple set across a vast field nestled beneath an idyllic tree-lined ridge. As the outsiders acclimate to their new surroundings, participating in meals, ceremonies, and dances with the sixty-odd members of the tribe, they come to discover a close-knit, seemingly benevolent and even jubilant cult of revelers, each clad in customised white linen uniforms bearing runic symbols.

But amidst the glaring and relentless sunlight, things soon take a darker turn. Working once again with cinematographer Pawel Pogorzelski, his frequent collaborator, Aster concocts a tale of escalating horror and dread that unfurls in glorious, unrepentant daylight, during a time of year in Sweden when nightfall never completely arrives, plunging the outsiders into an additional layer of disorientation that, as Midsommar reveals its deeper mysteries, coalesces into a hallucinatory freak-out.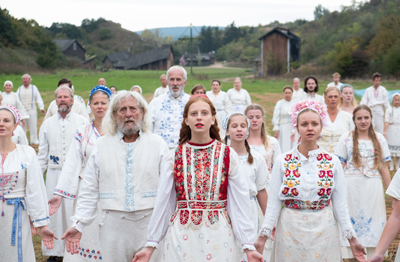 "This is a story of a woman who is losing her mind and her bearings, and I thought it would be interesting to put her in a stressful situation where the sun is always up, and there's no distinguishing between night and day," says Aster. "There is thematic resonance, given that Dani is not really directly examining her situation."

After Hereditary, a story that was set primarily in a single family home submerged in shadows and gloom, Aster and Pogorzelski wanted to do a 180-degree turn away from things that go bump in the night. "With Midsommar, we set out to make something that was persistently and almost naggingly bright"an incessant light that becomes almost assaultive," Aster comments.

What appears to be a sunny paradise populated with friendly villagers frolicking in nature quickly shifts towards something sinister. As Dani battles her own inner demons, and Christian plunges deeper into the mysteries of Hårga in the hope of achieving academic glory, the couple find themselves submerged in values, traditions and rituals that are disturbingly different from their own.

Ascension"A Star Is Born

In the central role of Dani Ardor, 23-year-old Florence Pugh builds on her previous acclaim in Lady Macbeth and "The Little Drummer Girl" to create a star-making turn in which she exudes unforgettable gravitas, holding the screen throughout the course of the film and providing ample amounts of shock, panic, despair, confusion, confidence, and grace.

Aster looked at hundreds of actresses for the role of Dani, returning again and again to Pugh because she was the only actor who checked off every box of the protagonist's unforgettable journey, from grief-stricken and paranoid to ennobled and empowered. "While I was making the movie I kept picturing Florence at the end, knowing she was someone who would be there every step of the way," says Aster. "She was so poised and calculating in Lady Macbeth, while Dani is such a delicate and emotional person. It was exciting to watch Florence do a 180-degree turn from that earlier role. She's a consummate professional who can take anything you throw at her with unnerving ease."

Pugh for her part embraced the challenge of playing a young woman who travels to the ends of the earth, only to find herself indoctrinated into a chilling pagan cult. "I've never attempted a role like Dani before, there's nowhere to hide with a character as open and raw as she is," says Pugh. "I wanted to play her because she had so many layers, thanks to the complexities and depth in Ari's script. I was invested in Dani from the first reading."

Adds Pugh: "The world Ari was creating was so alive. Even when the story peaks at its highest mania, everything about it is beautiful and precise. He had such a clear idea of what he was trying to achieve, with every second of the film already in his head before cameras rolled. In Midsommar, every shot is a puzzle, with all parts moving individually, eventually becoming an entire field of orchestrated parts. Being part of Ari's imagination is terrifying, and just as exciting."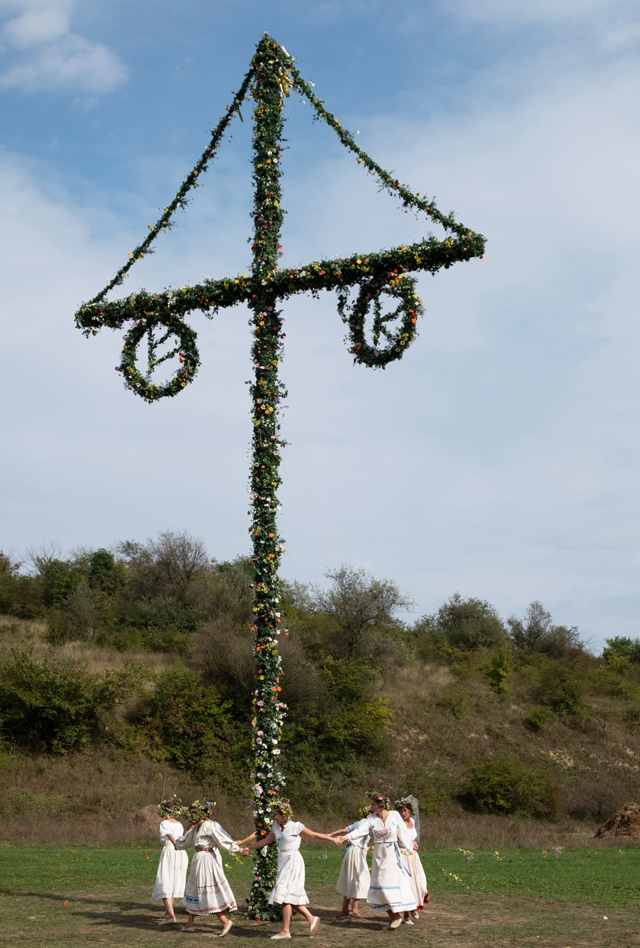 Becoming Indoctrinated

A dark fairy tale about a grieving woman who becomes transformed in a landscape of ancient pagan rituals, Midsommar centers on Dani's gradual indoctrination as she pulls away from Christian and the turmoil of her past, toward a new life in a new family"inside a distant tribe and culture that is distinctly matriarchal.

The film begins in the world of men, as Christian and his fellow academics jockey for professional success while making crude sexual jokes about the women in their lives, Dani among them. But as it opens up into the world of the Hårga, the story becomes increasingly female-dominated, culminating in a fertility rite that is among the most powerful and timely screen images in recent memory, a defiant statement on female agency in a time when men still routinely attempt to regulate and control women's bodies. "There's a balance between men and women in Hårga, but women clearly have more power," says Aster. "Some of the guys in the movie are jerks, but I didn't set out to make a polemic on toxic masculinity. That said, this eventually reveals itself to be a story of female empowerment, albeit one that is bittersweet and not exactly clear-cut. Dani is empowered"but she's also not."

Arriving near the end of the film is another engrossing and evocative set piece, depicting Dani as she participates in the May Queen festivities, alongside young women from the village who compete for the honor of being crowned May Queen. They dance in tandem until they collapse one by one from exhaustion, and only the winner remains.

As the Americans are guided through the archaic customs of the Hårga, Dani receives acceptance, empowerment, and even deification among the people of Pelle's tribe, finding herself reborn through their ancient rituals. "She begins to allow herself to hurt and feel all the overwhelming emotions she has been suppressing," says Pugh. "It's the first time she listens to her pain, and accepts it."

Adds Aster: "It's a perverse wish fulfillment story. Hårga swoops in to give Dani what she is missing in her life and also take away what she hasn't had the courage to eliminate."

Through the power and command of Aster's immersive filmmaking, the audience becomes indoctrinated along with Dani, getting a taste of the Hårga's true motives"to surreptitiously recruit select outsiders into their customs and way of life. Yet these rituals and traditions are presented with deeply troubling implications; leaving much for viewers to think about, Aster provides hints of a subtler, more contemporary message amid the sunny pagan revelry, dovetailing with his previous examination of lineage and heritage in Hereditary.

It's no coincidence that several characters, including Josh, Simon and Connie, are people of color stumbling into the overwhelmingly white environment of Hälsingland. But it's Dani and Christian"white Anglo Saxon Protestant Americans"who are "initiated" into the darker mysteries of Hårga.

In Midsommar, the true villain is not the villagers themselves, who are merely acting out the same rituals they have for centuries, but rather their ideas, values, and customs, which find a new home inside Dani as the story reaches its incendiary climax. That Dani finds herself empowered and transformed by these outmoded traditions is what lends the film its unique power and horror: we don't often sense poisonous ideas circulating in the world until they are already planted inside us. Once they take root, it can be too late.

The World Of The Hårga

Midsommar was filmed in the summer of 2018 in the countryside outside of Budapest, Hungary, standing in for remote Sweden due to logistical considerations and better access to sunlight. Like Hereditary, Aster has once again constructed an elaborate set from the ground up, including the film's centerpiece, the Hårga village, conceived in conjunction with production designer Henrik Svensson.

"I felt it was important for audiences to be able to see different parts of the village in every shot, as though you were actually there celebrating with the Hårga," says Aster. "I wanted the geography of the village to be something the audience comes to know in their bones by the end of the movie."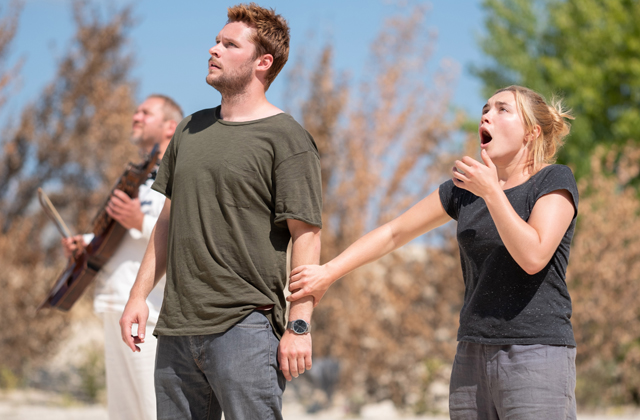 After combing rural Sweden and its distinctive farmhouses for structural inspiration, Aster and Svensson scouted around Hungary for several months, surveying field upon field in search of a location that could accommodate a rural village ensconced in sunlight while also being adequately surrounded by trees and mountains. A meticulous planner, Aster had already designed all of the shots and planned the entire layout of the village before he and his production designer finally found the right location a few miles outside Budapest in early 2018.

By this time, Svensson had been involved with the project for nearly five years, expanding the story bible before cameras rolled to include intricate details for every character, building, and costume. This helped Aster imagine a deeper mythology for the Hårga, including its own fictional language"called Affekt"which is on display throughout the film, in particular during the ritual scenes.

"It's like this warped, fantastical version of what you might see and hear in a rural Hälsingland village during a midsummer festival," says Aster. "Henrik is a brilliant guy and it's hard to believe that this is his first feature film as a production designer."

As the project developed, Aster also employed a runic alphabet unique to the Hårga, viewable throughout the movie on costumes, interior walls, and in the sacred book known as the Ruby Radr, which becomes a key plot point when Josh attempts to take pictures of the esoteric prophecies for his dissertation, outraging the village elders.

"Every symbol has a unique meaning, and we assigned those meanings to specific characters," says Aster. "On the costumes you see a combination of the runic alphabet and the Affekt alphabet. As a character grows up in the cult, he or she is assigned a specific rune, which corresponds with their unique background."

For the set's elaborate interiors, including intricately painted murals and symbols on the three-story walls of the bunkhouse and the dwelling of the matriarchal spokesman Siv (Gunnel Fred), outlining the Hårga's history and beliefs, Aster turned to artist Ragnar Persson, who hand-painted the designs before they were transformed into wallpaper by Hungarian artisans.

"Hidden inside these paintings is everything that's going to happen in the movie without giving viewers any obvious signs," says Aster. "Midsommar contains a lot of Easter eggs."

The creation of this artwork took months prior to filming, with Persson painting in the style of medieval paintings Aster and Svensson had stumbled on first-hand during their scouting trips through Hälsingland"bringing a level of intricate, symbolic detail to Midsommar that recalls the dollhouse figurines in Hereditary, which also signaled key story elements.

Outside Budapest, Svensson built the village set over the course of two months prior to filming, racing against the clock to finish construction. "We had to build everything on poles because the structures couldn't actually touch the ground," says Svensson. "Hungary has lots of rules, some of which are easy to understand and some of which are not. It was a fight against time and weather to get the structures up before cameras rolled."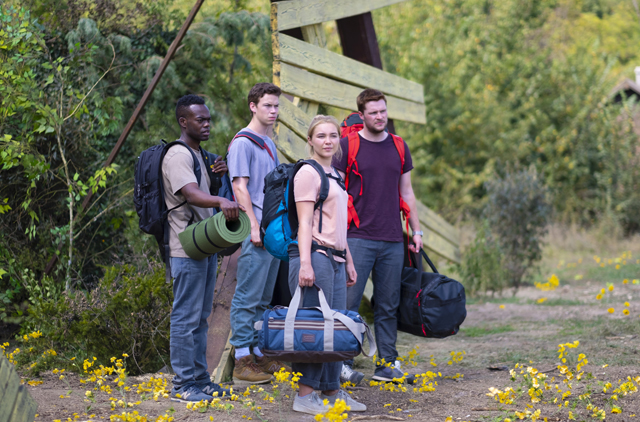 It was also a race against the sun, prompting the filmmakers to choose Hungary for the movie's location, over the obvious choice of Sweden, because they had better control over the production. Swedish law demands that film crews can only shoot for eight hours per day, restricting the team's access to maximum sunlight. By shooting in Hungary, where the days were shorter, they had less control over the light, but more control over the landscape. Finding the right field meant everything.

"Every day we stepped into that field we were stepping into the world of Hårga," says Pugh. "It was hugely exhilarating and helpful to be living amongst it all and made the experience even more eerie. Everything was designed and painted from scratch"often we would wander off in between takes and just stare at the artwork on the walls."

Adds Pogorzelski: "Hereditary was much easier to shoot because we were able to control everything inside a limited space. Before we shot Midsommar I would stay in that field for days and watch the sun, testing the shadows, noticing when the clouds rolled in, and the sunlight started to wane. You can't predict anything, because the sun is just going to keep moving"it doesn't wait."

To preserve authenticity, Aster flew in the Swedish actors who play the Hårga villagers"including dozens of extras"to act alongside a British and American cast and a Hungarian crew. Like its densely wrought story, Midsommar is a world containing multitudes.

Midsommar
Release Date: August 8th, 2019