A Classic Underdoll Story
Cast: Emma Roberts, Gabriel Iglesias, Janelle Monáe, Pitbull , Wanda Sykes, Kelly Clarkson, Nick Jonas, Blake Shelton, Leehom Wang, Bebe Rexha, Lizzo , Charli XCX
Director: Kelly Asbury
Genre: Adventure, Animation
Rated: G
Running Time: 87 minutes

Synopsis: Unconventionality rules in Uglydolls, STXfilms' new animated musical adventure starring the acting and singing talents of Kelly Clarkson, Nick Jonas, Janelle Monáe, Blake Shelton and Pitbull. The film is inspired by the unique and beloved global plush toy phenomenon launched in 2001.

Mixing fun, music, and adventure, with characters and worlds unlike any audiences have experienced, Uglydolls extols acceptance, diversity, empowerment, joy and friendship – and being the best version of yourself you can be. In the adorably different town of Uglyville, weird is celebrated, strange is special and beauty is embraced as more than simply meets the eye. Here, the free-spirited Moxy and her UglyDoll friends live every day in a whirlwind of bliss, letting their freak flags fly in a celebration of life and its endless possibilities. The unique residents of Uglyville occasionally look to the sky above the town, where a new UglyDoll will appear and be embraced by the community.

Moxy (Kelly Clarkson) loves her square-peg life in this round-hole town, but her curiosity about all things leads her to wonder if there's something – anything – on the other side of the mountain that nestles Uglyville. Moxy gathers a group of her closest friends and sets off on a journey where they discover another town – Perfection – where more conventional dolls are trained in protocols before they graduate and are sent to the "real" world to find the love of a child.

In Perfection, Moxy and her crew are subject to the manipulations of Lou (Nick Jonas), the perfect doll in charge of training recruits. Here, the UglyDolls will confront what it means to be different, struggle with their desire to be loved, and ultimately discover that you don't have to be perfect to be amazing because who you truly are is what matters most.

Created as a plush toy line by David Horvath and Sun-Min Kim, the UglyDoll brand quickly gained a cult following around the globe and was named Toy of the Year by the Toy Industry Association in 2006. Beloved by children, teenagers and adults alike, UglyDoll characters are distinct for their endearing "Uglyness," in a wonderful "Uglyverse" where differences are cheered and embraced.

Uglydolls
Release Date: September 19th, 2019


About The Production
Meet The Uglydolls And Their "Perfect" Counterparts

There are countless UglyDoll residents in Uglyville, but the film focuses on six friends who embark on a colorful and transformative adventure where they – and everyone else across two disparate worlds – will learn how to embrace what's special and different about each of us.

We meet Moxy, a vibrant, energetic and determined force of nature with a goofy but wonderful three-toothed smile and an odd flower-like thing on her head. She's not going to let anything deter her from pursuing her dreams. Her best pal is UglyDog, a blue canine with one yellow eye and a tough, streetwise niceness. Ox is the town's unofficial "mayor," as well as its founder / father figure / protector; he always wants the UglyDolls to feel nurtured and safe. Lucky Bat is the wisest doll in town but his advice doesn't always work out as he planned, and Wage is a cynic and voice of reason who likes to play it safe. Babo is the "muscle" of the group, whose infectious positivity makes him the guy you want on any road trip.

Together, they're on the journey of a lifetime, which lands them in Perfection. There, they have unforgettable encounters with Lou, the town's suave, cool, and "perfect" leader; Mandy, a pretty but lonely doll with a secret she fears will compromise her quest for perfection; and a trio of Lou's acolytes / henchwomen known as The Spy Girls.

To inhabit these motley and lovable characters, the filmmakers envisioned what producer Oren Aviv calls an "Ocean's 11 with music stars," adding that all the film's headliners immediately connected to the story's themes of inclusivity and the importance of being true to oneself.

Moxy is voiced by singing sensation and songwriter Kelly Clarkson, whom director Kelly Asbury says, "is unstoppable, just like Moxy. Kelly brought a lot of herself to the role and really embraced the idea of Moxy being an unconventional heroine unlike any we've seen in an animated feature film."

The pairing of Clarkson with the role seemed to be destined. While Clarkson admits that she once dreamed of playing Disney princesses, a determined doll with an offbeat smile had other plans for her. Clarkson fell in love with Moxy, her first lead animated role, which she says "Moxy's personality is almost identical to my own. She is 100 percent all the time. Moxy is very optimistic, and hopeful. I really leaned into our similarities during the recording sessions. I loved playing a character that is a positive role model and reminds us that we all come in different shapes, sizes and personalities, and that uniqueness is to cherished."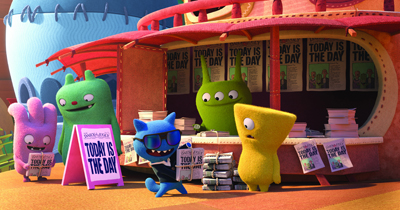 "Also, Moxy is pink, which my daughter was very excited about because it is her favorite color."

Moxy's firecracker personality is heightened by her fearless determination and boundless hope. "Moxy is super-optimistic and like so many of us, she's looking to serve a purpose, which she knows is to be the beloved doll of a human child."

Aviv, a veteran studio production and marketing chief who has handled Disney Animation, Pixar and Blue Sky animation titles, confirms that Clarkson is such a remarkable match for the character that when the pop star read the script, she asked the filmmakers, 'Are you sure you didn't actually write this for me? This sounds like me!' Like Moxy, she's confident and proud of her confidence."

Producer Jane Hartwell agrees that "Kelly is indeed Moxy – always bubbly and optimistic. And the first day she came into the studio to record a song, it felt like some otherworldly creature had entered the room; her voice was awe-inspiring."

It's no coincidence that Moxy's closest pal, UglyDog, looks like the musician Pitbull, who voices the role. Says Aviv: "We thought it was a fun idea to get Pitbull to play a character known as UglyDog. He loved the idea and signed on early."

The musician-producer-entrepreneur was drawn to the film's theme of acceptance, an especially timely message given the culture surrounding social media. "The movie is perfect for what's going on in the world right now, especially for kids," he explains. "We live in a society that's all about instant gratification and perfection; both don't exist. Kids are worried about followers and likes. This movie is not about being a follower or being liked. It's about being a leader. It's about being unique. It's about being different."

Pitbull also identified with his canine alter-ego. "UglyDog is basically me – someone who likes to get loose and enjoy life. He doesn't care what anyone else thinks of him. UglyDog wants to help others and always sees solutions to any problem."

Asbury notes that Pitbull brings an essential niceness to the character – a "tough, streetwise likability and eagerness to prove himself because of his small-dog syndrome. UglyDog will overstep his bounds and get himself in and out of trouble, but he's always confident and always by Moxy's side."

It was Clarkson who suggested that her friend and fellow music icon Blake Shelton voice the role of Ox, Uglyville's leader, who joins her on the quest despite his doubts about anything existing outside of Uglyville. Unlike his onscreen persona, Shelton didn't need much convincing. "It was a fun experience bringing Ox to life in his colorful, misfit world," notes Shelton. "I can't wait to see y'all in Uglyville."

Ox wants to make sure everyone under his watch as the town's mayor and protector is safe. But, as Asbury notes, "That's not always possible. Everyone has to learn their own truth."

Wanda Sykes brings her unique comedic voice to the character of Wage, whose insistence on playing it safe leads her to think that Moxy's dream of a land outside of Uglyville is just that – a dream. Still, she finds it impossible to resist Moxy's enthusiasm and spirit. "She might criticize Moxy for not acting in the safest way, but a part of Wage is all in with that," says Asbury.

Lucky Bat is voiced by singer, songwriter, music producer, actor and film director Wang Leehom, who is known as the "King of Chinese Pop" and is the best-selling Mandarin-language musician of his generation. "Lucky Bat is Chinese, profound, sensitive and sings! Doesn't that just scream 'Wang Leehom?'" the multi-hyphenate talent says, with a laugh, while adding that the film's message is moving and important: "In an environment of perfect photoshopped lives displayed on social media, it's important to remember what's real. That we, as humans, are flawed, vulnerable, and emotional, and it's precisely these 'ugly' parts of us that make for the best music." And ultimately, the best in ourselves.

Babo's lovable, bigger-than-life personality is captured by actor-comedian Gabriel Iglesias, who connected to the film's ideas about what it means to be different.

"It speaks very much to my own life and career and how I understood that I just had to be myself to make my mark on the world," he says. "I accepted my differences early on and created a successful career out of celebrating all the things in my life that make me different. So, I totally agree with the film's idea that letting our freak flags fly is the way to live our best life."

In addition to that sextet of friends, audiences will also meet a new Uglyville arrival, Wedgehead (voiced by Emma Roberts), so named because her dramatic introduction to the community sees her plummeting from the sky above – and landing safely on her noggin.

Every great journey needs a great villain, and our six UglyDolls find the ultimate bad guy in Lou, the charming but menacing leader of Perfection. Handsome on the outside but not so much on the inside, Lou will do anything to sabotage Moxy's chances of succeeding in the world outside of Uglyville. He's equally determined to make sure his illusion of perfection holds to his flock of believers, and that they follow his edict that they won't make it into the arms of a loving child without his guidance. "Lou thinks he has created a power base that no one will get in the way of – especially an UglyDoll," says Asbury. Nick Jonas, a multi-platinum, Grammy and Golden Globe nominated recording artist, actor, and award-winning songwriter, takes on the role. "Lou obviously has a lot to learn, about pretty much everything," Jonas explains, "but I did enjoy the way he loses his cool out of frustration with the lack of perfection around him. It was a lot of fun to go to those extreme places with Lou." Lou may be a frustrated villain but it's not that difficult to identify with him. As Jonas points out, we all have a "Lou" inside of us. "With me it comes out before I have my morning coffee," he jokes. "But deep down, Lou really wants to be loved and accepted for who he is, beyond his flawless hair and clothes."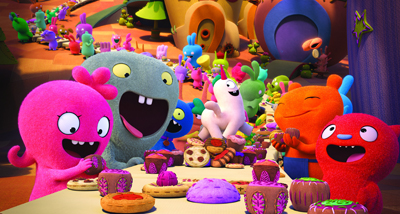 The film's themes of friendship, community and loving what's special about yourself also resonated with Jonas. "I've lived my whole life understanding that strange is special and being weird is great," he explains. "We should always dare to imagine and dream. As a youngster I had a love of musical theater and performed in our family's basement, putting on shows. It was kind of weird, but it was totally accepted by them." Jonas' commitment to the character impressed the filmmakers. "Lou is charming but also conniving and insidious, and Nick jumped right into the role," says Aviv. "He makes Lou a really juicy bad guy."

One of Lou's many followers in Perfection is Mandy, a pretty doll who's hiding a secret – and it's a big one – that maybe she's not so perfect. At first, Mandy is always trying to impress Lou but eventually sees through him. When Mandy meets Moxy and friends, she learns a valuable lesson and becomes a close ally to the team. Actress and musical artist Janelle Monáe brings her signature talents in both realms to Mandy, and clearly appreciates the character and what she represents.

"Mandy is a hero and empath," Monáe explains. "She empathizes with the UglyDolls and sees something special in them, even when they don't initially see it in themselves. She is also a strong and confident nurturer, but at the same time reveals a side of her that's insecure. During her time with the UglyDolls, she becomes even stronger."

There's an immediate connection between Mandy and the UglyDolls. "Mandy sees herself in the UglyDolls because she never really fit into Perfection, because she's, in fact, not perfect," Monáe points out. "The UglyDolls awaken something in Mandy; she sees them as her tribe that she can be herself with. Mandy doesn't have to be perfect and can let her wall down."

Like her co-stars, Monáe immediately connected to the film's themes. "Its message that weird is beautiful is one of the reasons I wanted to be a part of Uglydolls," she explains. "'Different' should be celebrated and we should always champion that which makes us unique, even if it makes others uncomfortable. I always choose to take on projects like this that recognize marginalized voices."

While Mandy begins to distance herself from Lou's absolute beliefs of perfection, three young woman, Tuesday, Kitty and Lydia, collectively known as The Spy Girls, remains loyal to their leader and always do his bidding – including, as their name suggests, spying on (and when necessary, kidnapping) unsuspecting UglyDolls. They are voiced by, respectively, Grammy-nominated singer-songwriter Bebe Rexha; musical artist-producer-entrepreneur Charli XCX; and singer, Lizzo.

Taking on absolutely "perfect" cameo roles as Announcer Robots are Emmywinner Jane Lynch (Glee) and actor-comedian Rob Riggle (The Hangover). Rapper, author and Law and Order: SVU star, Ice T, voices a lovable, diminutive unicorn named Peggy, who visits Moxy at her home in Uglyville.

The Birth And Musical Journey Of Uglydolls

The UglyDolls' road to movie stardom began about 17 years ago, when David Horvath, an illustrator, comics artist and toy designer, then based in Los Angeles, sent some letters to his girlfriend (now, wife) Sun-Min Kim, who was living in South Korea at the time. The letters also included some endearing character drawings, which inspired Kim to hand-sew a gift for Horvath: an interpretation of one of his drawings, as a plush doll.

Delighted with Kim's creation, Horvath shared it with the curator of a well-known Los Angeles-based specialty store, Giant Robot, who mistook Horvath's enthusiasm for a pitch – and then promptly sold the doll and ordered 20 more. "Sun-Min hand-sewed another 20, named it 'UglyDoll,' and those also sold out immediately," remembers Horvath. Even Kim's purchase of a sewing machine was not enough to keep up with the increasing demand, which had now spread to other specialty stores across the U.S., so she found a factory that could ramp up production. "I think people were surprised by the softness – what we called 'ugly fur' – of the characters, were drawn to the name UglyDolls, and enjoyed reading the tags that were attached to each UglyDoll, which offered a little personal info about the character," Horvath explains.

Cut to: Hollywood comes calling, and UglyDolls co-creators Horvath and Kim watch the film's progress with eager anticipation, after providing some early designs for the film. "It was our baby for 17 years and it felt good to know it was in such good hands," says Horvath, of Aviv, Asbury, STXfilms and the rest of the filmmakers who brought their one-of-a-kind creations to life.

Aviv explains how Uglydolls came together as a motion picture event. "STXfilms knew that this was an opportunity to bring a very special and beloved brand into the world, first as a theatrical animated feature and then as a television series, to which Hulu has committed, with strategic partnerships with McDonald's, Carl's Jr., Hasbro and Walmart, among other global brands. Most importantly, it was STX's first animated feature and we were committed to doing right by the UglyDolls and preserving its themes of inclusivity and authenticity."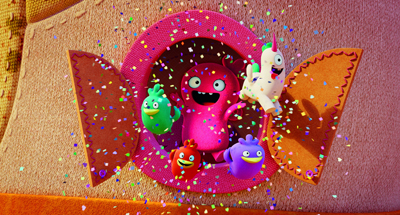 During this development stage, Aviv was also overseeing the work being created by Head of Story Paul McEvoy, who had previously worked on the blockbuster animated films Kung Fu Panda, How to Train Your Dragon and The Croods.

Jane Hartwell (The Croods), who had come aboard as a producer, says this material set the table for the magic to come. "My daughter had some of the UglyDolls, so I was already familiar with their look, but I was very impressed with and drawn to the designs and story concepts, which were really strong. The characters are sympathetic and adorable, without being 'cliché-cute.'"

The songs by Christopher Lennertz and Glenn Slater are a key part of Uglydolls – propelling the narrative, offering big laughs and powerful emotional beats, defining the characters and their adventure, and providing a look into their unique environments. Lennertz composed the score, which provides the emotional stitching that ushers us through the film.

It was Asbury who had come up with the idea of making the film a big musical adventure. The Shrek 2 and Gnomeo & Juliet director explains what that element brings to Uglydolls: "The songs anchor the story. I wanted to avoid long sequences of dialogue and instead have the characters sing about their feelings. Music gives you the opportunity to have a character express its inner dialogue in a way that's both entertaining and believable."

As screenwriter Alison Peck and McEvoy continued to fine-tune the story, the filmmakers worked closely with songwriters Lennertz and Slater, whose upbeat, catchy and contemporary work contributes to the narrative without interrupting it. "Every song has meaning and pushes the story forward," Asbury points out. Adds Hartwell: "So many times we presented Glenn and Chris with challenges, and they always came up with elegant solutions. The best songwriters are also storytellers, and Glenn and Chris have great instincts."

Even before Asbury joined the team and turned the film into a musical, Slater and Lennertz had written an opening number, "Couldn't Be Better," performed by Clarkson, joined by the other cast members, which introduces us to Uglyville and its colorful and unique denizens. Aviv and McEvoy had begun mapping out the scene in storyboards, and Asbury went to work bringing the magical sequence to life. "That song and scene is about spending a day in Moxy's town, as seen largely through her eyes, and experiencing how wonderful it is," he points out.

As Moxy is joined by her friends, the action and exuberance careen through Uglyville, where "ugly" rules and everything is about having a good time. "Couldn't Be Better" is framed by Moxy's inner voice, concurrently expressed in the song "Today's the Day," which conveys that while she still loves Uglyville, her friends, and their life of endless fun, she knows there's something more for her in the Big World beyond their town. She's destined to serve a doll's true purpose – to bring comfort and happiness to a loving child. There's a doll for every child, and a child for every doll. "Moxy is holding on to a dream she knows has meaning," says Asbury, "which she expresses through 'Today's the Day.'"

Perfection provides a stark contrast to Uglyville. The latter is defined by its unconventionality; everything is asymmetrical with no parallel lines, and is soft, cushy and plush. It's a handcrafted world with fabric builds, button-based currency and felt food. Conversely, Perfection is defined by straight lines, geometric shapes, right-angles, and absolute neatness and order. "We wanted the UglyDolls to find themselves in a land that's strange to them, where they must figure out new rules to live by and learn that the word 'ugly' does not mean the same to others as it does to them," says Asbury. "Perfection is not a mean place – though its leader, Lou, definitely has a mean heart – but it's a different kind of experience for Moxy and her friends.

"In the end, they learn that words like 'ugly,' 'pretty,' and 'beautiful' don't have to have the same meaning to everyone because beauty, of course, is in the eye of the beholder."

But Lou does not subscribe to that kind of thinking. Instead, he preaches the gospel of perfectionism. Lou rejects any doll that's too long, too small, too thin, too big…well, you get the idea. His Institute of Perfection is an academy where dolls are trained to be perfect. They must pass its rigorous standards and tests – and the ultimate challenge, The Gauntlet – to proceed to the real world and experience a child's love.

Lou is a carefully-coiffed, sartorially-splendid rock star dripping with charisma, whom everyone in Perfection seems to idolize. To ensure his views land with maximum impact, he conveys them through a glitzy, glittery, glamourous musical number featuring the song "The Ugly Truth," performed by Jonas. It's a powerful though untruthful message that the residents totally buy, at least at first. But the UglyDolls know it's not right, and recognize Lou's self-serving and hidden agenda, which is woven into the song.

As Moxy makes her way through this unfamiliar world, she faces challenges and, like every heroine, has a few moments of weakness. She agrees to a makeover for her and her friends to facilitate an easier transition to the ways of Perfection. With Mandy's help, the UglyDolls are plucked, tweezed, sculpted, molded and dollscaped. In short, they're "All Dolled Up," in a number performed by Monáe, with Clarkson, that amps up the scene's buoyancy and energy but whose lyrics, says Asbury, "tell us that Moxy really doesn't need to do this."

Monáe confirms, "It's a fun moment of watching the UglyDolls try and change their look, but they ultimately realise the makeover is a bad idea – that this is not them."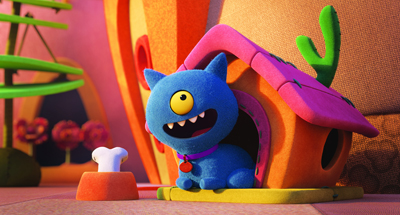 After Moxy learns about a troubling secret that Ox has long been hiding, she and Mandy, who's dealing with her own challenges, face an emotionally-charged moment of truth that's conveyed through the song "Unbreakable." Asbury explains: "Moxy and Mandy give each other a kind of pep talk, each looking to build up the confidence of the other. The song sums up a key theme – that we all have unique strengths that can make each of us unbreakable."

The scene's visual motif of a mirrored staircase underlines that idea. "It's all about one's reflection and view of one's self, and that what you see in the mirror is not what everybody else sees," Asbury continues. "You should be proud of what you see in the mirror."

According to Aviv, the writing of the song was a story unto itself. "There had been some earlier versions of 'Unbreakable' that were not quite as soaring, emotional or powerful as the scene warranted – how the characters are helping each other to never give up," he remembers. "On a Friday evening I was bringing my daughter to school in Boston, and then on Sunday there was a new demo of the song, and it was spectacular. The final version was locked in over a single weekend."

The film's end credits song, discovered by music supervisor Jason Markey and Atlantic Records, is "Broken & Beautiful," an uplifting pop track performed by Clarkson, co-written by Pink, Johnny McDaid, Marshmello and Steve Mac, and produced by Mac and Marshmello. The powerful tune caps Moxy's journey of discovery – and her realization that she doesn't need fixing or changing because she's both broken…and beautiful. Says Clarkson: "Broken & Beautiful is one of my favorite songs I've recorded because Pink co-wrote it and I'm a huge Pink fan. And, honestly, there couldn't be a more perfect song for the movie's themes. We all have challenges and things we're working on. Everybody's under construction, right?

"It's the perfect wrap-up for the film because it speaks to how Moxy feels when we leave her," confirms Asbury. "And nobody does it better than Kelly Clarkson!"

Journey's End

The song's energy and themes reflect what drew the cast and filmmakers to Uglydolls. "Audiences will leave the cinemas tapping their toes but also, I hope, feeling empowered," says Asbury. Aviv adds that he's anticipating moviegoers will be as "moved and satisfied as we were making the picture" and credits the cast's singing and acting in providing key elements of intimacy and emotional purpose.

Hartwell notes that the film's universal ideas about individuality and acceptance will resonate with audiences, and that "they'll also love the film for its sheer joy."

The cast's hopes for the film mirror that of the filmmakers. "Uglydolls is all about loving yourself, loving life and realizing that we're all different, yet all the same," notes Clarkson. Adds Jonas, "It's exciting to bring something joyful into the world with a positive message of hope and acceptance," and Monáe says: "I think everyone – young and older – will have a great time and be inspired by the movie. It's so relatable because we're all trying to grow and decide what kind of person we want to be. Most of all, Uglydolls takes us on a fun journey of what it means to celebrate what makes you, you."

And Pitbull sums up the film's strong and relatable ideas with the spot-on acronym "U.G.L.Y." – U. Gotta. Love. Yourself."

Uglydolls
Release Date: September 19th, 2019