SDCC INTERVIEW: THE CLOUDS ROLL BY FOR FARIS AND SAMBERG.
Anna Faris & Andy Samberg, Cloudy with a Chance of Meatballs Interview, by Paul Fischer At ComiCon,
One of the most eagerly animated films of the year would have to be the film adaptation of the beloved kids' story, Cloudy with a Chance of Meatballs. Two of the film's voice actors turned up all smiles at Comic Con to talk about their roles in the film as well as other projects, real or hopeful. Anna Faris and Andy Samberg spoke to Paul Fischer.
Paul Fischer
: Can you guys begin by talking about the characters that they play in this movie?
Anna Faris
: I play Sam Sparks, a weather gal who gets sort of the break of a lifetime when she is assigned the job of covering the crazy weather in the small island of chew and swallow. My character is more intelligent than she appears. But she has sort of learned to suppress her intelligence a little bit until her love for an intelligent man allows her to be herself.
Andy Samberg
: My character is Brent and he is not more intelligent than he appears. He is kind of the town doofus. He was a child star in town because he was the child actor, mascot, for the sardine company that ran the town as their main export. Then he grows up to be an obnoxious doof. He has to reevaluate his life when the food machine is invented because no one cares about him anymore. There are a lot of Octomom jokes too.
Paul Fischer
: Was it weird to just be acting with your voice and not your body?
Anna Faris
: This was my first animated project. I know that Andy has done some animated before. For me I think the challenge was that you say a lot of dialogue. Each session you say maybe 200 lines, maybe more, and you say each of the lines about a dozen times. You are working alone, so that was an interesting, new experience. I think the first sessions I was filmed while I was delivering the lines. I'm not sure if you guys used any of my gestures. I hope I get to do more of this work because, no hair, no make-up, and that part is pretty great. We did do a fun bit. There is a scene where Bill Hader and myself, its raining cheeseburgers, and we worked together for a couple of session. They got us In-N-Out burgers and we actually ate the burgers. It was fun.
Paul Fischer
: That was tough, right?
Anna Faris
: Yeah!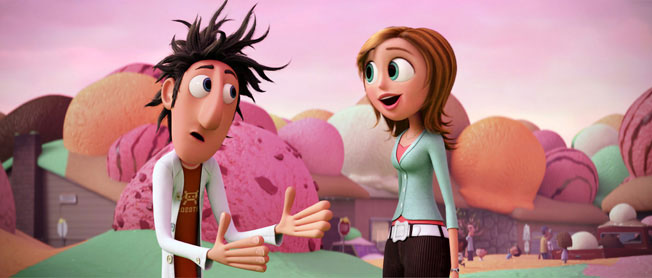 Paul Fischer
: On the topic of food, did you find you had an increased appetite after the production? At the end of the production what was your favorite food?
Andy Samberg
: I get much more of an appetite watching the movie than when we were recording. All my parts are mainly about sardines. But when you watch it, the things that they did to make the food look realistic are insane. I believe that they created new technology? Dare I say? It's food graphing and all that stuff? Cyber graphicon? It's all very technical. When I watched it for the first time I definitely left being like 'I am hungry. I'm going to go get some food and definitely some of it is going to be from the movie.'
Anna Faris
: It's all really fun and very kid friendly food. It's like pizza, nachos, peanut brittle, and Jell-o. Of course there is spaghetti and meatballs. I don't know if it rains a lot of vegetables. But you know I'm a sucker for a nacho, I tell you what.
Paul Fischer
: There have been a lot of children's books that have been made into movies. One of the complaints about that is that they have taken a short book and expanded it into a film. Was that a concern of yours going into this?
Anna Faris
: They did the same with 'Brokeback Mountain'. [Laughs]
Andy Samberg
: This movie is the 'Brokeback Mountain' of this year, I think. There's only 24 percent less gay sex in this movie than 'Brokeback Mountain'. Sorry Sony!
Paul Fischer
: Last time I spoke to you after 'House Bunny' you said that you wanted to be more proactive and develop a lot more projects. Are you still planning on doing that?
Anna Faris
: Yes. I am, I am. You know, I love doing comedy and I really enjoyed being a part of the development of 'The House Bunny'. It was very inspiring to be able to take a project from it's genesis and see it be realized. So, we're working on more. Yeah, I love? there are just not a lot of scripts, out there, written for a woman who attempts to be funny. So, I have got to do it for myself.
Paul Fischer
: What are you doing next?
Anna Faris
: We've got a couple of projects. We've got a project with Paramount. It's the same writers as 'House Bunny'. It's a female buddy comedy. Then I've got a project over at Sony as well that's a romantic comedy. We'll see how that goes. I don't know, I love the idea of doing a romantic comedy, but I haven't really done it before. You have the added pressure of making the audience fall in love with you as well. I'm going to attempt to see?
Paul Fischer
: They will.
Anna Faris
: Bless your heart. Go on, tell me more.
Paul Fischer
: This film comes out in September, so the DVD will probably come out around Christmas or Thanksgiving. Do you have any favorite holiday foods you like to eat? Any family food traditions?
Anna Faris
: I love Thanksgiving. Thanksgiving is my all time favorite holiday. You can't really go wrong. You don't have the pressure of giving any gifts or pretending to like gifts.
Paul Fischer
: Plus there are all of the nachos.
Anna Faris
: Yeah!
Andy Samberg
: Holiday nachos.
Anna Faris
: My mom is a total foodie. She orders an American Heritage Turkey Bird from this special farm in Kansas that is specifically slaughtered for her.
Paul Fischer
: Andy, for you? Any holiday foods?
Andy Samberg
: Holiday brisket at my house is fantastic. My mom makes a really good brisket, which is my grandfather's recipe. Anytime I'm going home I send out the feelers. 'Are you going to have any brisket while I'm here?' 'Well, I have a turkey.' 'What about the brisket?' So, when at all possible she'll do brisket but it's a slow cooking process. You know what I'm talking about.
Paul Fischer
: Anna, you said how you don't find too many roles for funny women, so you go out and do it yourself. Do you actually see yourself working behind the camera more as you progress in your career?
Anna Faris
: I would love to do that, I really enjoyed producing on 'The House Bunny', even though I think the only thing I had control over was the donuts at the craft service table.
Paul Fischer
: Do you ever want to direct?
Anna Faris
: I don't know. I don't know if I'd be that great at it. I would love to try, I guess, but I'm not sure I know enough to direct. I need to learn a lot. Granted, I don't know if people would expect too much from me. Oh me!
Andy Samberg
: Just put your mind to it!
Anna Faris
: I would love to pursue areas behind the camera, sure, yeah. I would love that.
Paul Fischer
: Andy, do you have any idea what you're planning for Digital Shorts this next season?
Andy Samberg
: I'm planning on coming up with the ideas on the Thursdays of the show weeks, like we usually do. It will involve Kiv [Akiva Schaffer] and Jorm [Jorma Taccone]. It will involve cast members and hosts.
Paul Fischer
: Do you feel a lot more pressure? Those have become such a big thing do you feel like now you have to put them out?
Andy Samberg
: I don't think we could feel anymore pressure than we put on ourselves to start with. We are sort of notoriously hard on ourselves. No, it hasn't really changed as far as I'm concerned. Week to week you have a better idea, or worse idea, than the previous week. Hopefully when it's all done people just remember the ones that they like.
Paul Fischer
: You have had so much success with the ones you have done with Justin Timberlake. Have people talked about maybe trying to find a movie to team you guys up in?
Andy Samberg
: Yeah, it's come up. He is busy. He's a busy gentleman, mainly like golfing. Yeah, we're open to it, we've talked about that it could be fun, but the exact thing has not come to pass yet.
Paul Fischer
: Is there a movie project you are circling at this point?
Andy Samberg
: No. I'd love to and I'm definitely hoping to shoot another movie within the next year at some point. 'SNL' the schedule is, I think, even more extensive and [?] more shows consecutively than ever before. It's more and more 'SNL', which is awesome.
Paul Fischer
: All of the actors in the film have such a distinct comic persona. How much of that did you want to bring to your characters? How different did you want them to be from yourselves?
Andy Samberg
: My character is a massive tool, so I wanted him to be different.
Anna Faris
: I think it's not too far from who I am, I think. Just playing myself.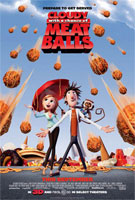 Cloudy with a Chance of Meatballs
Starring
: Bill Hader, Anna Faris, James Caan, Bruce Campbell, Andy Samberg, Mr. T, Tracy Morgan
Director
: Chris Miller, Phil Lord
Genre
: Childrens
Fans of the children's picture book CLOUDY WITH A CHANCE OF MEATBALLS will get to see the beloved title brought to life with gorgeous animation. Bill Hader, Anna Faris, James Caan, and Bruce Campbell lend their voices to this film about a town that has various types of food falling from the sky, rather than rain or snow.