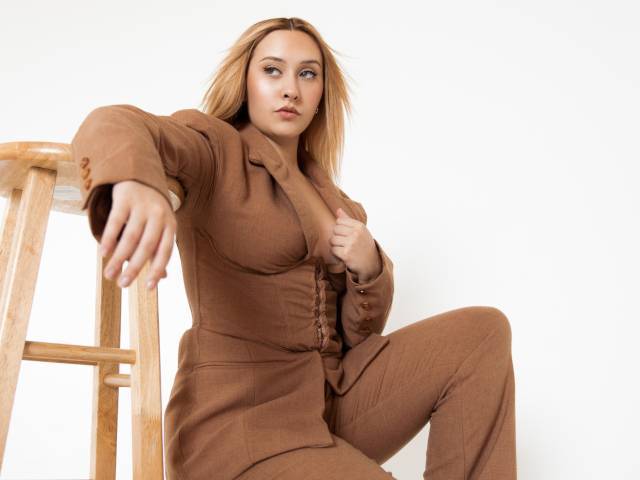 Brooklynne has taken the social media world by storm. She has a large verified social media following on TikTok with over 623 million likes and over 10 million followers as well as on Instagram with over 505,000 followers. As an outspoken advocate who champions celebrating body positivity, she has gotten notice from Good Morning America, TODAY, Nightline, Buzzfeed, NBC News, and the Daily Mail to name a few.

Adding to her impressive resume, Brooklynne made her musical debut with her single My Crown. Inspired by her rise as an influencer, it is a catchy track with a comedic twist. The song, which she co-wrote, also features the writing talents of rising pop artist Jillian Rossi, Alec Zeilon, and Frawley who is known for penning hits for Dixie D'Amelio and Tate McRae. The track is available now on all streaming platforms. Within just 24 hours of release, it had already amassed 1 million streams. The song is accompanied by a music video which was based on hit movies like Mean Girls and Legally Blonde.


Interview with Brooklynne Webb
Question: How would you describe your music?

Brooklynne Webb: I would describe my music as playful and fun. "My Crown" is a sassy, fun single inspired by iconic pop songs. I would say it's very much Rebecca Black Friday meets Ava Max!


Question: What inspired your debut single My Crown?

Brooklynne Webb: I was inspired to do this because everything is always taken so seriously in life! I wanted to do something fun and light-hearted.


Question: Can you tell us about the music video?

Brooklynne Webb: The music video is inspired by many classic movies like Carrie, Mean Girls, Clueless, and more. It's based around my original character I started to do on TikTok, which is a princess-type persona! The video climaxes with me getting slimed in front of the entire school.


Question: Is there a particular message you hope listeners take from your music?

Brooklynne Webb: I hope that listeners take the message not to take everything in life so seriously and have a bit of fun!


Question: What tips do you have for young girls struggling with confidence?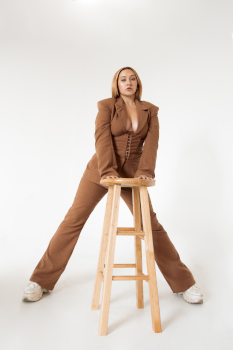 Brooklynne Webb: The biggest tip I have is not to compare yourself to others. Everyone is different and everyone is unique. There is so much beauty in this world and it truly comes from within. Also, everyone is going to move at a completely different pace! Don't get discouraged with anything in life if you feel like you're moving too slow.


Question: What motivates you most when writing music?

Brooklynne Webb: I think "My Crown" specifically was motivated by a couple of things when I wrote it with Lauren Frawley, Jillian Rossi, and Alec Zeilon. Much of it was based on the character I play on Tik Tok, this sort of over-the-top princess character dressed in all pink. I was motivated to push the song in that direction and discover how far I could go with it. In a fun way, the song is a little bit of a response to online bullying not only toward me but toward many other creators, where people will tear down walls to try and hurt you when you might just be doing something as innocent as singing a song! I was motivated to push this song out there and shine light on that real issue to so many preteens and teens like me all around the world.


Question: Which music/artists are you currently listening to?

Brooklynne Webb: I've been listening to Taylor Swift, Olivia Rodrigo, Lady Gaga, and Billie Eilish. I'm also a massive fan of musical theatre, so I've recently been obsessed with the Encanto soundtrack!


Question: What or who was your inspiration to go into the music industry?

Brooklynne Webb: A lot of my inspiration comes from my pure love for music! I grew up with dance and musical theatre, so I've always had music around me. It was fun to create a song of my own with so many talented people!


Question: If you could collaborate with another artist, who would it be?

Brooklynne Webb: From the perspective of being a pure music lover in general, some of my favorite artists are Billie Eilish, Ariana Grande, and Olivia Rodrigo!


Question: Did you have any pre-conceived ideas about the music industry?

Brooklynne Webb: I honestly didn't know too much about the music industry going into it, I just felt passionate, and it was so cool to learn about everything that goes into it behind the scenes. It gave me a deeper appreciation for music.


Question: Did you always want to pursue a career in the entertainment industry?

Brooklynne Webb: I knew since I was little that I wanted to be in the entertainment industry in one way or another. It constantly switched from wanting to sing to wanting to act to wanting to become a makeup artist.


Question: What has been your favourite part of becoming a content creator?

Brooklynne Webb: My favorite part so far has been the people I've met! I've made so many amazing friends that have made me feel loved and appreciated every single day.


Question: What's a typical day like?

Brooklynne Webb: My days change all the time. I typically like to start by waking up and checking my social media and messages. Then I'll start prepping for the whole day and make breakfast. I usually go to the gym at some point and see my friends who live in the same apartment complex!


Question: What's next, for you?

Brooklynne Webb: There's going to be a lot coming up next. I've been trying to focus on what I want to do because there's so much. I have a lot planned for this year so keep watching!


Question: Can you share your socials? (links please)

Brooklynne Webb: TikTok
Instagram


Interview by Gwen van Montfort