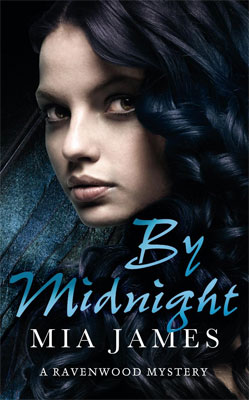 By Midnight
Welcome to Ravenwood, the school with bite - the new YA sensation is here!

April Dunne is not impressed. She's had to move from Edinburgh to London with her parents, leaving behind her school, her friends... her entire life, basically. Ravenwood, her new school, might be a prestigious academy for gifted super-rich super-smart students but there's more going on there than meets the eye.

Practical jokes on new students are normal, but when her new friend Gabriel saves her from... something... in Highgate Cemetery and then she discovers that a murder took place just yards away from where she had been standing, April has to wonder if something more sinister is going on. And whether she's going to live through it.

Finally, a new YA series to rival Twilight! By Midnight sucks you in from the very beginning. It is so much darker than most of the other offerings out there in this genre . And although it has a few similar elements to other YA series out there at the moment - new girl in town, doesn't want to be there; creepy school with strange students and teachers; mysterious, good-looking young guy; it is beautifully written, the diverse range of characters keep your attention, and the mysteries and unspoken secrets keep you guessing. Think mystery, mayhem, murder, blood, vampires, money and add a little bit of teenage lust!

Mia James lives in the UK. More on the Ravenwood series can be found at www.orionbooks.co.uk/ravenwood

By Midnight
Hachette Australia
Author: Mia James
Price: $22.99



Interview with Mia James
Why will By Midnight appeal to Twilight readers?

Mia James: By Midnight will feel familiar to Twilight fans - there are gorgeous vampires, a strange school, even a doomed romance - but it is also very different. For one thing, it is set in England, in a part of London called Highgate. The huge Victorian cemetery there is the only place outside of Transylvania which has had a genuine vampire sighting. There's a lot of actual mythology attached to the story: the plague, Jack the Ripper, and ancient graveyards, plus there's much more of a mystery to the story.


What can readers expect from the Ravenwood series?

Mia James: By Midnight's heroine April goes to the sinister Ravenwood school where much of the vampire activity begins. She and her best friend Caro will spend the rest of the series trying to uncover the conspiracy behind the school. The romance between April and brooding, handsome Gabriel will take more twists and turns too - definitely not the ones you expect! It's a more grown-up story than Twilight.


What originally inspired you to create the Ravenwood series?

Mia James: My Uncle lives in Highgate near the cemetery. It's very overgrown and spooky and I would peer through the railings at the strange tombs looking for the 'Highgate Vampire'. I don't think I ever saw it, but the legend stayed with me and I always wanted to write a story about it. All of the places in By Midnight are real, from April's house with the yellow door to the strange bookshop on the high street and the school itself (although it's actually a huge private mansion!)


Can you tell us about how you created the character of April?

Mia James: Although I loved Twilight, the one thing I didn't like was the unrealistic portrayal of teenagers. So I made April and her friends much more feisty and normal: they care about fashion and go to parties and are mad for boys. Plus, when confronted with the idea that the school is full of bloodsuckers, their reaction is much more real - 'Yeah...right!' April has to go some really tough emotional times in By Midnight, so her friends were really important too


What do you enjoy most when writing about vampires?

Mia James: I loved the way you can create your own version of the myth. Can these vampires go out in the daytime? Are they scared of garlic? Do you see their reflection? In By Midnight, the answers are yes, no and no. Otherwise they'd never be able to go shopping or eat pizza!