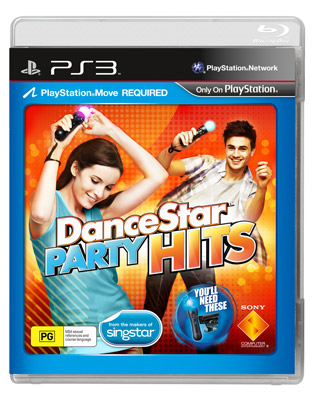 DanceStar Party Hits
The sequel to DanceStar™ Party picks up where the fun left off, bringing all the action of the PlayStation Move motion controller to get the living room pumping. DanceStar Party Hits let's you boogie on your own, dance together with a partner or challenge friends to a dance-off and see who can make it to the top of the DanceStar leaderboards.

Practise your best moves with 160 high energy dance routines and 40 fantastic tunes from a range of international artists. DanceStar Party Hits also lets you step into the role of choreographer and become a real dance star by creating your own routines.

With DanceStar Party Hits, you can workout as well as party. Boost your fitness with the burning workout mode while the in-game calorie counter tracks your weekly progress of your exercise regime in the comfort of your living room.

Aloe Blacc: I Need A Dollar
Avicii: Levels
Avril Lavigne: What The Hell
Basement Jaxx: Romeo
Boney M: Rasputin
Calvin Harris feat. Kelis: Bounce
Cher Lloyd feat. Mike Posner: With Ur Love
Cheryl Cole: Fight For This Love
Chris Brown feat. Benny Benassi: Beautiful People
Dev feat. The Cataracs: Bass Down Low
Dizzee Rascal feat. Calvin Harris & Chrome: Dance Wiv Me
DJ Fresh: Gold Dust
Gwen Stefani: Hollaback Girl
Jay Sean Featuring Nicki Minaj: 2012 (It Ain't The End)
Jessie J: Who's Laughing Now?
JLS feat. Dev: She Makes Me Wanna
John Paul Young: Love Is In The Air
Kaoma: Lambada
KC & The Sunshine Band: Get Down Tonight
Kelis: Trick Me
Kelly Clarkson: Stronger (What Doesn't Kill You)
Labrinth feat. Tinie Tempah: Earthquake
Lady Gaga: The Edge Of Glory
MIA: Paper Planes
Nelly Furtado: Maneater
Nicki Minaj: Super Bass
One Direction: What Makes You Beautiful
Paula Abdul: Opposites Attract
Pixie Lott: Boys And Girls
Reel 2 Real feat. The Mad Stuntman: I Like To Move It
Rizzle Kicks: Mama Do The Hump
Run DMC: It's Tricky
Sak Noel: Loca People
Salt N Pepa: Push It
Selena Gomez & The Scene: Naturally
Taio Cruz: Break Your Heart
The Beach Boys: Fun Fun Fun
The Pussycat Dolls: Buttons
The Wanted: Glad You Came
Urban Cookie Collective: The Key, The Secret (Dancing Diva 7" edit)

DanceStar™ Party Hits
RRP$39.95 (Game only)
Rating: PG
Platform: PlayStation®3 (PS3™), PlayStation®Move required.