It's time to make the most of the sunny weather, spend minimal time in the kitchen and entertain outdoors as much as possible. With this in mind, the new donna hay magazine features your ultimate summer standbys - 50 super fast and easy barbecue recipes that are perfect fro a quick mid-week meal or a leisurely Sunday lunch.

The Fast 50 - With everything from lamb, pork, beef, chicken and seafood covered, including an array of tasty marinades, flavourings and sides, these 50 fast barbecue recipes are perfect for both weeknights and weekends. Whether it's a quick dinner or you're entertaining, these easy and flavoursome dishes mean you won't run out of meal ideas all summer.

Vietnamese feast - Vietnamese cuisine is well suited to our climate and ideal for sultry evenings. Fresh, delicately layered dishes feature a perfect harmony of flavours accented by lemongrass, lime, mint and chilli. Whether it's a refreshing green papaya salad or caramelized pork rice paper rolls, it's a masterful balance of vibrant flavours.

Forbidden fruit - Summer indulgence is not complete without the luscious fig, with its floral perfume, delicate skin and jammy texture. We've got sweet and savoury dishes covered, from haloumi, fig and pomegranate salad, to fig and goat's cheese tarts and ricotta cheesecake with moscato figs.

Scoop of the year - With a texture somewhere between mousse and ice-cream, semifreddo is the best no-churn ice-cream around. It's the first in, first served with mint chocolate cookie crush, raspberry semifreddo Popsicles and espresso semifreddo sandwiches. They're just the thing to keep you cool this summer.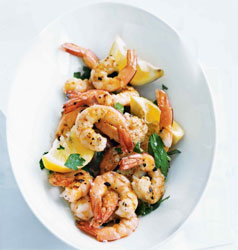 Garlic prawns

Toss 1kg of peeled green (raw) prawns, tails intact, with oil, crushed garlic, sea salt and pepper. Barbecue for 3-4 minutes or until cooked through. Place in a bowl with 50g butter and chopped flat-leaf parsley leaves and toss to coat. Serve with lemon wedges.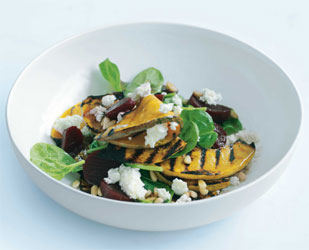 Pumpkin + beetroot salad

Brush sliced pumpkin with oil and barbecue for 4-5 minutes each side. Toss with sliced canned beetroot, baby spinach leaves, ricotta, pine nuts, sea salt, pepper, red wine vinegar and olive oil to serve.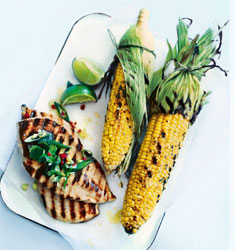 Lime + chilli chicken with smoky corn

Pull the husks back from 4 cobs of corn and barbecue for 10-12 minutes. Brush with a mixture of melted butter, finely grated lime rind and sea salt. Slice 4 chicken breast fillets in half horizontally, brush with oil and barbecue for 1-2 minutes each side or until cooked through. Combine 1/3 cup coriander leaves with 2 sliced green onions, 1 chopped long red chilli and 1 tablespoon each oil and lime juice. Top the chicken with coriander mixture and serve with corn and lime.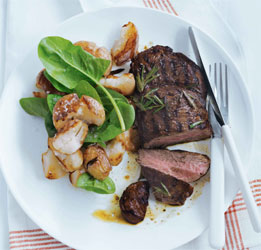 Rosemary + balsamic lamb

Combine 1 tablespoon rosemary leaves, 2 tablespoons balsamic vinegar, 1 tablespoon oil, sea salt and pepper and pour over 2 x 400g lamb rump roasts. Marinate for 10 minutes. Barbecue for 8-10 minutes each side. Slice and serve with crispy potatoes and baby spinach leaves.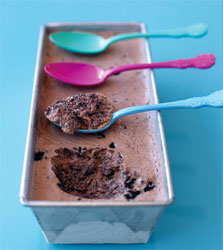 Double chocolate brownie semifreddo

3 eggs
2 egg yolks, extra
1 teaspoon vanilla extract
1 cup (220g) caster sugar
2 cups (500ml) single (pouring) cream
250g dark chocolate, melted
350g store-bought chocolate brownies, chopped

Place the eggs, extra yolks, vanilla and sugar in a heatproof bowl. Place over a saucepan of simmering water and, using a hand-held electric mixer, beat for 6-8 minutes or until thick and pale. Remove from the heat and allow to cool slightly. Whisk the cream until stiff peaks form. Gently fold through the egg mixture until well combined. Fold through the chocolate and brownies. Pour into a 2 litre-capacity metal tin and freeze for 6 hours or overnight. Makes 2 litres.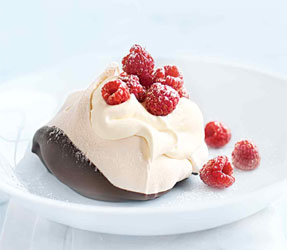 Chocolate and raspberry pavlovas

150ml eggwhite (approximately 4 eggs)
1 cup (220g) caster sugar
2 tablespoons cornflour sifted
2 teaspoons white vinegar
100g dark chocolate, melted
1 cup (250ml) single (pouring) cream
300g raspberries
icing sugar, to dust

Preheat oven to 150°C. Place the eggwhite in the bowl of an electric mixer and whisk until stiff peaks form. Gradually add the sugar, whisking well, until the mixture is stiff and glossy. Add the cornflour and vinegar and whisk until just combined. Spoon ½ cupfuls of the mixture onto baking trays lined with non-stick baking paper. Reduce oven to 120°C and bake for 1 hour. Turn the oven off and allow the pavlovas to cool completely in the oven. Dip the bases of the pavlovas in melted chocolate, place on non-stick baking paper and set aside for 30 minutes or until the chocolate is set. Whisk the cream until soft peaks form. Spoon over the pavlovas, top with raspberries and dust with icing sugar. Serve immediately. Makes 10.