Eleanor Meegan is a young, vibrant Adelaide based singer-songwriter and performer. At age 19, Eleanor has already built a strong reputation in the Australian music scene. Eleanor is not only a lyrical genius but a diy powerhouse by producing, mixing and mastering her own tracks. Growing up, Eleanor was immersed in a variety of musical genres, including pop, r&b, jazz, blues, rock, hip hop, country, electronic and indie, all of which have had an impact on her songwriting. Eleanor admires contemporary role models like Tame Impala, Pharrell Williams, Frank Ocean, SZA and Clairo. As a result of her eclectic musical influences, Eleanor's own songs defy labelling under a single genre, although her music evokes a fresh and unique pop/r&b vibe. Her single, "Left Behind" has almost 200,000 streams on Spotify alone. Eleanor currently has 5 singles released on all music platforms, one of which - "Laundry" - is self written, produced, mixed and mastered.

With reference to cults, Greek Gods and psychedelics "omg" is ultimately about an obsession with somebody to the point where you see them as a deity figure and would do anything to please them including "drinking the Koolaid" in blind obedience.

"Musically, I was inspired by the fashion and cultural aesthetics of the 1990s and the Y2K era. Lyrically, I was inspired by such 1960s/70s and 90s cult leaders as Charles Manson, Jim Jones and Marshall Applewhite."


Interview with Eleanor Meegan
Question: How would you describe your music?

Eleanor Meegan: I'm someone who listens to and loves all types of music so it was hard for me to find a sound that suited me and was inclusive of all the music that I love. Eventually I think I found a sound that sort of defies labelling and I want to continue on that path of meshing genres and sounds to make music that's totally unique. However, I think my music does promote strong messages of female/or just self-empowerment!


Question: Can you tell us about 'omg'?

Eleanor Meegan: TW: suicide, murder

Of course! I wrote "omg" during lockdown this year as a bit of an homage to y2k/party girl aesthetics (I love all types of media from that era) but also a look at toxic/obsessive relationships. I wanted to play into the way girls from that era just didn't care so I said the first "oh my god" in a very exaggerated valley girl accent. The song seems like an innocent song about going to a club with someone you like but it goes a lot deeper. I've always had a weird affinity for creepy things so I'm super obsessed with cults and I wanted to write a song that looked into the hierarchical dynamic between cult leaders and their followers. The lyric in the chorus "cyanide and a bit of cola" was a reference to the Jonestown cult where over 900 people committed mass suicide for their leader by drinking kook-aid laced with cyanide. "frame me for murder" is similar to that line in the sense that I'm saying that I would do anything for this person including suicide or letting them frame me for murder. Then in the bridge I looked more into the similar dynamic between people and their religious icons or "Gods" and how in some ways religion can be similar to cults. I could literally annotate every single line in that song so I'll just leave it there for now hahaha.


Question: Is there a particular message you hope listeners take from your music?

Eleanor Meegan: Yeah, like I said before, I'm always trying to promote messages of self-empowerment and confidence but as a creative person who is super emotional, I also want to write into music that really gives people permission to feel every emotion. Anger and sadness are often seen as "bad" emotions but are actually very natural and can be so liberating. Obviously I don't want to just make people angry all the time but I do want to give people more diversity because that's the type of music I gravitate to.


Question: Do you prefer performing live or recording?

Eleanor Meegan: As much as I LOVE performing and can't wait to get back out to do, I absolutely love the process of recording. Even before I could produce my own music I loved the experience of going into a studio with a producer and writing either with someone or by myself. And now that I am capable of recording and producing my own music I love it even more because I am so involved in the process that my projects feel entirely my own which makes it so much more gratifying to release and perform!!


Question: Which is your favourite song to perform live and why?

Eleanor Meegan: Given that I haven't been able to perform much during Covid I haven't really been able to perform any of my new songs but out of all of my songs I love performing "cya" and "good with us" because they are some of my most listened to songs on Spotify so most of the audience know the lyrics which makes it so much more fun to perform! I also love performing an unreleased song of mine "sometime in March" because the band I perform with (Sam, Jachin and Alex) are so tight on that song and get so into it, I love performing with those guys :).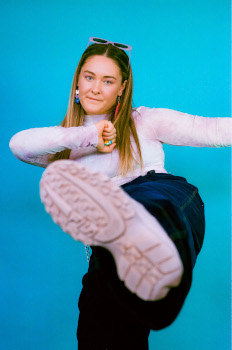 Question: If you could have anyone, in the world, attend a show, who would it be?

Eleanor Meegan: Barack Obama would be cool lol. I also think it would be such an honour to have Frank Ocean attend a show that would just be so surreal.


Question: What motivates you most when writing music?

Eleanor Meegan: Personally I am inspired by literally all types of media and art. Growing up with a mother who is a visual artist and a father who was in a band and now studies the same music course at Uni as me it's been hard for me not to fall in love with creative arts. I often get inspiration from other music that I love and try to emulate the emotions I feel when listening to those songs in my own. I also take inspiration from films and paintings and stories, in my most recent song "omg" I took inspiration from my obsession with cults as well as Greek Gods! I could really take inspiration from almost anything!


Question: Which music/artists are you currently listening to?

Eleanor Meegan: I've recently been listening to Ryan Beatty's entire discography during December, I love his voice and his laid-back beats as well as his poetic lyricism. Also, BENEE recently came out with her new album "Hey u x" which I've had on repeat!


Question: What or who was your inspiration to go into the music industry?

Eleanor Meegan: There were many inspirations for me growing up given that I was always exposed to all the best bands and artists from my parents who were never too strict to stop me from listening to their favourite risqué artists from a really young age! So I think I was inspired by all the amazing artists I was exposed to when I was little like the Beatles, Steely Dan, James Taylor, the Ramones, Daivd Bowie etc. but more recently I've been inspired by artists like Pharrell Williams, Frank Ocean, Rihanna, Beyoncé, Ariana Grande, Brockhampton and more!


Question: What was your first performance?

Eleanor Meegan: I grew up as a ballerina from the age of about 4 so I've been performing for literally my whole life on and off the stage hahaha. I probably couldn't even tell you when my first professional performance was because they've all sort of merged into just a lifetime of performances.


Question: What has been your favourite part of becoming a music artist?

Eleanor Meegan: I've always had the capacity to write music (although they were pretty bad before I was about 15) but I've loved being able to finally understand the functions of a recording studio and live sound engineering through university and studying as well as turning the music in my head in to projects that I'm actually proud of. Being able to record and produce my own music is so fulfilling yet also kind of draining because although you get to have total 100% control over the eventual sound and lyrics and everything, if something sounds wrong, it's your fault and you have to fix it yourself!


Question: What's a typical day like?

Eleanor Meegan: I'm so lucky to have a dad that is just as interested in my career and industry as I am so he's been my biggest supporter and helped me obtain some crucial equipment for not only a live set up with microphones, leads, guitars, keyboards etc. but also a home studio set up in my own room with a really good quality microphone and plugins and what not. So a typical day for me is getting out of bed and walking 2 meters to my desk where I have my laptop set up with something to write with, something to produce with, something to sing with and someone who supports me unconditionally in the next room.


Question: What's next, for you?

Eleanor Meegan: I'd love to start playing and performing at festivals and really perfect my live act. Personally I don't think I've perfected my studio sound but I've spoken to a lot of people who tell me they think my music is so distinctly my own so I think I'll just continue to write about what I love and make music that I love. I'd also love to start working on an album and release it under a record label if possible.


Question: Can you share your socials? (links please)

Eleanor Meegan: Sure :)
Instagram
Tiktok
Twitter
Spotify


Interview by Gwen van Montfort