ELLEN WHIPS IT
EXCLUSIVE Ellen Page, Whip It Interview by Paul Fischer
Ellen Page is certainly one of the most sought after actors of her generation these days, following her break-out performance in the widely acclaimed Juno. Born in 1987 and raised in Halifax, Nova Scotia, Ellen Page developed an early interest in performing. She attended the Neptune Theater School, performing in a stage version of "Charlie and the Chocolate Factory" in the fifth grade. By age 10, she had landed an agent and soon after snagged her first role as Maggie MacLean in the popular Canadian family television movie, "Pit Pony" (1997), as well as a part in the 1999 spin-off television series of the same name. Just 10 years old, her performance garnered her a Young Artist Award nomination, as well as a Gemini (the Canadian equivalent of an Emmy) nomination.
In 2002, Ellen Page continued her busy schedule. She appeared in the Canadian TV series, "Trailer Park Boys," which received a Gemini nomination for best ensemble cast, and "Rideau Hall," as well as the Canadian feature films, "Marion Bridge," and "The Wet Season." The following year, after appearing in "Touch & Go" and the Canadian TV movie, "Mrs. Ashboro's Cat," she made her US television debut on the Lifetime Network's "Homeless to Harvard: The Liz Murray Story." For her performance as Emily Anderson in the 2004 film, "Wilby Wonderful," Ellen Page won a best actress award at the Atlantic Film Festival. She also appeared as a regular that year in the popular Canadian sci-fi series, "ReGenesis" (2004- ).
Ellen Page's next film brought the young actress her first major American publicity - "Hard Candy" (2006), a provocative film in which she portrayed a strong-willed 14-year-old who is targeted by an internet predator, but who turns the tables, exacting revenge on her would-be attacker. Her searing performance caught the eye of Brett Ratner, the director of "X-Men: The Last Stand," who called her up to offer her the part of Kitty Pryde, a.k.a. Shadowcat. Reluctant at first, Ellen Page accepted the role of the beloved mutant who has the uncanny ability to walk through walls and "phase" through solid objects. The character had appeared briefly in the previous two "X-Men" films, but was played by two different actresses.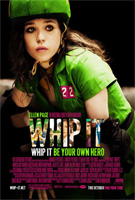 Following the "X-Men" publicity juggernaut, Ellen Page added a fake tummy to play a sardonic pregnant teen in the indie comedy, "Juno" (2007), one of the year's most talked about films. Her bright, quirky and funny performance earned Ellen Page kudos from many critics and an Independent Spirit Award nomination for Best Actress, paving the way for a Golden Globe nomination for Best Performance by an Actress in a Motion Picture - Musical or Comedy. She also received her first Academy recognition with an Oscar nod for Best Performance by an Actress in a Leading Role.
In Whip It, Ellen Page delivers a nuanced and vivid performance as Bliss, a small town girl who rejects her mother's need to make her a beauty pageant competitor replacing small town dreams with roller derby competition making Bliss less of the outcast she feels. The film marks the feature directorial debut of Drew Barrymore. Ellen Page spoke to Paul Fischer in this exclusive interview.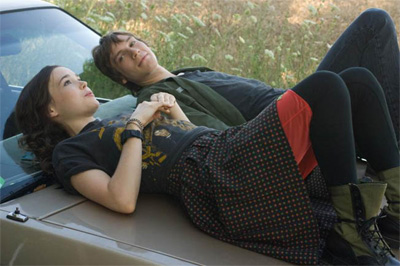 QUESTION: Was this a character that you felt you had an affinity with, when you read the script? Had you read the original novel, on which it was based, to begin with?
ELLEN PAGE: No. I mean, not before I read the script, no. But, yeah. I definitely connected with Bliss, and how she kind of had this - in the beginning of the film, is very introverted, and very quiet and shy. And discovers something that ignites a passion within her, and allows her to connect to a sense of confidence, and to a sense of sensuality, that then - you know, allows her to come out of her shell, and turn in - start turning into a whole person.
QUESTION: What was the process of getting this, and getting this role? I mean, how much - did you have to fight for it? I know Juno kind of established you. But, did you start to work on this before that movie sort of hit? Or was it a fairly easy process for you to get this role?
ELLEN PAGE: Well - I mean, I got that role before I'd even filmed Juno. And what had happened was, I was at Sundance with a different movie, of a very different tone, called An American Crime. And one of the producers of Whip It! was there, Kaylie [?] Smith. And she came up to me and told me about the project. And I was really excited about the idea, and then I was sent the script and I really liked it. And then I met with Drew, and that was kind of about it, to be honest with you.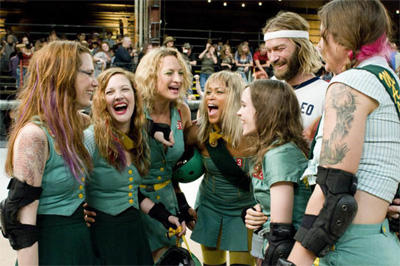 QUESTION: What surprised the most about Drew as a director?
ELLEN PAGE: I don't know. I mean, like - going into it, I had high expectations, you know? I got to know Drew. She's - you know, super-intelligent, and just - you know, works so hard. Just works tirelessly. And - you know, so I had pretty high expectations. And then when it came to actually shooting the film, she just, like, blew those out of the water. She was just so available all the time, always present, always emotionally present with the material, and guided me through every step of this film.
QUESTION: How tough were the physical aspects of this especially the underwater love scene?
ELLEN PAGE: Yeah. I mean, that was definitely a good workout. [LAUGHTER] But - yeah. I mean, it was tricky. It's one of those things that you're doing, that you're like, "Wow, I don't think anyone would ever do this." But - you know. I trusted Drew, and - you know, Landon and I had a really good time doing it. I mean, by the end of the night, you get a little chilly. You're ready to get out. But it was really amazing filming it. And then that was one of the occasions where I actually did watch playback of what we'd filmed. And it just was gorgeous. So, I was really excited to see how it turned out. And I loved the Jens Lenkman song that plays during it. And I was really, really happy with how that turned out.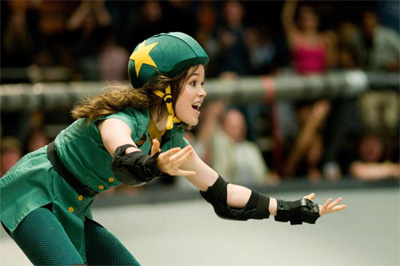 QUESTION: What about the roller derby sequences? First of all, did you do a lot of observation of roller derby before you started working on that? Or did you really have to start right from the beginning, to get that - to get the feel of that on the day of shooting?How much practice did you have to endure prior to filming those sequences?
ELLEN PAGE: I trained for about three months and had an amazing time and I had an amazing teacher. And so basically, for three months, I worked with a roller derby trainer, while simultaneously working with a fitness trainer just to become stronger overall, and just worked really hard, because I wanted to do all of my skating in the film, basically. And hadn't - you know, it was one of the greatest experiences of my life. I mean, to get paid to roller derby? Just - such a gift, in the job I have, to be able to learn and do all these crazy things that you never really expected you'd do.
QUESTION: Your career has obviously taken off in leaps and bounds. Would you ever anticipate that a film like Juno, which was presumably perceived as a small movie, dealing with teenage pregnancy - that that would be the film that would establish your career? How surprised are you by that?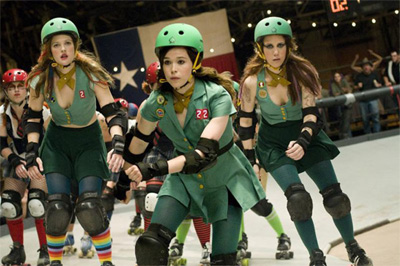 ELLEN PAGE: I mean, it's not something I would expect, you know? I mean, obviously when we were shooting it, it was one of the best screenplays, like, ever written. And working with Jason Reitman, who's just so totally amazing. And the cast that was just so pitch-perfect. And - you know, you feel like, "Oh, wow. I think we're making a good movie." But of course, you don't expect a $7 million movie to turn into what it turned into. But, you know, that's one of those movies where you just feel - I just felt so grateful to be in it in the first place. And everything that happened with it was just this, like, surreal -
QUESTION: Is it challenging for you at this point to find characters that are different from those that you've played before? I mean, you've played a couple of characters that are very intellectual, and this character is obviously very different. What are the challenges for you, at this particular point in your career?
ELLEN PAGE: Oh, God. I don't know. I mean, I just - to be honest, I just - you know, if I read a script and respond to it in a way that - you know, ignites some sort of fire in me, and then reveals a character that I want to spend time with, and that feels honest to me, then I try and be involved and be in it. And I just kind of - I mean, I don't know - I don't really feel like there's that many challenges, to be honest. I just kind of continue to do what I want to do, and I'm lucky that I work with great people who know what I want. And that's kind of it, really.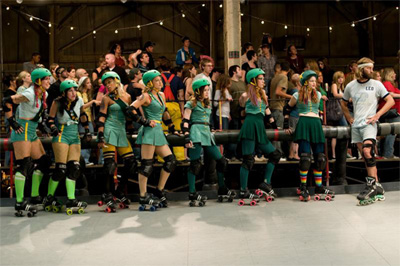 QUESTION: What are you working on at the moment?
ELLEN PAGE: I'm doing Chris Nolan's new movie, Inception, which is rad as all hell, and I'm really, really excited about it.
QUESTION: What kind of character do you play in that?
ELLEN PAGE: I can't tell you.
QUESTION: You can't tell me?
ELLEN PAGE: No and then I'm going to do a movie with Rainn Wilson and Liv Tyler in January called Super, and I play a sociopath, so I'm pretty stoked about that.
QUESTION: A sociopath. Well, that's a different character.
ELLEN PAGE: Yeah. It'll be fun.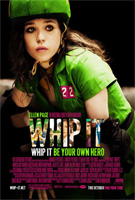 Whip It
Starring: Ellen Page, Marcia Gay Harden, Kristen Wiig, Drew Barrymore, Juliette Lewis, Jimmy Fallon, Daniel Stern, Alia Shawkat, Eve
Director: Drew Barrymore
Genre: Comedies
Drew Barrymore makes her directorial debut with this feisty, female-friendly action-comedy. JUNO's Ellen Page stars as Bliss Cavendar, a young woman who longs to break free of her small-town bonds by joining the rough-and-tumble sport of roller derby in nearby Austin, Texas. [More]