Good Game: Spawn Point is the show for younger gamers, by gamers – and it's back for another huge year of gaming in 2018 with an exciting new look, brand new presenter, Gem and online-first focus!
Hosted by Rad, Goose and Gem, with assistance from D.A.R.R.E.N. (the Digital Assistant for the Research and Regulation of Endless Noobery), GGSP will be younger gamers' number one daily destination for the lastest videogame reviews and news, let's plays, live stream playthrougs, and stories on gaming culture, coding and the hottest tech. Plus, the hosts will continue to attempt to solve any-and-all videogame dilemmas the audience throws at them in the regular e-mailbag segmnt, Ask SP!
With its new online first focus, Good Game Spawn Point will deliver fun gaming content for Australian families first on the ABC ME app and on YouTube each weekday, Monday through to Friday. Full episodes will continue to screen on ABC ME each Saturday at 9am.
With 97% of Australian homes with children having video games, and 60% of Parents actively playing games with their children, GGSP is proud to offer something for everyone in the evergrowing landscape of Australian gamer families.
Videogames are changing the world, so let us be your guide!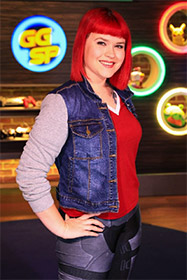 Gemma 'Gem" Driscoll
A new face will be joining the presenting line up, with 20-year-old Gemma -Gem' Driscoll jumping into the GGSP team alongside show regulars Angus -Goose' Ronald and Angharad -Rad' Yeo.
'It's a dream come true to have the chance to share my passion for gaming with Australian families everywhere each and every week" says Gem.
'When I was younger, I wasn't really into gaming – not the way I am now anyway! But I've always been obsessed with fantasy and sci-fi. When I was in high school I started experimenting with games that let me create my own characters in these incredible worlds – and needless to say, I feel in love! These days, not a day goes by when I'm not thinking about games. I'm not the best at fighting games, but I adore big open worlds where I can explore at my own pace. That's what I love most about gaming, there's something for everyone!".
Obsessed with Doctor Who, Harry Potter and Star Wars from a very young age, Gemma -Gem' Driscoll has always been a natural storyteller. A discovery of video games in her teens came via the realization that she didn't have to only write and dream about fantastical worlds, but she could actually -be' in them – exploring epic, open worlds full of colourful characters, and setting forth on imaginative adventures.
Since then, video games have changed her life, inspiring her to create a YouTube channel to explore her thoughts on the medium; getting involved with the cosplay community and immersing herself in the culture that surrounded games; and now, joining ABC ME's Good Game: Spawn Point, where she can share her passion for games daily, and inform kids of all the ages on the wonderful experiences that are held within.
Gem Interview
Can you tell us about the new look of Good Game Spawn Point?
It feels more modern. The biggest feature and my personal favourite, is the giant controller that sits behind us. It looks like the bookshelf I wish I had as a kid!
How can we view Good Game Spawn Point?
We're on every Saturday at 9am on ABCME but you can also check us out on the ABCME app and on YouTube!
What is Good Game Spawn Point?
We're the show for gamers by gamers. We play and review the newest games and cover gaming news!
What inspired you to take on the role of the Good Game Spawn Point presenter?
I was a massive fan of the show and when they announced they'd be holding auditions for a new presenter, I remember asking my mum if I should apply. She said if I didn't try I'd never know what could've been.
How have you been preparing for this role?
I'd been writing my own reviews and filming myself presenting them before I'd auditioned. I definitely think it's given me more confidence in front of the camera.
What inspired your passion for gaming?
A love of stories! I was always writing as a kid and creating fantasy worlds. Gaming allowed me to see those worlds off the page.
Can you share you're earliest gaming memory with us?
I remember playing Donkey Kong Country on the Super Nintendo in my friends basement when we were 5 or 6. I don't think I was very good at it though!
Currently what games are you playing most?
At the moment I'm playing Fe and really enjoying it! I've also fallen back into the Crash Bandicoot remastered edition!