Between the growing popularity of beauty blogs and the many new, exciting makeup and skincare products launching everyday, there's never been a better time for beauty enthusiasts. And like many passions, an interest in beauty is even better when it's shared with the world. In today's digital age, starting a beauty vlog is one of the best ways to do this and connect with other like-minded beauty lovers.

Before you start a vlog channel, there are a few things that you need to know about equipment, lighting setup, and vlog editing. To walk you through the basics, we're teamed up with the video and photography experts at Ted's Cameras. From the best camera for beauty vlogging to vlog lighting tips, read on for their list of 6 essentials for every aspiring beauty vlogger.

1. A vlogging-friendly camera
As a beauty vlogger, the overall look and feel of your videos should be your number one concern. Even the best vlog ideas can be let down by poor audio and visual quality, so it's important to choose the right camera. A camcorder or webcam isn't going to cut it: To really make a splash and start building an audience from your very first video, you'll need a good vlogging camera.

A compact, mirrorless, or DSLR camera with video capabilities will help you film high quality videos straight out of the box and with little fuss. When choosing a vlogging camera, look for:

● 4K/Full HD video
● Microphone input
● Tilting screen
● Adjustable lighting settings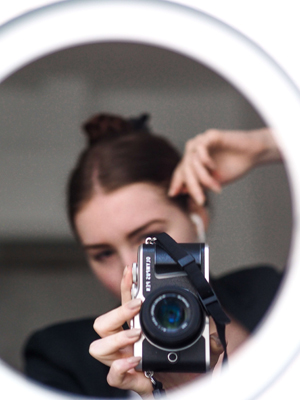 2. An external microphone
Once you've got the visuals down, it's time to focus on your audio. No matter how good your content is, it won't get through to audiences if they can't hear what you're saying or if the audio quality is poor. Most digital cameras come with a built-in microphone that's great for capturing home movies but doesn't quite make the grade for professional-quality vlogs.

For crystal-clear vlog audio, you'll need an external microphone. The best microphones for vlogging reduce background noise and amplify your (or your subject's) voice, resulting in a crisper, clearer sound overall. Choose between:

● A shotgun mic which isolates your subject's voice for maximum clarity. Note that these are quite large, and therefore hard to take on the go.
● A lavalier mic or lapel mic, which is your best bet if portability is important. Simply clip one onto your (or your subject's) shirt and start recording.
● A USB microphone which is great for plug-and-play recording of voiceovers and additional sound at the vlog editing stage (more on that later).

3. A tripod
If you're planning to demonstrate makeup and beauty techniques or love to talk with your hands, a tripod is an essential part of your vlogging kit. This will help you film steady, hands-free videos at a consistent height and with the same composition - all important parts of building your vlog's visual brand.

If all your vlogs are filmed in the same area, like in your bedroom or in front of your bathroom mirror, a standard tripod should do the trick. If you're planning to take your shoots on the go, consider a mini tripod or Gorillapod, which can double as a grip if you want to film a handheld segment. Not sure which vlogging tripod to choose? Check out our tripod buying guide to learn more.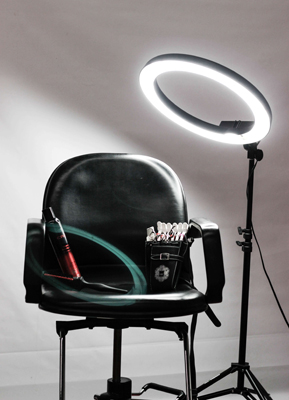 4. An LED light for vlogging
Vlog lighting plays a huge role in setting the tone of your video and helping create a strong visual brand for your channel. For example, cool-toned studio lighting can make your vlogs look more professional, while warmer-toned or natural light can create a more intimate, personal atmosphere.

Choose the video lighting technique that suits your style or content best, but always consider two things: Consistency and balance. Whichever lighting style you choose, a simple, portable LED light can help balance illumination in your video and help you achieve a consistent look and feel wherever you're shooting.

5. A remote control
Whether you're shooting with a tripod or want a smooth, uninterrupted feel to your handheld footage, a remote control is about to become your new best friend. Using a remote to control your camera allows you to start and stop filming instantly and without having to actually touch your camera and risk knocking it out of place.

Most cameras come with a remote control, or are compatible with one that can be purchased separately. Alternatively, most modern video cameras feature built-in WiFi and/or Bluetooth capabilities that let you use your smartphone as the remote. How's that for handy?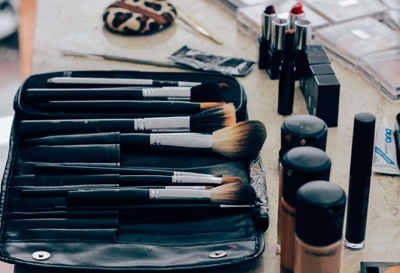 6. Vlog editing software
As anyone who's ever tried their hand at filming videos knows, filming is the easy part: The editing stage is much longer and more complex. Still, it's a rewarding process that can help you take your videos to the next level and engage with audiences.

Ultimately the best software to edit vlogs comes down to your preference and any skills you already have. If you're a complete beginner and don't need any fancy transitions or effects, a free software like iMovie should do the job. If you're planning to touch up elements like lighting or sound, professional-level video editing software like Final Cut Pro X may be your best bet.

Whichever you choose, it's a good idea to use photo editing software like Photoshop to create a bold, eye-catching thumbnail image.

Share your passion for beauty by starting a vlog
If you've ever wondered how to become a beauty YouTuber, the answer is: Dive straight in!

Like many creative things, vlogging only takes a little bit of courage, enthusiasm, and practice before you start seeing results. Our list of vlogging tips will help you ease into the world of vlogging and start filming engaging, high-quality vlogs that audiences will connect with.

For personalised advice on pairing your makeup tutorial setup with the right vlogging equipment, head into your local Ted's Cameras store today!

Written by Ted's Cameras