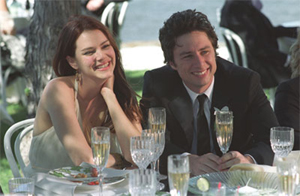 by Paul Fischer in Los Angeles
JACINDA BREAKS THROUGH
Australian actress Jacinda Barrett is on a roll, and despite her slight American twang, recently bought a house on Queensland's lush Sunshine Coast, to be close to her family, the Brisbane-born actress explains, in a corner of a Beverly Hills hotel. "My brother's at the Gold Coast and my friends are still in Brisbane but when I'm home, for a month they'll come up and visit and stay with me and it's a house," says the recently married Jacinda Barrett. "We looked in Brisbane and I looked and I looked and I just couldn't find something that was gonna fit what I wanted. I'm working here when I go there I don't wanna be in a city. I want the space, that's what you're in, that's what so fantastic about Australia, which is its natural beauty, so I couldn't find it in Brisbane, as soon as I went outside to the beach towns it was a different story."
Jacinda Barrett scoffs at the idea that she is on the cusp of something big, even despite appearing in the summer flop Poseidon, the failure of which clearly disappointed her, though we joke that her illness during the junket, was responsible. "Right because I'm such a massive star because I couldn't give interviews, the movie died," she says, laughingly. "Fantastic, lets get that rumour going, so I'll never work again; it'll be perfect." But she was surprised at how that movie fared at the box office, but is philosophical as to how that affected her own career, if at all. "It's Wolfgang's movie more than the actors, I feel. But honestly I don't really get into it because I have no control over it. I've never watched the box office of things until recently when I realized how much money it makes also has a massive bearing on the actors because no matter how great your movie is if it doesn't make a lot of money it doesn't help you in the long run. But I try not to get into all that stuff because it's really zero I can do about it."
Jacinda Barrett, who first came to audiences' attention in The Human Stain, is very busy these days, with lead roles in The Last Kiss and School for Scoundrels, both of which open close to each other. Yet it seems the young actress tries to be as picky as she can within reason. "Look its not like I'm getting the opportunities that Nicole Kidman's getting not even anywhere near it, but within your realm you make choices within what is offered to you at that time. So I guess you want to be a little bit picky in the sense that you want to choose things that keep challenging you as an actor, because not only will you get bored seeing yourself play the same character, the audience will as well."
Jacinda Barrett was on her honeymoon in Vietnam when she was asked to read a new script, the Hollywood remake of the Italian comedy/drama, The Last Kiss. Barrett was enamoured of the Italian original and had no qualms about doing the Hollywood version, starring opposite Zach Braff as his pregnant girlfriend, betrayed by his infidelity. "I had no reluctance at all to do it, because I knew that they'd make it something different. Beyond that, as an actor, I knew that this is such a dream role, they had such great people attached and I loved Tony Goldwyn." Jacinda Barrett felt she could identify with this often emotionally wrought character, despite their differences. "I am different from her but I could easily identify with how she was reacting to the situation that she was in," adding that she would react to this shattering betrayal in a similar way, if it ever happened. "I think I'd have my moment of freaking out and just being devastated and heart broken. But she's also so idealistic and I think that she's just crushed in that moment. She has a very definitive way of looking at the world, as you see in that lunch with Blythe and my character where Blythe says you see everything in black and white and there are so many shades of grey and I think that Jenna does see things as they fall into their boxes. So I think that what happened to her sort of shattered her idealism a little bit."
Jacinda Barrett has many tough, emotional scenes in Last Kiss, so it was a release for her, to appear in comedy, School for Scoundrels, opposite Billy Bob Thornton and Jon Heder. But she says, as funny as the movie is, "it also has an incredible realism to it in the realm of that world that Todd Phillips created. So it's funny, I get to be light and free and there's a real sort of awkwardness to the character that was fun for me to play. I saw it last week and I really responded to it, thought it was really funny, was proud of my work and I thought all the actors did a great job as did Todd Phillips." And she gets to do it all with an Australian accent, no less. "That was my idea because I really wanted to work with my own accent for a change."
Now happily married to actor Gabrel Macht, Jacinda Barrett, says marriage has changed her "in the sense that my husband and I are constantly evolving through our understanding of each other and us. I think that my concerns are different, where I put my time, I absolutely love creating these homes, building a future with somebody and talking about where we're gonna go. All of that's so exciting, because for thirteen years I lived on my own overseas and made all my choices on my own." Yet she says, even as a young married woman, her priorities haven't changed, "because I always had a sense of my family and my work being really important and trying to balance it. This year my dad wasn't very well so I chose not to work but to go home as much as I could and I know in those times if something like that is to happen that's my priority, but then I also get to work really hard at other times."
As for her thriving career, Jacinda Barrett, says she really wants to do another comedy "where I could push myself more." Acting now for the past ten years, Jacinda Barrett says she remains surprised at her success "because I know that the statistics are so against you as an actor so I'm always surprised that I get to be one of that tiny percentage that gets to work. The weird thing is that this is not a business where you can predict what's gonna happen and say well I've reached this level, this is what's gonna happen next. I mean you may never work again or people may respond to your work and you might be set for the rest of your life, so it's such a business of extremes that it's really hard for me to take stock of where I'm at, at this point."
Interview with Zach Braff:
www.girl.com.au/zach-braff-the-last-kiss-interview.htm
Interview with Jacinda Barrett:
www.girl.com.au/zach-braff-the-last-kiss-interview.htm
Interview with Rachel Bilson:
www.femail.com.au/rachel-bilson-the-last-kiss-the-oc-interview.htm
Interview with Blythe Danner:
www.femail.com.au/blythe-danner-the-last-kiss-interview.htm