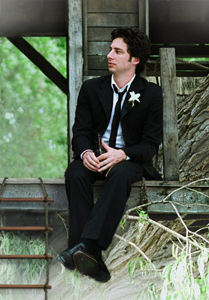 Interview by Paul Fischer in Los Angeles.


Zach Braff - Still After the Perfect Kiss
31-year old Zach Braff is playing another dazed and confused character in The Last Kiss, but doesn?t see him as the flip side of his even more confused character he played in Garden State. "I think he?s different because he?s got everything going for him," says Zach Braff in a Los Angeles hotel room. "Andrew Largent [in Garden Stare] was pretty lost, depressed and medicated while this guy is in love, having a baby and has great friends. Then he gets this fear that this might be the last girl he kisses and I was attracted to it because it took a realistic look at it." Zach Braff laughs slightly when the very single Zach Braff can relate to this character?s fears. "When you are 30 and buying baby carriages for your friends every other month, you can?t help starting to examine your own desire to get married and have kids." In this film, Zach Braff has an affair with a much younger college student at a point where his deepest fears bear fruit in his mind, and playing a character with questionable morals, was a challenge for the actor. "You can?t empathize with him and that?s what drew me to it. I?m sick of protagonists in movies only having bad things happen to them due to negative outside forces and that?s bullshit. We are all human, we do stupid things and we wake up the next day and wonder why we did them., so I was attracted to a protagonist whose own demise is caused by himself. I think the big revelation in the movie is him taking responsibility for his own actions, even at the cost of possibly losing the love of his life forever."

One wonders whether those same temptations exist for him every day, as his fame and celebrity increase. "They aren?t believe it or not," Zach Braff responds. "I don't really go to those places, I work so much and when I go out with my friends I am with my friends. I?m never really surrounded by girls who might sleep with me just because I?m famous. Even when you meet them you don?t want to be with the girls who want to sleep with you just because you are famous, at least I don?t." Zach Braff says that being a celebrity has its downside. "The gossip is something you get used to. After the Jessica Simpson rumors they sent people to my parent?s house and to my relative?s stores. They found my brother?s cell phone numbers and they stalked him, all because I sat next to Jessica Simpson, who I?ve met a couple times and spoke to her at a bar in the Hamptons, so they sent 10 people out to families? homes and that sucks."

As for Zach Braff?s own future with kids, the actor says he wants a family but is no hurry. "I?m single and not ready, but I don?t know why. I think I?ll know when I know but I?m not in a huge rush. I want to have kids and I believe in marriage. I wrote that line in the movie where I say I will marry her when she can name 3 couples who have lasted more than 3 years and all she could come up with were the ducks in the duck pond. It?s hard for our generation to find success stories from older people because so few first marriages work out. Some people get it the second time and I do want to get married one day though." Zach Braff fondly remembers his own first kiss. "It was a girl at theater camp when I was 13. We were on a bench and she was the aggressor. That is such a momentous occasion in someone?s life when another person first slides their tongue in your mouth," Zach Braff recalls, laughingly.

The actor?s career is going faster than his love life, as he finally prepares to direct his much anticipated second feature admitting that there is pressure for the next film. "There is always pressure, but I?m going to do something that isn?t anything like Garden State. So many people seemed to feel the movie spoke to them directly and that surprised me, but people have to know that I can?t do that every time and make a pivotal life movie every time The next thing I will do will be completely different, Open Hearts, which is a Danish movie that I adapted. It?s a really dark drama about a car accident and the way the accident affects all the people involved in it. I was going to do it this summer, but since I couldn?t get my top people I?m waiting until next summer." As for the future of the T V show that kickstarted his career, Scrubs, "I think this is the last year. Touchstone and NBC still hate each other and that doesn?t bode well for a show that they both do."