#1 Billboard-charting indie-rock musician Jade Bird has returned from a short hiatus with a stunningly vibrant new single. "Head Start" is a bold, pop-influenced moment with powerhouse vocals and a lively chorus that invites every listener into the world of Jade Bird, with a joyfully uplifting tune that rhythmically connects to the soul.

While her voice has been compared to vintage stars like Alanis Morissette, Dolly Parton and Janis Joplin, Jade Bird's songwriting and effortless ability to blend genres place her firmly in the new leagues of innovative female performers like Maggie Rogers and Phoebe Bridgers. At only 22 years old, it is obvious that the rawness and freedom of Bird's musicianship stretches far beyond her years.

"Headstart came out of a trip I made to upstate New York at the beginning of the year." Bird says, "Being there, I was immediately taken back to the magic and inspiration of creating the first album . It's quite a light-hearted song, about liking someone who just can't see the signs, but more than that releasing it feels like a way to give a bit of joy to the end of the year. It feels like community to me, and it makes me want to sing again."

Born in Hexham in the UK, Jade Bird's early life was spent mainly in flight as an "army brat". One of her life's few constants proved to be the influence of strong working women; at first, by way of her mother and grandmother, who largely raised her, but later the female role models within the musical subcultures Bird became obsessed with. From empowering country heroines like Loretta Lynn to iconic alternative songwriters like Patti Smith - Alanis Morissette's Jagged Little Pill was a similar early touchstone.

Bird is a rising star on the London music scene, delivering a fantastic mix of alternative folk, country and pop. Her incredible debut self-titled album was released in 2019 to widespread critical acclaim, debuting in the Top 10 on the UK charts and surpassing 27 millions streams in the UK alone. She has also brought her show-stopping live performances to Newport Folk Festival, Shaky Knees, Lollapalooza, Bonnaroo, Hangout Festival, SXSW, and landed opening slots for the likes of Hozier, Brandi Carlile, The Lumineers, Father John Misty, Jason Isbell, Colter Wall, Anderson East and Lewis Capaldi.

With a voice that can silence the busiest bar, a charm that can melt the hardest heart, and exceptional songwriting as the through-line through everything she does, Bird has already made a huge impact on the industry, and is set to continue her meteoric rise to prominence.


Interview with Jade Bird
Question: How would you describe your music?

Jade Bird: I'd describe it as indie with a hint of everything that influences me.


Question: Can you tell us about Head Start?

Jade Bird: Headstart was the first word I wrote in my new notebook. Although the literal meaning is about liking someone who doesn't know you exist, I felt the mantra of the tune was a clearing in the clouds, and hopefully a Headstart into a better 2021.


Question: Is there a particular message you hope listeners take from your music?

Jade Bird: I think I want people to have the same release as I did from making it, whether that's crying, dancing or singing.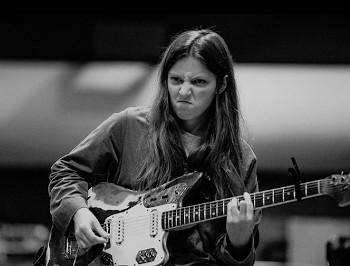 Question: Do you prefer performing live or recording?

Jade Bird: You know, my first record was live but the recording process of this second record was just so amazing and fun that I guess it would be recording.


Question: Which is your favourite song to perform live and why?

Jade Bird: Now, this track called Houdini. I'm so excited for people to hear that.


Question: If you could have anyone, in the world, attend a show, who would it be?

Jade Bird: Ummm, probably Christine McVie or Stevie Nicks. Icons.


Question: What motivates you most when writing music?

Jade Bird: Interesting question, I think the ability to write something universal and true. That one incredible undeniable classic. We all have the opportunity; it's just whether time, fate and magic aligns to do so.


Question: Which music/artists are you currently listening to?

Jade Bird: Wilco, Dope Lemon on the plane (very Australian) and Gillian Welch.


Question: What or who was your inspiration to go into the music industry?

Jade Bird: I think sometimes your occupation sort of finds you. As soon as I started to play the guitar at thirteen it was really clear that was what I was born to do in a way.


Question: How does it feel to be compared to stars like Alanis Morissette and Dolly Parton?

Jade Bird: Pretty good haha! In all seriousness they are my idols but I'm more thrilled to be carving my own musical path and career on this record.


Question: Did you have any pre-conceived ideas about the music industry?

Jade Bird: Apart from the evil moguls who will steal all your money you mean? Hahaha. That's sometimes the biggest annoyance when you start is that your parents or relatives who don't know anything about the industry are so panicked about you getting ripped off.


Question: What's a typical day like?

Jade Bird: Right now, I get up, do yoga, eat breakfast, go to rehearsal!


Question: What has been your favourite part of becoming a music artist?

Jade Bird: I think being able to do something I live and breathe all day every day. It's a total obsession.


Question: What's next, for you?

Jade Bird: New album time. It's going to be a long run up so a lot of work too probably.


Question: Can you share your socials? (links please)

Jade Bird: Facebook
Instagram
YouTube


Interview by Gwen van Montfort