The release of Eleven is 'about fighting for someone you love, even though you know they will leave you'. The raw, emotive lyricism combined with hard production depicts exactly what Wesley Black is all about. In the age of bass-heavy mumble rap where most people cannot understand the lyrics of a song Eleven showcases his ability for clarity, cadence and word play. Catchy ad libs, storming drumlines and lyrical talent displayed in Eleven is just the beginning of what you can expect from Wesley Black.

Wesley Black is an emerging artist coming out of Australia blending a heavy mix of electronic and trap elements alongside emotive narratives and stimulating topics through his lyricism. Wesley's latest releases consist of intense trap beats and high energy vocals, showcasing just how dynamic he is. With an ever growing discography, Wesley is fast becoming one of the most exciting rap prospects coming up in the industry.

Wesley has created his signature sound and gained attention doing so. Achieving 27k plays for his track 'Red' on Spotify alone, reaching 27k views on YouTube for 'The End' music video and Triple J Unearthed airtime for his track Outlaw with reviews from notables like Dave Ruby Howe and The Aston Shuffle.

His expression of art has a unique trademark and he wants to keep on delivering his pieces through his own lens.

On the live front, Wesley has headlined a sold out show at Jack Rabbit Slim's, played at venues such as Rosemount, Mojo's & Badlands and become a regular name at Hip-hop events such as Goat6k.


Interview with Wesley Black
Question: How would you describe your music?

Wesley Black: To me, my music is very much emotional and visual. I feel that if you listen to any particular song of mine, the lyrics, graphics, mood, sound and overall atmosphere of the track feels very complete, and will try to encapsulate the feelings of my Wesley Black character into the one song. I'm always trying something new with each song, but overall, they all tell one story. One vision through multiple emotions.


Question: Can you tell us about Eleven?

Wesley Black: Eleven is a song I wrote a while ago about loving someone who would never love me back. Originally, a song about an angel or good conscience, I feel although the subject became more physical, and turned into a very atmospheric love song. I tried to capture the electronic elements of my last few releases into Eleven, but take a new direction, with an emphasis on sorrow and anxiety over rage and aggression.


Question: Is there a particular message you hope listeners take from your music?

Wesley Black: I hope to just deliver the message that emotions make the man. Never be scared to show your real emotions, it's only human. Sadness, anger, joy, frustration; they're all part of reality- never hide them and always try to find an outlet for the 'negative' ones.


Question: Do you prefer performing live or recording?

Wesley Black: I love recording but I'd lean towards performing live. Recording for me can become very frustrating and anxious, as I love to try and push myself out of my comfort zone (especially with Eleven) as lately I've felt myself become very critical. Performing live is unlike anything else- the ability to play off a crowd, the ability to fully control visuals, the call and response; I love all of that. I want my shows to become increasingly more visuals as time goes on. Me and 6KMC have some really cool ideas for this, I really put a lot of thought into each performance.


Question: Which is your favourite song to perform live and why?

Wesley Black: At the moment OUTLAW! and RED! are my two favourites. I can't lie, I'm a sucker for mosh pits, and those songs were really made to release my negative emotions into a positive outlet. The moshpit and raw energy helps me remove all my anger, and the energy seems to make a lot of people happy.


Question: If you could have anyone, in the world, attend a show, who would it be?

Wesley Black: Attending my show would be amazing to have an idol there live. Anyone from Trippie Redd to Roy Blair to Dominic Fike, I would love to pour my heart out live while one of my idols got to see the visual experience I wanna push to the world.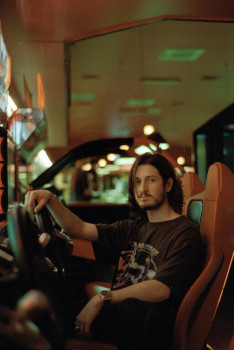 Question: What motivates you most when writing music?

Wesley Black: To me, it helps when I really become my Wesley Black character. I've been trying acting techniques to really embody the character, and it helps me filter through my human emotions and emphasise them into my music. Otherwise, watching films really helps too. Once I see a great movie with really cool colours, production design or storylines, it inspires me to encapsulate elements from that movie, and see how they relate to me.


Question: Which music/artists are you currently listening to?

Wesley Black: At the moment I'm really loving Dominic Fike and Andre 3000, but at the same time a lot of slowthai and Trippie Redd as usual.


Question: What or who was your inspiration to go into the music industry?

Wesley Black: My friend Lucas originally got me into music. He showed me some rap songs he loved while I was really into poetry. I eventually connected the dots between the two and started writing music. Unfortunately Lucas passed away a few years ago, but I really hope he's able to listen to the songs I write now, and I'm forever grateful to the world he introduced me to.


Question: If you could collaborate with another artist, who would it be?

Wesley Black: I feel like in the alt rock sound I'm aiming for, Roy Blair would be sick, and in my more 'red-rap' genre, a producer like Carnage or Diplo would be insane.


Question: Did you have any pre-conceived ideas about the music industry?

Wesley Black: Not really to be honest, but I just love being a part of it and learning new things every day.


Question: What's a typical day like?

Wesley Black: At the moment, a lot of video work. Creating promo visuals, graphic design and video planning is a lot of what I do these days. I fit in music writing once I really consume the visuals I'm thinking of, and I always try to watch a movie from my watchlist when I can, as I find it helps me create better.


Question: What has been your favourite part of becoming a music artist?

Wesley Black: Probably something between performing live, running events and meeting new people. 6KMC, Goonie Records and a lot of the Perth artists are just some of the best people I've met. I love collaborating and I love raw feedback, that's why I'm so grateful to all of my friends and teams.


Question: What's next, for you?

Wesley Black: Early next year I'm going to release an EP in the essence of my electronic, trap 'red-rap' style. I'm aiming for around 6 tracks of trap infused rap. The EP story is based on a sci-fi film idea I wrote when I was a lot younger, but implemented into modern society. I'm really excited to try this, but I've noticed a lot of my listeners like my more raw stuff, so maybe some more guitar stuff is in the works. Can't wait to push both of these ideas out.


Question: Can you share your socials? (links please)

Wesley Black: Instagram
Facebook
Spotify
Twitter
Youtube


Interview by Gwen van Montfort