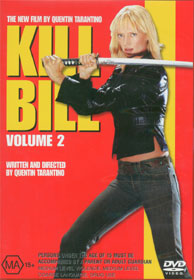 Starring: Uma Thurman, David Carradine, Lucy Liu, Vivica A. Fox, Michael Madsen, Daryl Hannah
Director: Quentin Tarantino
Genre: Action
Rated: MA15+
Running Time: 131 mins.

After dispensing with former colleagues O-Ren Ishii and Vernita Green in KILL BILL VOL. 1, the Bride (THURMAN) resumes her quest for justice in the series' second installment, KILL BILL VOL. 2. With those two down, the Bride has two remaining foes on her "Death List" to pursue - Budd (MICHAEL MADSEN) and Elle Driver (DARYL HANNAH) - before moving on to her ultimate goal... to kill Bill (DAVID CARRADINE).

Special Features:
The Making of Kill Bill Vol. 2
CHINGON Performance from the Kill Bill Vol. 2 Premiere
Damoe Deleted Scene

Review:
Not as much action as volume 1, I found it a bit lacking considering the amount of hype that went into it. Still worth seeing to complete the story and see if revenge is sweet or not?