BELL RINGS IN OUTRAGEOUS COMEDY
EXCLUSIVE Kristen Bell, Forgetting Sarah Marshall Interview by Paul Fischer.
Best known as the feisty, young detective-in-training, Veronica Mars, on the critically acclaimed but now cancelled series of the same name, actress Kristen Bell was a bona fide triple threat - gifted at comedy, drama, and musical theatre.
Born Kristen Anne Bell on July 18, 1980 in Detroit, Michigan, Bell fell in love with performing at a very early age, and went on her first audition at age 11. The tryout (for a local production of "Raggedy Ann and Andy") was a success, and Bell began pursuing an acting career with a doggedness that belied her age. At 13, she had already secured an agent, and was appearing in print advertising for Detroit retailers, eventually working her way up to local television commercials as well. Theatre continued to be a passion for her. While at Shrine Catholic High School in the Detroit suburb of Royal Oak, she landed the lead role of Dorothy in a 1997 production of "The Wizard of Oz." The following year, she made an uncredited appearance in the comedy/drama, "Polish Wedding" (1998), which was filmed in Detroit.
After graduation, Bell studied musical theatre at New York University's Tisch School for the Arts, and while still a student, made her Broadway debut as Becky Thatcher in a short-lived musical version of "The Adventures of Tom Sawyer" in 2001. She also landed the role of Mary Lane in the off-Broadway comedy, "Reefer Madness: The Musical," which unfortunately found more success in its Los Angeles incarnation than in New York. Bell also made an appearance that year in the forgettable comedy "Pootie Tang" (2001), but her role was mercifully cut from the theatrical release.
The following year, Bell was cast in the revival of Arthur Miller's "The Crucible," with Laura Linney and Liam Neeson. After graduating from college, Bell relocated to Los Angeles and almost immediately booked a guest shot on "The Shield", though the part was far removed from her theatre roots - she played the girlfriend of a gang member who is raped and branded by a rival gang lord. Appearances on "American Dreams and "Everwood" soon followed, as did meatier roles in two TV-movies, "The King and Queen of Moonlight Bay" (2003), in which she showed off her singing talent, and "Gracie's Choice" (2004) where she received top billing as the daughter of a drug addict (Anne Heche) who must raise her siblings. Bell was also cast as the kidnapped daughter of the President in David Mamet's largely unseen thriller "Spartan" (2004), as well as a conniving grifter who meets an unpleasant end in a pair of "Deadwood" episodes. But 2004 would be best remembered as Bell's breakout year - thanks to a quirky family drama (of sorts) called "Veronica Mars."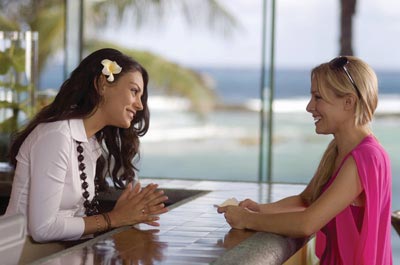 The title role - the daughter of a former small town sheriff who takes on her own cases - was originally intended for Christina Ricci, but Bell made it her own, thanks to her combination of ebullience, hipness, and charm. Clever writing and direction and a terrific cast helped earn "Veronica" a substantial cult following (though not quite enough to make the show a breakout hit), and Bell herself won numerous nominations for her performance, including a TV Critics Association Award nomination in 2005.
In 2005, Bell made appearances in a handful of productions, including an as-yet-unreleased thriller called "Deepwater" and a film version of "Reefer Madness" that aired on Showtime, for which she won a Satellite Award for her return performance as Mary Lane. Bell starred next in two theatrical features, including the comedy "Fifty Pills" and the little seen "Pulse," an American remake of the Asian horror film "Kairo". Since the cancellation of Veronica Mars, Bell has been busy, both on the small screen in Heroes and the bigger screen in the soon-to-be filmed When in Rome and her latest movie, Forgetting Sarah Marshall in which she plays the title role of a successful TV actress who dumps her couch potato boyfriend. Regrettably the two inadvertently end up in the same Hawaiian hotel.
In this exclusive interview with Paul Fischer, the beautiful blonde actress talks Heroes, Veronica and comedy.
Paul Fischer
: Was the chance of doing something that was a cross between being human and being outrageous irresistible to you when you agreed to do Forgetting Sarah Marshall?
Kristen Bell
: Absolutely. Being outrageous is irresistible to me. And the fact that Jason had layered in so many real aspects with her, it was just a dreamy part to play. To play into those stereotypes of an actress was a lot of fun.
Paul Fischer
: Did you draw on your own experiences? I mean even though there were these unintentional references to your career? [LAUGHTER]
Kristen Bell
: Yes. Definitely unintentional references to my career. I absolutely did. I mean I think I just looked into the depths of the most hard-to-admit or vulnerable or bad characteristics of my own personality and what an actress can become if given that kind of self indulgence or that amount of vanity. That I think anybody could really become. But actors and actresses especially, because that's their career, to be sort of self-obsessed. And there's a lot of comedy in that.
Paul Fischer
: How much does geography play in getting a character right? Because you shoot on location in Hawaii, does that enhance your performance?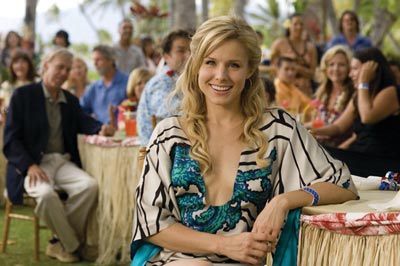 Kristen Bell
: I think so, because you're a little secluded and you don't have the fast-paced distractions of your lifestyle to interfere. You're really able to concentrate a little bit more, I think.
Paul Fischer
: So you've only been here for six years?
Kristen Bell
: Barely. Five and a half.
Paul Fischer
: Are your dreams more realized than they were when you started out?
Kristen Bell
: I think so. I mean what I want to do changes on a daily basis. It changes with what I read. I don't know if I want to do another comedy or another drama. I want to do something that's good and that gets my fire going. And I don't really know it until I read it. I think that I'm definitely in a place now that I don't know that I ever thought I'd be in. Because I didn't think about it much. But I don't know that I didn't not think I'd be here! I don't know if that makes any sense, that double negative. I feel like I've always been sort of guided on a path that has just led me here. And I'm grateful for every single experience. I'm also trying to make the best of this window I have, of having these unbelievable opportunities and capitalize on it. I mean I'm a businesswoman as well, and I know that there are a thousand girls waiting in line to take my job that are just as good, if not better.
Paul Fischer
: So how ambitious are you?
Kristen Bell
: Very. Very. I mean I really did-- when Veronica Mars was canceled, I called up the head of the CW a week later and asked if I could do the Gossip Girl job.
Paul Fischer
: Why?
Kristen Bell
: Because I didn't have a job in the fall. But I did have a mortgage. I guess I'm not stupid and I think my father taught me a lot of good business techniques. And I just called her up and said, "Hey, remember last week when you canceled Veronica Mars? Can I have that job on Gossip Girl?
Paul Fischer
: How did you know about that job? Your agent told you that it was coming up?
Kristen Bell
: Yeah, because I knew the pilots that the CW was looking at and what they were planning on making for that pilot season.
Paul Fischer
: Do you look through any of those things and like, "You know, our show is much better than half the shit that they're gonna--"
Kristen Bell
: You know, Veronica Mars was much better than almost every television program out there, in my opinion. I think it's difficult to get that much quality in one room.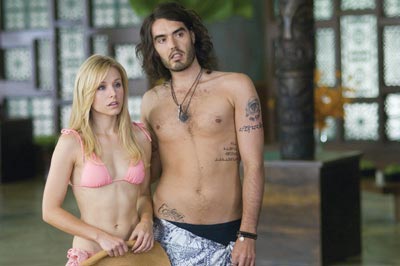 Paul Fischer
: The CW has this very kind of weird demographic...
Kristen Bell
: I think, you know, the CW has tried for a long time to identify their demographic. And it's hard, you know? It's hard to be the sort of number five main network. I wouldn't dare spit out an opinion about how I think it could be done better, because I just don't know. I just know they've always struggled, and we were a part of that struggle to find a demographic. And, you know, lucky for us, the people who caught the pilot were the same three million people that were watching in the third year. And it was a little difficult of a show to sell, because the sell was a teenage private eye, and it sounds Nancy Drew. And yet you hear the storyline, "Oh, her best friend was murdered, she was raped, she got Chlamydia," so it sounds really dark. And it also sounds teenybopper. Neither of which it was. So it was in the wrong place at the wrong time. But despite both of those, it had a very good life and you know--
Paul Fischer
: Established you as a very serious actress, too. Because there's a lot in that show that was very smartly written. And you had to deliver some very smart dialogue.
Kristen Bell
: That's the best writing I've ever experienced. It definitely pushed me. And in the beginning, wasn't as funny, because it was a serious show. And then the writer sort of found this voice that I was able to hone in on real quick. And then they started writing for my tone, which was awesome. Because it inevitably came across amusing to people. And it was just funny. The jokes landed. When I was reading the scripts, I was laughing out loud. I mean, I miss that a lot.
Paul Fischer
: There's a rumor, and you know, these Internet rumors floating around. My wife reads everything on line, and I always get in trouble if I don't know everything that's going on. But she told me that she'd heard that there was a possibility of a Veronica Mars movie. Can you talk about what the reality is there?
Kristen Bell
: I'll find out more tonight when I grill Rob. I've heard the same thing. I know that Rob Thomas holds Veronica Mars so dear to his heart. He did for five or six years, ten years almost, before he even wrote it as a pilot. I mean he created that character and she was in his mind and in his dreams. And I know all of us would be involved, but the inception has to come from-- A, Rob has to have the free time, and he doesn't. He's a very desirable show runner and writer in Hollywood right now. I think he's working on a couple of different pilots and he has his hands in a lot of pots because he's really good at what he does. I mean he was the captain of that ship and he's just really, really good. So, he would have to make the decision to start that. But one thing I do know is I'm not ashamed or embarrassed to talk about it.
Paul Fischer
: Why should you be?
Kristen Bell
: Well, no, in case it never happens. As long as he knows we'd all be game, I hope one day he does do it, before we get too old.
Paul Fischer
: It's nice to know that. Because I know that a lot of people would never be in favor of returning to that. But where do you hope the character could go in a feature film?
Kristen Bell
: You know what? I don't know and I wouldn't even try, because our writers are so good. I mean I about fell over out of my chair when they gave her Chlamydia. They gave her Chlamydia. I got Chlamydia on that show. I was raped three times. And somehow, it's completely believable within the scope of the show. I mean it is bizarre the way their minds work. And I would never map it out like they did. I have no idea where they'd ever go. The FBI show that we shot-- we shot five minutes of an FBI pilot where Veronica graduates into the FBI and she becomes an agent. And it wasn't picked up by the CW but it was hysterical. It was the same tone, the same writing, just different circumstances about her at the FBI academy. And it was great. That, I think, is probably, if I had to guess, where they'd go with the movie. And hopefully they'll do it before I get too old.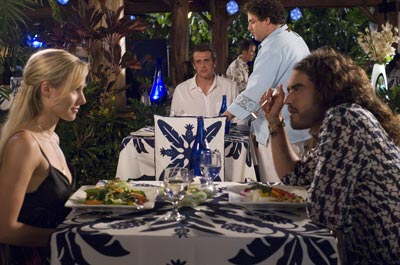 Paul Fischer
: You play older than the character. I mean you are older than the character when she started out.
Kristen Bell
: Substantially. (LAUGHTER)
Paul Fischer
: Right. I didn't wanna say that. You don't look it.
Kristen Bell
: I appreciate that.
Paul Fischer
: And you're young and beautiful. In fact, you were telling me the last time we spoke, that at the time you were dating a guy who was I guess 30 years old or something?
Kristen Bell
: Uh-huh [AFFIRM].
Paul Fischer
: I don't know if you're still dating the same person, but you were dating him at the time. And people used to think that you were not necessarily his girlfriend because you looked so much younger.
Kristen Bell
: Yeah, I still get-- I haven't gotten it recently, thankfully, and maybe that's because my face is becoming more familiar, or maybe I'm just finally getting older. But I used to get crayons in the restaurant, I can order off the kids' menu.
Paul Fischer
: That's hysterical.
Kristen Bell
: I know. It's pretty ridiculous. But I think that my-- I have petite genes, my Mom still has a baby face and I have a-- the voice of a grasshopper.
Paul Fischer
: Are there disadvantages of that? I mean if you're looking for chunky sort of adult roles. You know, meaty adult roles.
Kristen Bell
: Absolutely. Absolutely. It puts me out of the running for a lot of things. Because someone who, for instance, who would be an iconic example? Okay, like Gwyneth Paltrow, when she was 28, she was playing opposite Ethan Hawke or Michael Douglas. You know, she was doing these amazing, amazing roles. And I could not do that. I just couldn't. That being said, though, there are specific roles that I would be able to conquer really easily. And it's definitely somewhat of a disadvantage, though, and advantage in other ways. And I'm willing to take what I can get. I'm glad I don't fit in with every other, you know, beautiful, long-legged Hollywood icon.
Paul Fischer
: You have your own icon.
Kristen Bell
: I have something a little different working for me and I'm happy with it. [LAUGHTER]
Paul Fischer
: You just completed Serious Moonlight, Adrienne Shelley's last script. Is the script tonally very similar to Waitress?
Kristen Bell
: It's a little different. I think that the quirky comedy of it is the same. It's just the kind of thing that makes you smile. This is a little darker, I think. It's very simple in the way-- we were able to shoot it in 15 days because it's really simple. There was one location.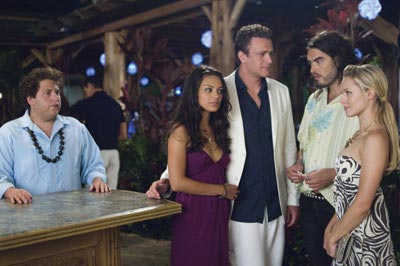 Paul Fischer
: Whereabouts?
Kristen Bell
: We shot about 45 minutes outside of Los Angeles. We shot two scenes outside, two scenes in the living room, everything else was in the bathroom. And to be trapped inside a bathroom with Meg Ryan and Tim Hutton and Justin Long was absolutely surreal.
Paul Fischer
: How did you keep a straight face?
Kristen Bell
: I didn't a lot of the time. No, you know what? I'm not even gonna say that. That was my instinct to tell you, because in Sarah Marshall I did not keep a straight face. There's tons of film where you're seeing the back of my head and I'm absolutely breaking out into a smile. I have the giggles very easily. In Serious Moonlight, I 100 percent was really professional and my character was a maniac. She just was whiny and she was manic and I was right up in Tim's face a lot of the time. I got in a fistfight with Meg that she initiated. It was awesome. I was like, "This is surreal." Like, this is on camera, it's so much fun, Meg and I laughed after every take. But there were a couple of different takes where Meg and Tim were cracking up.
And secretly, 49 percent of me was going, "You guys, please don't ruin my coverage," and 51 percent of me was going, "You are getting the ultimate compliment of your life right now because Meg Ryan and Timothy Hutton are laughing at your jokes." It was really cool.
Paul Fischer
: And how is Cheryl Hines as a director? Different than what you expected?
Kristen Bell
: Dreamy. I respected her immensely as a female comedian. And truthfully, was not surprised when she stepped into the role of a director, completely calm, collected, knowing exactly what she wanted, yet ultimately collaborative. And just very put together. I am so impressed by her as an individual and I respect her so much. She really is one of my favorite female comedians. I had gotten to know her personally a little bit prior to that over the last couple of years, which was just great. Because I admire her so much. So, to get to work with her was very flattering. Because she called me directly for the part. And I'm so impressed by her. I admire her a lot.
Paul Fischer
: The character you played in Heroes, how much fun was it to play? I mean we really don't know what her motivation was. And she has some rather unpleasant things to do throughout the show. Was it fun to explore your dark side.
Kristen Bell
: Absolutely. When it was pitched to me, they pitched her problems and where she was going and what was gonna happen to her. And it was really interesting. I think that they exposed her as a cautionary tale of what could happen to the heroes if they are completely engulfed by their power and lose their humanity and are raised by the company. But I also think that they are starting to, and will more, show her broken side, which is why she acts as tough as she does. Because she's really just seeking approval from her father. She's had virtually no human contact her entire life. She is socially inappropriate at almost every social instance she has. She's obsessed with her power. It's kind of autoerotic.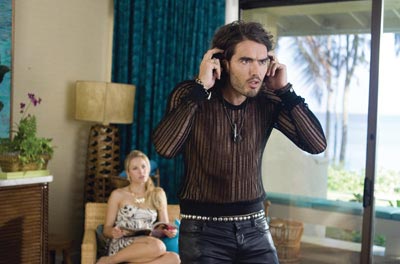 She doesn't know how to relate to other people. She's never had a relationship. She's really broken. And it's what makes her so mean and this is a lot of stuff that was pitched that I thought was really interesting that someone-- especially on a television show, not that they don't do it as well, but when they're trying to produce such a massive product in such a short amount of time, you don't necessarily go to the lengths that, I think, Tim Kring and the writers do, to write these in-depth characters. Because they gave me a lot of material to work with. And they slowly but surely sort of exposed this Daddy issue she had and, you know, like I said, we shot two episodes that are in the can now and aren't gonna be aired for a while.
Paul Fischer
: Those two episodes don't reveal the closing arc of this character, though, do they?
Kristen Bell
: No.
Paul Fischer
: So, you expect that that will occur hopefully when this season--
Kristen Bell
: There are seven more that I am slated to do.
Paul Fischer
: Which you hope to do if you haven't negotiated fully, to do yet, is that right?
Kristen Bell
: Right. They-- well, I've been asked to do them and have said I want wholeheartedly to participate. But I did already take this movie. Is there anything I can do to make it up to you or to come back? Which is why we're exploring the option of me coming back a month late, which is looks like they're going to do. And I'm optimistic, because they've been nothing but kind to me in the past. And bent over backwards, as I would for them. And, it's just a really great relationship. They're a great group of people to work with. And so I definitely wanna go back.
Paul Fischer
: Are you comfortable doing romantic comedy. Because When in Rome is another romantic comedy.
Kristen Bell
: I'm getting comfortable. I think one thing that I'm truthfully and embarrassingly enough to admit, not comfortable with -- Sarah was different, Sarah Marshall. Because she was a little bit more of a comment on herself as a girl, as a female. Playing a true female is what makes me a little nervous.
Paul Fischer
: Why?
Kristen Bell
: Because I'm very used to playing the tomboy or the sarcastic cynic. That's my go-to. Playing the vulnerable of a real girl that's in real womanlike situations, where it's, like, romanticized, I'm a little nervous about it. I mean I think I'll be able to do it, but it's definitely something that makes me uncomfortable. Like, I don't consider myself a very sexy person in a way.
Paul Fischer
: Really?
Kristen Bell
: Oh my God, are you kidding? I crew up as a tomboy and I named all my dolls boys' names. I tried to change my name to Matthew when I was four. I definitely have more male friends than I do female. And that's not to say that I don't love being a girl. I mean I love shoes, I love getting my nails done. You know what I mean, but at the same thing, like I also play on an ultimate Frisbee league and I do a lot of things that are less girly. And I don't disagree with indulging in clothes or anything, but as far as my personality goes, I don't know. It makes me nervous to try to be super-feminine. It's not something I'm super-comfortable with.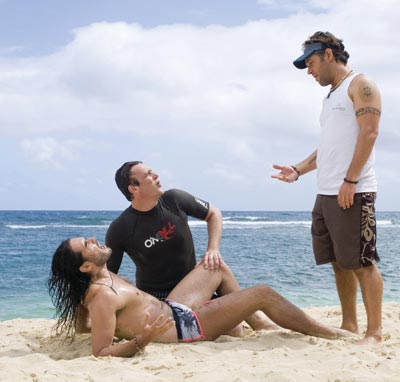 Paul Fischer
: So you don't like getting dressed up for the awards shows and being the girl in those situations?
Kristen Bell
: It's fun for a while, but I can get over it real quick. Once I've hit my breaking point, I mean, come on. Come on now.
Paul Fischer
: Yeah, yeah.
Kristen Bell
: Once you're over it, you're over it. You know what I mean? [LAUGHTER]
Paul Fischer
: So, you're a homebody?
Kristen Bell
: Yeah, oh for sure.
Paul Fischer
: What do you have to do after the Rome movie. Do you know? Report to Heroes I guess.
Kristen Bell
: Yeah, I mean hopefully I'll be able to go back to Heroes.
Paul Fischer
: You strike me as being somebody who eventually would like to take some action behind the camera. Are you interested in producing, directing, writing?
Kristen Bell
: I think in the future I would. I don't know that I have the perspective. Like, I'm not up at night going, "Man, I'd really like to make that film," or, "I know what I'd do here." I'm still sort of at the sponge stage. Where I'm trying to absorb everything. Though I think there is some part of me in the future that might wanna go that route.
Paul Fischer
: Why did you decide to live in the San Fernando Valley?
Kristen Bell
: Because I lived right off Melrose and moving from New York, I thought wouldn't that be great? I'll still hear horns, it'll put me to sleep at night. And I didn't like it at all. It's awful. And I moved into Studio City and I love it. I love how quiet it is.
Paul Fischer
: What about your music? Don't you miss singing?
Kristen Bell
: Very much.
Paul Fischer
: So are you thinking of being in a musical movie?
Kristen Bell
: Yeah. You never really know when things come up and it's definitely a priority to go back. I just sang in a benefit that we did for Alzheimers a couple weeks ago that Jason Alexander directed so keeping it on the forefront of my life is very important, though when opportunities like When In Rome come up, it's something that you gotta to take pause there.
Paul Fischer
: What did you sing at the benefit?
Kristen Bell
: We did all the selections from Bye Bye Birdie so I sang A Lot of Livin' to Do which was really fun.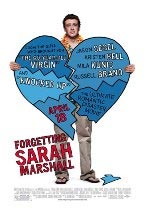 Forgetting Sarah Marshall
Starring: Jason Segel, Kristen Bell, Mila Kunis, Bill Hader, Paul Rudd
Director: Nick Stoller
Rated: R
Genre: Comedies
Synopsis:
From the producers of The 40-Year-Old Virgin and Knocked Up comes a comic look at one guy's arduous quest to grow up and get over the heartbreak of being dumped -- if he can only make himself start Forgetting Sarah Marshall. Struggling musician Peter Bretter (Jason Segel, How I Met Your Mother, Knocked Up) has spent six years idolizing his girlfriend, television star Sarah Marshall (Kristen Bell, Veronica Mars). He's the guy left holding her purse in paparazzi photos and accidentally omitted from acceptance award speeches. But his world is rocked when she dumps him and Peter finds himself alone. After an unsuccessful bout of womanizing and an on-the-job nervous breakdown, he sees that not having Sarah may just ruin his life.
To clear his head, Peter takes an impulsive trip to Oahu, where he is confronted by his worst nightmare: his ex and her tragically hip new British-rocker boyfriend, Aldous (Russell Brand), are sharing his hotel. But as he torments himself with the reality of Sarah's new life, he finds relief in a flirtation with Rachel (Mila Kunis), a beautiful resort employee whose laid-back approach tempts him to rejoin the world. He also finds relief in several hundred embarrassing, fruity cocktails. For anyone who has ever had their heart ripped out and cut into a billion pieces comes a hilarious, heartfelt look at relationships -- featuring Paul Rudd, Jonah Hill, Bill Hader and Jack McBrayer. Part romantic comedy, part disaster film, Forgetting Sarah Marshall is the world's first romantic disaster comedy.