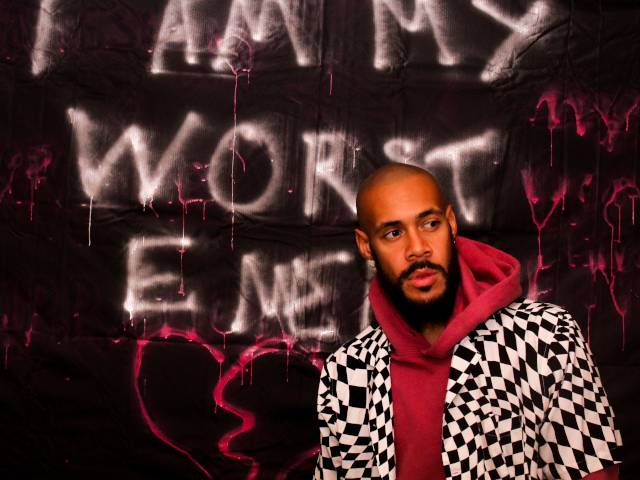 As Australia's hip-hop scene makes strides, growing and diversifying, it is clear that Melbourne/Naarm based Ghanian-Australian Kwasi is riding the momentum forward. Driven by creativity and the true expression of storytelling, his music is making waves with his addictive cadence and faultless production.

Reminiscent of early 2000's guitar fuelled pop punk and infused with the trap stylings Kwasi has become well known for, 'Self Sabotage' pulls aural influences from Triple One, Kid Cudi, Kwame and Blessed. It takes an honest and revealing look into a feeling we unfortunately know all too well. Ultimately paying homage to his teenage years of skateboarding, his style brings nostalgia to the forefront whilst pulling aural influences from Triple One, Kid Cudi, Kwame and Blessed.

In 'Self Sabotage', Kwasi delivers confessional yet complex lyricism that is elegantly intertwined with Congrats' (Ben Stewart of Slowly Slowly) singalong-worthy hooks that are aching in their honesty. 'Self Sabotage' serves as the second instalment of the duo's collaboration, following on from the release of 'Overthink' in March 2021 with both songs produced by platinum award winning Melbourne based producer Hamley (Stan Walker, Pania, Allday).

"I had some relationship woes at the time, I wrote the words 'Self Sabotage' on my phone notes on the way to the studio knowing I had some energy to get off my chest that day. Being from different music backgrounds we didn't know what to expect when we started creating, but that said we definitely had so much crossover in our musical expression. The session felt cathartic and gave way to a long lineage of songs we've now created together." Kwasi

Congrats also speaks of this collaboration, revealing, "Self Sabotage serves as a much needed follow up to Overthink as I think it really solidifies the way in which Kwasi, Hamley and I balance our unique styles to create something unique. It's a natural way of songwriting with a lot of mutual respect. I really enjoy creating music with them." Congrats

'Self Sabotage' serves as the first release for Kwasi's Melbourne based label DGTL RECORDS, a collective representing a slew of emerging talent from Melbourne's underground hip hop scene.

"The initial plan is to release stand alone singles on 'DGTL RECORDS', holding off on signing any artists at this stage. It's being used to release music created at my studio or any projects I'm involved in. I'm strengthening my evolution as an independent artist by taking the facets of the music business into my own hands. This means I no longer need to rely on the gatekeepers to have a structured and professional system to put out projects I'm psyched about." Kwasi

With a slew of impressive support slots under his belt for Aussie icons Genesis Owusu, 360, Illy, Allday, Banks Arcade, Evangeline, Sophy Grophy, D12 and more, Kwasi's success is hard earned and self made. Not only that, but with over 1.2million streams across platforms, partnerships with 1800 Tequila, Under Armour and Scrapegrace Gin, AND running his own professional recording studio, Kwasi has laid a diligent foundation over the last 2 years. Now, ready to burst forth from the creative crucible and take every opportunity in his stride in 2022, this year is shaping up to be monumental.

Dedicated to telling life's truths, it's his creativity and expression that empowers his listeners to embody their true selves and connect on a multidimensional level. Kwasi is raw, authentic and imaginative and is here to challenge the way we see music, ourselves and the world around us.