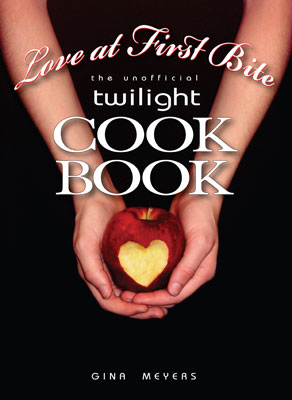 Love at First Bite: The Unofficial Twilight Cookbook
Sink your teeth into mouth-watering recipes straight from the pages of the Twilight Saga.

Whether you're 'Team Edward' or 'Team Jacob,' a Twi-hard, Twi-mom or even a Twi-dad, there is no doubt the international phenomenon known as Twilight has had a cultural impact on society, including in our kitchens. Now the delectable delights interwoven throughout the Twilight saga can be found in pop culture writer and cook Gina Meyers' new book, Love at First Bite: The Unofficial Twilight Cookbook - guaranteed to please the appetites of any mortal.

Love at First Bite: The Unofficial Twilight Cookbook offers a satisfying array of mouth-watering dishes inspired by or from the Twilight films and books that anyone of any age can cook with ease and enjoyment. To help the reader determine the skill level involved in preparing each dish, the recipes are labeled "easy", "medium", or "hard". One fork means "easy", two forks, "medium", and three forks means it is a "difficult" or "hard" recipe.

Throughout Love at First Bite, you will find delicious dishes straight out of the book's pages including:
Harry's Famous Fish Fry
Wolf Pack Waffles
Edward's Cornflake Chicken
I Dare You To Eat Pizza, Edward
Jacob Black's Grilled Cheese Sandwich
Vampire Venom Punch
And so much more!

In addition to the recipes, you'll also find:
Cast lists for Twilight, New Moon, and Eclipse
A Twilight Party Planning Checklist
Bella's Prom Planner
101 Random Bits and Pieces of Twilight Saga
Invaluable resources on upcoming Unofficial Twilight conventions, and Twilight cooking classes
And much more!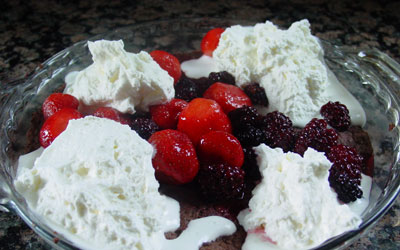 First Love Chocolate Mousse

Ingredients
8 ounces semisweet chocolate chips
2 tablespoons strong coffee
2 tablespoons orange extract
1 egg yolk
2 egg whites
A pinch of salt
2 tablespoons sugar
1/2 cup heavy cream (or 1/2 carton of cool whip)

Method
Melt the chocolate, with coffee added, over low heat.
Remove from heat and add first the orange extract and then the egg yolk, stirring until the mixture is smooth.
In another bowl, beat the egg whites and salt; add the sugar and beat with an electric mixture until stiff peaks form.
Lastly, whip the cream until it is stiff; fold into the egg whites. Fold egg white mixture into the chocolate mixture.
Place in the refrigerator, and chill until ready to serve.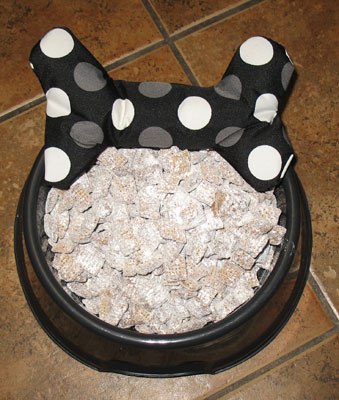 Werewolf Chow

Ingredients
9 cups rice cereal
1/4 cup butter or margarine
1 cup chocolate chips, semisweet, or a combination of 1/2 cup chocolate chips and 1/2 cup peanut butter chips
1/2 cup smooth peanut butter, not crunchy
1 teaspoon vanilla extract
1 1/2 cups powdered sugar

Method
Place the cereal in a large zip-seal bag.
Next, microwave the chocolate chips, peanut butter, and butter or margarine for about 1 minute. If the mixture hasn't melted, stir and place in microwave for another 20 to 30 seconds.
Once melted, stir in the vanilla extract.
Pour the chocolate chip-peanut butter mixture over the cereal; then add the powdered sugar and shake.
Spread the mixture on waxed paper to cool.

Give into your epicurean temptation and sink your teeth into Love at First Bite: The Unofficial Twilight Cookbook. The recipes will leave you breathless and hungry for more!

Gina Meyers is best known for her pop-culture television trivia books and cooking expertise related to the Twilight Saga and the iconic television show Bewitched. From an early age, she had a passion for the culinary arts, experimenting in the kitchen with baking breads, muffins, cookies and cakes. For 7 years, Meyers taught a plethora of entertaining and fun cooking classes for kids from Easy Meals in Minutes to Storybook Cooking and Crafts. She has been a television consultant for Popstar! Magazine, Columbia Pictures Television and Nickelodeon Magazine. She is a featured business expert at business.com and is the San Jose Examiner's cooking guru. Meyers has a Bachelor of Science in Business with an emphasis in Marketing and owns a Publishing firm, Serendipity Media Group.

Love at First Bite: The Unofficial Twilight Cookbook
Author: Gina Meyers
ISBN: 9781450222006
Price: $35.99