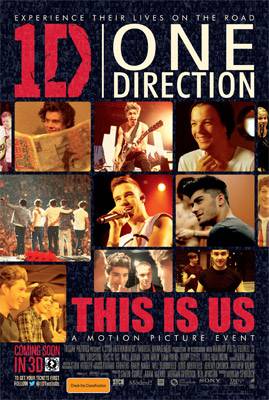 One Direction: This Is Us 3D
Cast: Harry Styles, Niall Horan, Zayn Malik, Louis Tomblinson, Liam Payne
Director: Morgan Spurlock
Genre: Documentary, Music

Synopsis: Paying tribute to those that helped catapult the band to success, the poster's backdrop is a mosaic made up of thousands of Little Things – the fans themselves. Hundreds of thousands of people have been flooding the official site and submitting photos since February in the hopes that their snapshot will be featured in the movie poster.

The tribute poster also 'comes to life" when fans use their smart phones to scan the Zapcode on the poster unlocking an augmented reality experience and exclusive video content of the band. The Zappar app is free and available for download in the App Store or Google Play.

A digital version of the poster, which will include even more fan photos within the mosaic, will launch online in early May at www.1DThisIsUs-movie.com. Participants will be able to locate and share their photo across multiple social networks.

Directed by acclaimed documentary filmmaker Morgan Spurlock (Super Size Me), the movie follows the UK boy band for a year as they embark on a world tour.

One Direction: This Is Us 3D
Release Date: September 19th, 2013
Website: Fans can follow @1DThisIsUs on Twitter for exclusive updates about the movie. The official movie account on Twitter will announce news using the hashtag #1DThisIsUs.