REGULAR JOHN UNLEASH DEBUT ALBUM - 15th MAYThe Sydney foursome's debut album, The Peaceful Atom Is A Bomb - which Rolling Stone magazine has already dubbed "the perfect distillation of everything good that's happened since rock found a heavy, fuzzy imagination in the late Sixties" - is the culmination of two intense years of hard living, hard partying and - more than anything - f**king hard work.
Armed with nothing more than J Mascis' songwriting smarts, Bill Hick's sense of humour and a shit load of hallucinogenic drugs, the foursome spent the next few years carving themselves a psychedout, punk-inspired niche in a Sydney rock scene sick from its own self-indulgence. Regular John brought an honesty and intensity back to venues that had endured shoegazers and sythns for too long, and the fans responded immediately - by the end of 2006 the band had bulldozed its way into the public imagination and onto bills like Homebake and Soundwave.
But, as good as all that was, it was only the prelude. "It's always been about making this album," says Caleb Goman of The Peaceful Atom Is A Bomb - out 15th May on Difrnt Music. "This is what we wanted to do, this is who we are." Produced by Tim Powles - drummer from the Church - the new record somehow finds the common ground between At The Drive-In, John Lennon and Sonic Youth. It also shows an experimental side to the band that might not always be obvious from their explosive live shows. "We had to find that balance between capturing the energy of what we do live and expanding our sound in the studio," says Goman.
Longtime supporters of Regular John, Triple J were quick to pick up on the band, adding every Regular John release into rotation at the Station. From May 1st, The Peaceful Atom Is A Bomb was awarded Album Of The Week, with both preceding singles, Language and Abbatoir Noir also finding a place on the Triple J playlists
The band are the first to admit that Powles had a big hand in helping them realise their vision, with the producer's hardearned rock 'n' roll wisdom proving the perfect foil to their own explosive enthusiasm. "Tim is like the rock 'n' roll Ghandi," says Goman. "He managed to capture the energy of our live sound and still bring to life the noises we hear in our heads. He brought a much-needed calm to our storm. I think we might have burnt out without him."
As Goman explains, "We don't really fit in with a particular scene or sound, which means that we can play to all sorts of different people. That's definitely a virtue."
It's been a very long time since the acid-fuelled apocalyptic fantasies of four smart guys have had so much primal punk rock appeal. "Yeah, well, we wanted to make a record that we would like," says Goman, "but that doesn't mean we don't want other people to like it as well. This album is definitely about doing both."
The Peaceful Atom Is A Bomb: Out 15th May 2009
On Difrnt Music. Distributed by Universal Music.
"The album is a perfect distillation of everything good that's happened since rock found a heavy, fuzzy imagination in the late sixties - stoner grooves, psychedelic detours, ballsy, punk-esque hooks and infections rhythms, all overlaid with the sort of lyrics that only emerge when smart people play with drugs" - Dan Lander, Editor, Rolling Stone
"Armed with boundless energy, killer hooks, singable choruses and variety up the wazoo, Regular John stamp themselves as one of the most exciting young bands on the face of the planet" - Blunt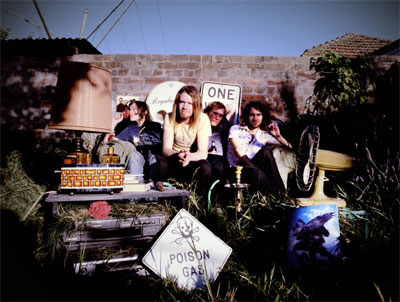 REGULAR JOHN GIVE EXCLUSIVE PREVIEW TRACK TO TRIPLE J
Do you remember a time when music had a conscience? When bands had?something to say? When musicians fucking rocked?"- Bill Hicks
Having spent the last two years buzz sawing their sound into the?Australian music scene through their chaotic live shows and blistering?EP 'Marrickville 2204' Sydney's Regular John are now set to release?their debut album 'The Peaceful Atom is a Bomb' to an unsuspecting?world on Difrnt Music.
To prepare the public Regular John have given an exclusive track 'Abattoir?Noir' to Triple J and has been added to rotation. The?track is a menacing, rumbling slice of sonic terrorism and is?available for free download from the Triple J website.
http://www.abc.net.au/triplej/
Right now the world needs a band like?Regular John more than ever.?Something with enough power, sincerity and balls and wipe clean the?slate of these shallow attempts at rock n roll and shameless grabs for?money that have plagued the last decade.
In a time when a whole generation has been distracted by one trick?phonies and hyped up nobodies think about the last ten years and ask?yourself:
Who the f*ck is going to save rock n roll?
Get real. Get Regular John.