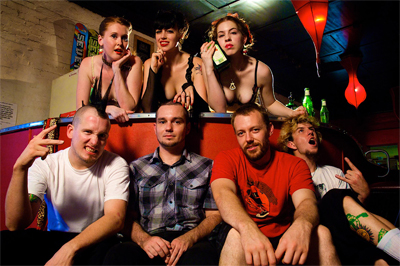 SpitFireLiar
Brisbane based 4-piece punk-rock explosion SpitFireLiar has released their debut album. With this full length, self-titled LP including such titles as 'Mum I Like Your Lingerie', 'Alcohol' and 'I Want To Eat Natalie Portman's Poo' you can be assured of an energetic, comedic and intense listening experience.

With the recent addition of Butterfingers vocalist Evil Eddie assigned to guitar duties along with Mouldy (Vox), Mung (Bass) and Toddie Spitfire (Drums), this rowdy bunch of Brisbanites have successfully put together 12 tracks of mayhem that strictly adheres to a 'no slow songs' policy.

Since their inception three years ago at the iconic Brisbane venue 'The Zoo', SpitFireLiar have rocked shows with the likes of, The UK Subs, The Fireballs and The Bronx as well as headlining there own sold out Brisbane shows.