Ruby Sparks
Cast
: Paul Dano, Zoe Kazan, Antonio Banderas, Annette Bening, Steve Coogan, Elliott Gould, Chris Messina
Directors
: Jonathan Dayton and Valerie Faris
Genre
: Drama, Romance, Comedy
Rated
: MA
Running Time
: 104 minutes
Synopsis
:
"You made me up?"
-- Ruby Sparks
It wasn't long ago that Calvin Weir-Fields (Paul Dano) was a literary wunderkind with an acclaimed first novel. But since then, he's been stricken with a stubborn case of writer's block magnified by a dismal love life. In a last-ditch attempt to reignite his creative spark, Calvin begins to envision a female protagonist in his mind. Her name is Ruby Sparks (Zoe Kazan) and from the minute he imagines her, he feels creatively invigorated to write about her. Until she shows up in his living room. Is this a joke, a sign of madness, an act of magic? Whatever it is, it feels incredible. Suddenly, Ruby is sleeping in Calvin's bed, cooking in his kitchen, beguiling him in every way, with one mind-boggling twist: he somehow has the power to change her every time he sits at his typewriter. As Calvin tries to juggle this power, he faces a major dilemma as a writer and a boyfriend: what will it take to make this relationship from his imagination work in the real world?
A sharp, modern take on the Pygmalion myth, Ruby Sparks is the story of a novelist's vision who inexplicably comes to life, only to prove far more complicated than even he could have imagined. With a light touch and a dash of magical realism, the first screenplay from actress and playwright Zoe Kazan attracted the attention of Jonathan Dayton and Valerie Faris, the married team who directed the run-away hit Little Miss Sunshine. The film takes an unpredictable route into fantasy, identity and the ways we invent love - and how love can re-invent us.
Release Date
: September, 20th, 2012
About the Production
"I started seeing her this morning. It's like that movie Harvey. Except she's not a giant rabbit."
- Calvin Weir-Fields
What if the defining love of your life turned out to be a work of fiction? Calvin Weir-Fields (Paul Dano) - plagued by writer's block - dreams of the love of his life and is inspired to write about her. Then one morning she steps off the page and into his life. It seems fitting that Ruby Sparks, a romantic fable about how two people weave a love story in and out of reality, was brought to life by a married pair of directors (Jonathan Dayton and Valerie Faris) working with two actors who are also a devoted couple (Paul Dano and Zoe Kazan). This double set of couples weren't as interested in the conventional boy meets girl scenario as they were in exploring the surreally provocative question of what would happen if boy writes girl . . . only to find that girl comes to life complete with a will of her own.
It began with an idea that struck Zoe Kazan nearly as suddenly as Calvin Weir-Fields comes up with Ruby Sparks. Zoe Kazan - renowned as a promising playwright and a rising actress with roles in Revolutinary Road, It's Complicated and the indie Western Meek's Cutoff - was coming home late one night from the set of a film when she was shocked to see a mannequin lying in heap of trash. The sight set off a creative chain reaction as Zoe Kazan, a Greek mythology buff, was reminded of the ancient myth of Galatea, in which Pygmalion falls in love with the statue he has crafted with his own hands. That uncanny moment, when the inanimate seemed to come alive, started her thinking about how fantasy, autonomy and identity collide and collude in contemporary relationships.
"I started wondering what might happen if a writer had a character come to life who could give him exactly what he thought he wanted romantically. But things get very complicated because when you really love someone you have to love all of the person, not just the parts you've idealised," Zoe Kazan recalls.
As Zoe Kazan wrote, she began sharing her work with her boyfriend, the actor Paul Dano, and though she had not set out to write something for the two of them, they couldn't help but envision one another in the lead roles. "I think I was always subconsciously writing Calvin for Paul Dano," she muses. "But the weirdest thing is that I was writing a character who is writing my character! There was something very meta going on."
Zoe Kazan wasn't so interested in the science fiction aspect of how a writer's fantasy character might come to life - she was more intrigued by what would come next. How would a fictional creation fare in the midst of the messiness of real life, especially when the man writing her isn't sure of exactly what he wants? There has been a long literary tradition of riffing on the man-made object made human: Shakespeare with Queen Hermione in "A Winter's Tale," George Bernard Shaw with Eliza Doolittle in "Pygmalion," and Mary Shelley gave it another take with her "Frankenstein" myth. Zoe Kazan wanted to come at the concept from a literary perspective, exploring a writer who pens the lover he thinks he wants in his heart . . . but who makes him so nervous in the flesh, he is tempted to keep changing her.
She explains: "I was interested in the theme of control in relationships and the way we bring in ideas of who the person we love should be. How do you love the person you're with completely without saying 'I don't want this part or that part?' How do you make room in a relationship for two separate people? I've been in relationships before where I felt like the person was not seeing me, but something close to me, something just a little off center from me. That is what happens with Calvin and Ruby."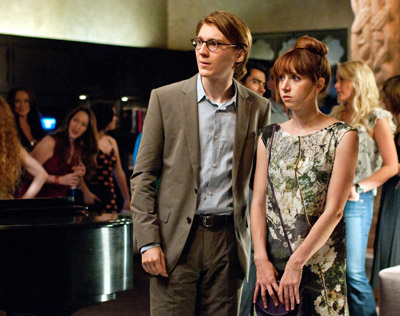 "We sent the screenplay to a few producers, including Ron and Albert. Most everyone I met with said 'you'll never get this made with you guys as the leads, it's just impossible.' When we met with Ron and Albert they said they would make this movie for $100,000 or $10,000,000. They would make it for whatever budget they could get and nobody else said that. Which was so brave considering that it is what we ended up doing. That sort of willingness to pursue at any budget is a real testament to them as producers," says Zoe Kazan.
Producers Albert Berger and Ron Yerxa brought the screenplay to directors Jonathan Dayton and Valerie Faris. Zoe Kazan was convinced there could be no better match of sensibility to her story. "I'm interested in stories that show what's both a little sad and funny about life," comments Zoe Kazan. "I think that's what Jon and Val did so well in Little Miss Sunshine and that's why we thought of them right away. They're perfect for this script."
"We always respond to the voice of the writer," says Valerie Faris. "We loved how she was able to write about a very complex subject in a very economical, spare and matter-of-fact way. She has a gift for making things look easy, fun and not labored over, and at the same time, there is real depth in her work."
The duo decided to approach the story not as a sci-fi fantasy, but as something that is currently happening in the everyday world, no matter how bizarre it might seem to Calvin.
"Even though the story is built around a fictional premise, it illuminates so many truths about relationships. We felt it was essential for the scenes to feel real and honest," explains Jonathan Dayton.
Albert Berger notes that Ruby constantly challenges the audience because, much as she starts out as an idea in Calvin's mind, he creates her with a strong individualistic desire to be her own person. "To me, the achievement of this script is how much integrity and humanity exists in Ruby and how Calvin is ultimately forced to grow in order to accommodate her strength and evolution," the producer says. "Of course, all of the nuances deepened in Jonathan Dayton and Valerie Faris' hands. They have a way of digging into the material so that the movie becomes the fullest realisation of the script."
Ron Yerxa continues: "It's a comedy with a fun premise but at the same time, there are very sophisticated ideas in it. Calvin imagines a woman he'd like to be with for the rest of his life. But what's interesting is that once she appears in flesh and blood, he's threatened by that. I think this mirrors a lot of people's experiences in life and relationships. It's only when he lets go of his ideas about who Ruby should be that Calvin finds what he was looking for."
The Casting of Calvin
"Remember how dad used to say I had an over-active imagination?"
- Calvin Weir-Fields
The chaos that ensues in Calvin Weir-Fields' life once he dreams up Ruby Sparks calls for an actor with the ability to make even the strangest journey seem believable - which was a task that interested Paul Dano.
Like Calvin, Paul Dano had very early success in his chosen field, making his Broadway debut at 12 and his feature film debut at 17, garnering awards and acclaim in the gritty drama L.I.E. Since then, he has gone on to create an unusually diverse roster of characters. He first worked with Jonathan Dayton and Valerie Faris as the willfully mute son in Little Miss Sunshine, portrayed the charismatic preacher Eli Sunday in Paul Thomas Anderson's oil epic There Will Be Blood, and most recently played the son of Robert De Niro's slippery con man in the dramatic comedy Being Flynn.
As Zoe Kazan's boyfriend, Paul Dano had the advantage of having watched Ruby Sparks come to life in the raw stages of creativity - but he was surprised in many ways. "Zoe Kazan wrote something for me that might use some parts of me, and some of my strengths but she also wrote something that gave me a great challenge," he comments. "Calvin's story is completely different from mine as are parts of his personality. Every day as an actor, I experience a similar form of fear, but for me personally, it's a good fear. It's exciting and it makes me perform well."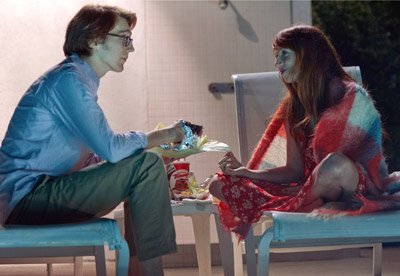 But in Calvin's case, fear is holding him back both in his professional and romantic pursuits. "He's definitely missing something in his life. There's an absence. There's sort of a hole," notes Paul Dano.
Ruby is custom designed specifically to fit into that hole, but when she shows up in his life she also opens up a whole new world for Calvin, who has long dwelled in the limbo between youth and adulthood, not ready to take the leap. Paul Dano explains, "I think before Calvin can properly love somebody he has to learn to love himself. His relationship with Ruby could be a really beautiful thing but he has to grow up before he can do it right. Calvin is learning that you can't control life and he's got to get comfortable with that."
Calvin also gave Paul Dano a lot of room to explore. "When your character thinks he might be going crazy, that immediately gives you a certain freedom and liberty in the performance to have fun," he says. "But when he goes from thinking he's crazy to deciding to take the leap and embark on a relationship with this woman he created, I found that even more fascinating."
It was Paul Dano's ability to reveal the full spectrum of shock, anxiety, neurosis, uncertainty and ultimately generosity that Ruby evokes in Calvin that makes his performance so relatable, say Jonathan Dayton and Valerie Faris. "You never feel Paul Dano chasing after humor yet he's very funny," observes Valerie Faris. "He makes you laugh just by playing Calvin so honestly."
Jonathan Dayton continues, "We are excited for audiences to see Paul Dano in this role. He's tended to play characters on the darker side of life, but he's a very appealing romantic lead not unlike a young Dustin Hoffman."
Zoe Kazan also hoped the role would show off more of Paul Dano's shadings - and coming full circle, she found a certain joy in writing his character into existence. "Paul Dano's an incredibly funny person, very dry, and I really wanted to see him play something that he hasn't done on screen before," she says, then admits, "I had some fun thinking about things to make Paul Dano do. Like smile. He doesn't like to smile so I would write into the script 'Calvin smiles.' Little things that I knew he would do as this character but not in real life."
In the end, though, she watched him make the role his own. "He did a great job of making Calvin human and fallible and therefore relatable and lovable," sums up Zoe Kazan.
The Creating of Ruby
"Maybe we knew each other in another life.
Or maybe we just go to the same coffee shop."
- Ruby Sparks
Zoe Kazan might have created all the tricky layers of Ruby Sparks on the page but doing the same thing as an actress was a completely different challenge. "As Ruby, Zoe Kazan had to become the heart of the movie," notes Ron Yerxa, "Zoe Kazan plays her as a free-spirited, autonomous young woman. Ruby had a punk past and she's now an artist. She's sexy and attractive, but she very much has her own mind."
Adds Albert Berger: "One of the great aspects of Zoe Zanan's writing and performance as Ruby is that she comes off as a real person who gets frustrated, gets bored and feels uninspired by her situation and I think in those imperfections we all see ourselves."
For Zoe Kazan, it was exciting to explore a character who naturally mirrors some of her own creative outlook but who is in other ways decidedly unlike herself. "I gave Ruby some qualities that I probably possess, but she's also very different," Zoe Kazan explains. "I like to be taken care of and Ruby's much more independent. She likes to speak her mind. She's very brave that way. It was always important to me that she not seem at all like a dream girl, but very real, so the challenge was in figuring out how to do that."
"To have a couple directing a couple made a strong connection for us," says Paul Dano. "Jonathan Dayton and Valerie Faris were role models for us because they seem to get along so well all the time. They have discussions that are civil but very passionate about creative choices - and we looked up to that in terms of how we wanted to work together."
Zoe Kazan and Paul Dano had met while doing a play together and previously acted together in Kelly Reichardt's western Meek's Cutoff. Recognising their real-life chemistry as a vital resource, Jonathan Dayton and Valerie Faris tapped into Paul Dano and Zoe Kazan's romantic past. Explains Valerie Faris: "We used the history of how they met, and the first time they kissed, and it really brings a believability that would be hard to get with two actors who didn't know each other in that way. They were able to share all their authentic experience from when they first started to recognise that they were heading towards a romance."
Ultimately, a certain alchemy took over. "By the time we saw the film for the first time, one of the first things we said afterwards was that we didn't feel like we were looking at ourselves up there. It wasn't Paul Dano and Zoe Kazan but two other people in their own relationship," concludes Zoe Kazan.
The People in Calvin's World
"Women are different up close. I love Susie, but she's a weirdo . . . she's a person.
You haven't written a person, you've written a girl."
- Harry Weir-Fields
Once Calvin is convinced that Ruby is not his own wild hallucination but someone everyone can see and hear, he realises he is going to have to explain her to the people in his world - from his family and friends to his shrink and agent. Surrounding Paul Dano and Zoe Kazan in these colorful roles are some of Hollywood's most accomplished and popular actors including Annette Bening as Calvin's mother Gertrude, Antonio Banderas as Gertrude's boyfriend, Elliott Gould as Calvin's psychiatrist, Steve Coogan as his literary rival and Chris Messina as his brother - each of whom were drawn by the story's mix of comedy, romance and emotions.
Three-time Golden Globe® nominee Antonio Banderas and four time Oscar® nominee Annette Bening came aboard to portray Calvin's New Age mother Gertrude and her bohemian lover Mort - who charm Ruby as much as they irritate and embarrass Calvin with their sexual liberation.
Antonio Banderas had a lot of fun with Mort's cloying charm, and the filmmakers enjoyed watching him dive headlong into the role with no inhibitions. Says Ron Yerxa: "Antonio Banderas as Mort embodies this kind of overt sexuality and free-form, anti-establishment playfulness. He's totally effusive and loving and that's what makes Calvin, who is wound pretty tight, resist him. I can't wait for the audience to see how Annette Bening and Antonio Banderas play off each other."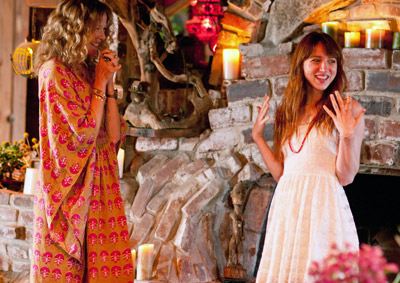 After recently working with Woody Allen, Steven Soderbergh and Pedro Almodovar, Banderas was drawn to Ruby Sparks by the talent behind it. "The story is intelligent, funny, poignant -- which I love," he says. "I was amazed that it was written by such a young woman, and that she was actually going to play the part. I love people who just go for it. And then having the directors who did such a beautiful movie as Little Miss Sunshine made it even more interesting."
Once on the set, working with two directors was a novel experience. "This was the first time I worked with dual directors, so I wondered how I would relate to them and who is actually directing you? But they work together and it's almost like one person. And that might be part of their success. Definitely with their first movie they proved an extraordinary capacity to tell a story."
Another treat for Antonio Banderas was his first time acting opposite Annette Bening. "Everything that I had in my mind, from seeing her on the screen, I saw it live," he observes. "She's so good - totally committed to her character."
Gertrude gave Annette Bening a chance to do something quite different, as Albert Berger explains: "The great thing about Annette Beining in this role is we haven't seen her play this type of woman ever. In many of her roles, she brings both a comic and serious intensity, and extends that in a new direction."
For Zoe Kazan, knowing that Annette Bening would take the role was itself a kind of dream come true. "When I heard she was going to do the movie, I cried, because I knew this was real," she recalls. "Having her and Antonio Banderas together was like a supernova. There was something so connected in them that you feel like these two people could really be a couple."
Jonathan Dayton feels similarly. "I think Annette Bening and Antonio Banderas really enjoyed inhabiting these characters. They're gifted actors who can be very real while going to the humorous corners of their characters. Annette Bening's improvisations were so funny and I think she really enjoyed getting to shock Calvin and Harry with her rekindled sexuality."
Once Ruby shows up in his life, the only person Calvin can really trust with the implausible truth of what is happening to him is his brother, Harry - who at first is convinced Calvin is having some kind of spectacular breakdown . . .and then begins to relish the sublime possibilities of being able to write your lover's actions.
Playing Harry is Chris Messina, perhaps best known for his role in another distinctive twist on the romantic comedy, Woody Allen's Vicky Cristina Barcelona and also appears on "Damages." The filmmakers chose him for an ineffable Everyman quality that gives the story's fantastical elements a foundation in ordinary reality. Jonathan Dayton comments, "Harry is the audience's representative in the film. He's the one who is thinking 'If I only had a button I could push to control my partner' and 'For men everywhere, you've got to take advantage of this.'" Valerie Faris continues, "Because Chris Messina plays everything absolutely real and straight, he grounds this movie in a way that is really important."
Chris Messina says it was Zoe Kazan who drew him to the project. "I know Zoe Kazan from New York as a theater actress and I was always a huge fan. When I read this script, I was impressed she wrote it," he says, "and I instantly wanted to be involved. I loved how she handled the ideas in it."
He also got a kick out of playing Paul Dano's older brother. "Paul Dano is smart and a really hard worker. We'd go to play golf together and he'd show up in Calvin's clothes," he recalls.
Another screen favorite, Elliott Gould - whose prolific film work spans from the 60s classics M*A*S*H and Bob and Carol and Ted and Alice to the current Ocean Elevens series - takes on the role of Calvin's confidante, the probing Dr. Rosenthal.
Gould put his own stamp on the role. "Interestingly, the role of the therapist was originally written for a woman. For a long time, we were trying to find the perfect person," notes Albert Berger. "Then it occurred to us that Calvin's past difficulties with his father made a male therapist a good way to go. Elliott Gould is just a great American treasure of an actor who we don't get to see enough."
"As his analyst, I'm trying to give Calvin the license not to be afraid to fail and to be outrageous," Elliott Gould explains. "He's dealing with more than just writer's block. He's blocked in terms of the whole relationship between his inner life and the outside world."
The notable wit of British comedian and actor Steve Coogan (The Trip, Tropic Thunder) brought to life another of Calvin's foils: the pompous self-proclaimed literary god Langdon Tharp, who nevertheless secretly longs for Calvin's natural talent.
Steve Coogan had fun playing with Langdon's competitive, love-hate relationship with his fellow author. "Langdon is an admirer of Calvin's and at the same time, he's slightly envious," explains Steve Coogan. "It's like the relationship between Salieri and Mozart: Salieri admired Mozart, but he wanted to destroy him at the same time. So that's the way I played Langdon Tharp."
He adds, "Langdon is sort the Ghost of Christmas Future. Langdon is what Calvin's character could become if he's not careful. He's the slightly darker, cynical side of literature if you like."
Says Albert Berger of Steve Coogan, "Steve Coogan brings sublime skills to Langdon. It's a great role for him because it's very defined but at the same time it allows him to show his brilliance at improvisation and free-form dialogue."
Rounding out the cast are Toni Trucks (Music and Lyrics) as Harry's wife Susie, Deborah Ann Woll ("True Blood") in the role of Calvin's ex-girlfriend who makes a surprise reappearance in his life; Aasif Mandvi, best known as a correspondent on Jon Stewart's "The Daily Show," as Calvin's coaxing agent Cyrus; and Alia Shawkat (WHIP IT) as the obsessive fan who helps him discover that Ruby is real.
Calvin's World
"So how does a novelist get such a fancy house in the Hollywood Hills?"
-- Ruby
The world of Ruby Sparks is contemporary Los Angeles - a city where people tend to interact in houses, apartments and offices rather than out on the streets. This is even more true of Calvin, who lives mainly in his head until Ruby comes into his world. Jonathan Dayton and Valerie Faris envisioned the film as taking place largely in three visually evocative houses: Calvin's stark, minimalist bachelor pad; the hippie idyll of Calvin's mother Gertrude, where she meets Ruby; and the grand mansion where the imperious Langdon Tharp throws a fateful party.
To bring all this to life with the same buoyant energy of the script, they worked with a superb visual team that includes director of photography Matthew Libatique, who garnered a 2011 Oscar nomination for Black Swan, production designer Judy Becker, whose recent work includes Shame and The Fighter and costume designer Nancy Steiner, with whom they previously worked on Little Miss Sunshine.
Albert Berger comments, "L.A. is a character in this film and it was very important to Zoe Kazan, Jonathan Dayton and Valerie Faris that the locations be picked very carefully. The story is grounded in reality and we use places that real people go in L.A.: El Coyote restaurant, Cafe Figaro, Skylight Books, the Egyptian Theatre and Griffith Park. Every scene takes place in the same neck of the woods in an organic way."
The visual design began with Calvin's house, a blindingly white, linear cube nestled in the East Side neighborhood of Los Feliz overlooking the downtown Los Angeles skyline. The chosen house was designed and built by J. Frank Fitzgibbons, a renowned modernist architect.
"J. Frank Fitzgibbons is no longer living, but his widow, Irma, lives in the house that he designed for them as a couple," explains Judy Becker. "It's an amazing house with a lot of architectural planes, and this maze-like feeling with staircases going up and down -- and we loved the idea that you could play with having the characters on different levels and different planes throughout the storytelling. It allows the scene where Calvin first finds Ruby in his house to be so fun and physical."
Jonathan Dayton and Valerie Faris say the house reminded them of an Escher drawing with all its kinetic energy. "It's as if we are inside Calvin's head, lost in a maze of multiple levels and stairways. It's a colorless world of white surfaces, not unlike the blank page that vexes him," comments Dayton. "It was a very challenging place to photograph, but our D.P., Matthew Libatique, did an amazing job capturing the multifaceted white world . . . before Ruby brings some color into Calvin's life."
When Calvin takes Ruby to meet his mother and her lover up in lush Big Sur on the central coast, they are instantly transported to a very different realm, an enclave of unbridled sensuality. In searching for a real house that could evince some wildly unconventional qualities, the filmmakers came across famed puppeteer/producer Sid Krofft's ("H.R. Pufnstuf") sprawling home at the top of Laurel Canyon in the Hollywood Hills. Hand-built in the 1970s, it was perfectly eccentric.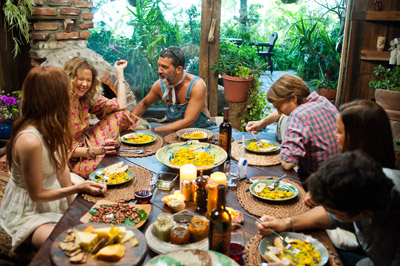 "It's just a spectacular kind of Hippie House," Judy Becker describes. "It really does feel like you're in another world within. There are inner gardens, there are tree houses, there's a spectacular pool, and there's all sorts of dense foliage almost in the house. It's a one-of-a-kind environment and we were really grateful to have Sid on board. He's never allowed the house to be filmed or even photographed before, so this will be a truly unique experience for the audience."
The third house where Calvin and Ruby's romance takes yet another turn belongs to Langdon Tharp, but is in reality a work of the architect Lloyd Wright, son of Frank Lloyd Wright. Ornamented in the style known as Mayan Revival, the house is known both as The Sowden House and the "Jaws House," because its façade resembles the mouth of an attacking shark. It is also infamous as the home of Dr. George Hodel, a prime suspect in the 1947 Black Dahlia murder. In 2001, it was renovated by Xorin Balbes, who installed the courtyard pool where Ruby takes a dip with Langdon.
"The Lloyd Wright House is a one of a kind place," says Judy Becker, "It's all closed walls surrounding a courtyard with layers of glass doors and hallways in between. It's definitely got that indoor/outdoor, California-living feel to it. Even though it's on Franklin Avenue, which is a very busy street, you feel like you're completely out of the city and enclosed in another environment."
As he moves through the film, Judy Becker subtly expanded the colors in Calvin's world. "His world starts out pretty neutral, but Ruby brings with her reds and teals and violets," she says.
Similar palette shifts are at the heart of costume designer Nancy Steiner's work. She slowly takes Calvin from bland and blah to a more vibrant wardrobe in the wake of Ruby's logic-busting arrival. "Calvin is someone who could easily fade into the background before Ruby enters his life," she describes. "At first, he wears mostly sand colors, oatmeal, beige and a little bit of white, which blends with the white of his walls. And then, very subtly, color and patterns come more and more."
As for Ruby, she instantly comes into existence in exciting, dynamic shades. "Zoe Kazan had a lot of input, but miraculously, it happened quite naturally that we really like each other's taste," she says. "We both wanted an artsy quality to her clothes and a lot of creativity."
Reuniting with Jonathan Dayton and Valerie Faris was an inspiring endeavor for Steiner. "They really care a lot about every physical detail of their films," she notes.
Jonathan Dayton and Valerie Faris hope that all those details combined with the clever twists of Zoe Kazan's story will add up to something surprising for audiences as they ponder whether Ruby Sparks really exists or lives only in Calvin's head.
"The story leaves some questions open for discussion," concludes Valerie Faris, "we hope that people will leave the theatre with something to talk about." Adds Jonathan Dayton: "Despite this movie's high-concept premise, we think audiences will identify with Calvin's predicament." Zoe Kazan chimes in, "I am so proud of the movie we made. After such a happy collaboration, we are really excited to share the film with an audience, hear their reactions, start that conversation."