Is it Smooth Sailing for the Drac Pack?
Cast: Adam Sandler, Andy Samberg, Selena Gomez, Kevin James, Fran Drescher, Steve Buscemi, Molly Shannon, David Spade, Keegan-Michael Key, Mel Brooks, Kathryn Hahn, Jim Gaffigan, Joe Jonas, Chrissy Teigen
Director: Genndy Tartakovsky
Genre: Animation, Comedy
Rated: PG
Running Time: 97 minutes

Synopsis: In Sony Pictures Animation's Hotel Transylvania 3, join our favourite monster family as they embark on a vacation on a luxury monster cruise ship so Drac can take a summer vacation from providing everyone else's vacation at the hotel. It's smooth sailing for the Drac Pack as the monsters indulge in all of the shipboard fun the cruise has to offer, from monster volleyball to exotic excursions, and catching up on their moon tans. But the dream vacation turns into a nightmare when Mavis realises Drac has fallen for the mysterious captain of the ship, Ericka, who hides a dangerous secret that could destroy all of monsterkind.

Hotel Transylvania 3: A Monster Vacation
Release Date: June 28th, 2018
About The Production
For Genndy Tartakovsky, co-writer and director of Hotel Transylvania 3: A Monster Vacation, returning to the Hotel Transylvania characters was not a simple decision. Simply put, there had to be a reason for him to come back and make another one – a seaworthy sequel. 'I love the characters, but if we were going to do a third film, we had to take them someplace they've never been before – both physically and emotionally," says Tartakovsky. 'That's what we're doing here. Not only are Drac's Pack out of the hotel and visiting fun, exotic locations on a monster cruise, but we've turned Drac and Mavis's relationship on its head. Instead of Drac being the concerned parent as his daughter falls in love and has a child, now Mavis is overly concerned as her father -zings' for a second time. Or maybe she's not overly concerned – maybe he's in real danger."

Tartakovsky says that the inspiration for the new film came directly from his real-life experience.

'After I finished the second film, I needed a vacation – and my in-laws surprised us with a family cruise," he notes. 'I'm sure everyone loves their in-laws as much as I do, but the cruise forced us all to be together in a small space for a week. That inspired me – what would happen if you put Drac's Pack in that situation?"

Producer Michelle Murdocca, who has teamed with Tartakovsky on all three films in the series, loved the idea. 'It was a chance to get out of the hotel and go on a family adventure in a new way," she says. 'I think the Hotel Transylvania films connect with families because they're about families," says Tartakovsky. 'Sure, every family is different – but really, everybody's kind of the same. And that's what makes the movies connect all over the world."

Still, everyone knows that being on a family vacation can be a mixed bag. You love your family and want to be together...

But if you're a kid, your parents embarrass you. For the parents, your kids run you ragged until you need a vacation from your vacation. Your grandpa shows up in his swim briefs. And as we all know by now, monsters are just like us. 'The fun is how relatable they are," says producer Michelle Murdocca, who like Tartakovsky returns for her third tour of duty in the Hotel Transylvania franchise. 'We've known for some time that Dracula, Frank, Wayne and Wanda the wolfpeople, and Griffin, an invisible man, have all had their heroic moments and their foibles and are just trying to get along as best they can in a world that isn't always accepting. The moral of the story is we're all the same – human and monster, green skin or no skin at all – but our family has never faced a greater danger than Ericka."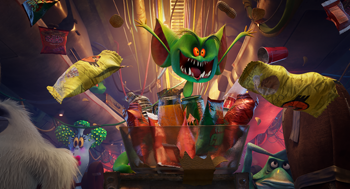 After all, Ericka is not merely the beautiful, smart, adventurous captain of the ship who could steal Dracula's heart (if vampires have hearts) and alter the family dynamic forever. She also holds a secret that threatens to send this journey off course – it just so happens that she is a descendent of Abraham Van Helsing, the legendary monster hunter, and the whole idea of a cruise is a ploy to get Drac and his pack. It's a trap. A ruse. A cruise ruse.

'Ericka's whole plan is to get all the monsters on board and destroy them all, but she's impatient – she wants to kill Drac right away," Tartakovsky explains. Meanwhile, Drac unwittingly throws a monkey wrench into those schemes when he -zings' for the captain. ''Zing' is the monster version of love at first sight. He gets on board, sees Ericka, and he's a goner. So he's trying to help her fall in love with him, and the whole time, she's trying to kill him."

The setting opens up a whole new world for the characters, Tartakovsky says. 'There's even more visual humor, more fun than the first two films," he says. 'It's not just a cruise – it's an adventure. They get to explore new and exotic locations – including the lost city of Atlantis. But there's also real danger involved as they start to wonder if Ericka, the ship's captain, is leading them right into a trap."

That visual humor is Tartakovsky's signature, perhaps best expressed through what he calls a 'pushed" style of animation that marked the first two films. Where most CG animated films try to keep the character looking like a base model – treating the character rig like a puppet – Tartakovsky encourages his animators to bring an exaggerated vision, with sight gags and funny expressions. The characters are pliable, with a range of emotions from the cartoony to the subtle and humanistic. 'The Hotel Transylvania films really are a chance for the animators and artists to collaborate with Genndy, giving them an opportunity to live inside Genndy's head for a little while," says Murdocca. 'Our animators love the challenge of breaking the mold and showing the wide range of expressions and over the top physical animation that are possible in the name of bigger emotion and bigger laughs."

Bigger laughs – like Gremlin Air, where the little monsters that make your flight go wrong have been put in charge… like the Bermuda Triangle, which is a literal triangle that eats up planes and ships… relaxing times like moon bathing (can't be in the sun), an underwater volcano, scuba diving, dolphin surfing… let's face it: monsters may be just like us, but their vacations are way different (and way better).

And that doesn't even include the monsters' final destination: the lost city of Atlantis. 'It's our version of Vegas," says Murdocca. 'From the depths of the ocean arises a massive kraken – and just when you think this is it, he breaks into a charm-filled full-on Sinatraesque song, courtesy of Joe Jonas." Behind the mic, the entire crew returns to bring life to Drac's Pack – Adam Sandler as Dracula, Andy Samberg as Johnny, Selena Gomez as Mavis, Kevin James as Frank, David Spade as Griffin, Steve Buscemi as Wayne, Keegan-Michael Key as Murray the mummy, Molly Shannon as Wanda, Fran Drescher as Eunice, and Mel Brooks as Vlad, Drac's dad. 'I think these guys all see playing these characters as a bit of a vacation itself," says Tartakovsky. 'They get to inhabit these roles for a little while, kick back and enjoy themselves before returning to the real world. It's a blast to get to be with them in the booth."

Joining the fun are Kathryn Hahn as Ericka, the captain of the ship, and Jim Gaffigan as Abraham Van Helsing – Ericka's great-grandfather. 'I think both Van Helsings really believe in monster hunting," says Murdocca. 'Ericka sees her role as fulfilling her destiny. But that's the funny thing – we never know what destiny has in store for us." Also joining the cast are Chrissy Teigen as Crystal, an invisible woman; Jaime Camil as El Chupacabra, Chris Parnell as Stan the Fish Man… and even director Genndy Tartakovsky got in the fun, voicing the roles of Blobby and Blobby Baby, and producer Michelle Murdocca took a few cameo roles, including as Drac's phone assistant.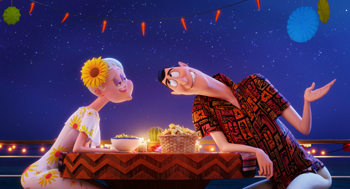 Character Descriptions

DRAC (Adam Sandler)
Drac's life seems perfect. He's surrounded by his family and the hotel is busier than ever. The only thing he needs is a vacation! He can't wait to spend some quality time with Mavis, Dennis and the rest of his family on the world's first ever cruise for monsters. But little does Drac know, this cruise is actually a well-designed trap to wipe out all monster-kind!! Will Drac be able to sniff out this plan or will he be distracted by his new found love of the high seas? 'Drac doesn't want to get out of his comfort zone," says Murdocca. 'He's busy running the hotel, it's super successful, and his whole family works there. But he's missing something. All of his guests and friends are coupled up, and he's beginning to feel a little lonely."

So when Mavis surprises him with a family cruise, Drac is not feeling it. 'The last thing he expects is to zing," says Tartakovsky. 'And like all of us, when he zings, the blinders go on. He doesn't see that Ericka could be the end of them all."

MAVIS (Selena Gomez)
Always cool and optimistic, Mavis can do it all. She handles all of her responsibilities – Hotel Transylvania assistant manager, wife, mom, daughter – with ease! The one thing she wished she had? More family time. This cruise is just what she needed! She can't wait to have a blast with Drac's entire Pack and get some quality time with Johnny, Dennis and of course her dad, Drac.

'I love making people laugh – it's the best feeling in the world," says Selena Gomez, who returns as Mavis. 'It's so great to have a family to come back to, and you never know what to expect with these movies – imagine the monster versions of shuffleboard, scuba diving, underwater volcanoes, moon tans on the beach – and it wouldn't be a vacation without a little adventure."

'I feel such an emotional connection with Mavis," Gomez continues. 'She's a mom who wants to bring everyone together and enjoy a relaxing time together with family. Of course all family vacations are a mixed bag – that's what makes them funny. But her heart is clearly in the right place."

JOHNNY (Andy Samberg)
Human Johnny always manages to stay mellow but he's stoked about the cruise's all-night monster music festival. What he doesn't realize is that the fate of all monsters will depend on his mid-90's DJ skills.

'Johnny may not have a lot of growth," admits Tartakovsky, 'but he always has that deep insight. He's always fun and always keeping people on a really optimistic, positive side of life."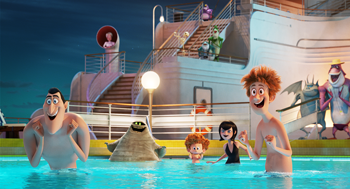 FRANK (Kevin James)
Drac's best friend Frank has a good head on his shoulders"most of the time. He wishes he could give Drac better advice about dating but he's never even been on one. He and wife Eunice were made for each other" literally.

'Frank is the family's loving uncle," says Tartakovsky. 'He's always happy to help out. He can sometimes be a voice of reason, but whatever crazy situation Drac finds himself in, Frank will be there."

GRIFFIN (David Spade)
Griffin, an invisible man, does not hesitate to give Drac dating advice – all of it terrible. It's a complete mystery how he was able to land his invisible girlfriend! And she's real!

'Griffin is the invisible man with the quick quip," says Tartakovsky. 'And when you're travelling incognito – as all monsters do from time to time – he's ready to go at a moment's notice."

WAYNE (Steve Buscemi)
Wayne the Werewolf and his wife Wanda have just had yet another litter of new pups and they are up to their noses in little fur balls. When the couple realizes there's a kids' club on board the cruise ship, Wayne weeps with joy and they decide to pack a decade full of -me time' into one night. 'Wayne and Wanda have way more pups than they used to, which is hard to believe," says Murdocca.

'He's loaded down with a baby carrier full of pups – and the last thing he wants is to be trapped on a cruise with pups all over him. But that's when Wayne and Wanda are introduced to the two most beautiful words in the English language: kids' club. It changes their world."

MURRAY (Keegan-Michael Key)
Murray the mummy can't wait to unwrap and pamper himself with an all-day seaweed re-wrap! But his spa appointment will have to wait when he learns of a much bigger problem threatening his friends.

'Working with Genndy Tartakovsky is amazing," says Key. 'He's got a great sense of how to use each of the characters to get the funniest moments on the screen. He knows these films like a mummy knows his wrappings – probably better."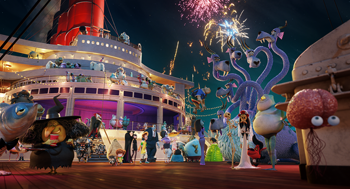 WANDA (Molly Shannon)
If there's anyone more exhausted than Wayne the Werewolf, it's his wife Wanda. The mother of 70, she's kind, maternal and sweet but, let's be honest, she could use a vacation!

EUNICE (Fran Drescher)
Frank's beloved wife Eunice is critical, brash and can have an -in your face' attitude, but underneath it all she loves her man Frank. Fran Drescher returns for her third film as Eunice. 'It was years ago that Adam came to me and said he was a huge fan of my TV series, -The Nanny,' but what I think put it over the top was that he said I reminded him of his mother-inlaw," Drescher recalls.

'Who can resist that? I very happily accepted the invitation to be part of the movie."

'Eunice can be a bit critical and brash, and she can have an in-your-face attitude, but underneath it all, she loves her man," Drescher continues. 'I just love her. It's fun to play a character who lets you know exactly what she's thinking. I love her strong, energetic, irreverent self.

And she always looks so pretty and put-together – I really relate to that."

ERICKA (Kathryn Hahn)
The human captain of the ship, Ericka, is smart, adventurous and holds a secret that threatens to send this journey off course. She runs this 'hotel on the water" and has no problem butting heads with Drac.

'Ericka is very charming, very personable, and has an adorable haircut, but what we don't know right away is that Ericka is actually Ericka Van Helsing, part of the family that's been hunting Dracula for generations without ever managing to kill him," says Hahn. 'Ambitious Ericka plans to be the Van Helsing that succeeds where all others have failed."

'I've always wanted to play a villainous character," Hahn continues. 'I've loved the Hotel Transylvania movies – I've seen them multiple times with my kids – so I was very excited to jump on board. You really feel the love between this group of monsters."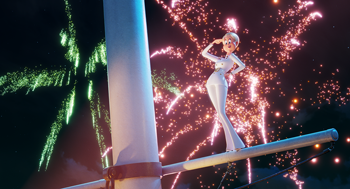 'Kathryn Hahn is a ball of energy – she's so full of life," says Tartakovsky. 'At the beginning of the process, we wondered who we could get who could hold their own with Adam – Dracula is a giant personality – and Kathryn hit it out of the park."

'It's kind of amazing what Genndy asked Kathryn to do – she's the villain, has put our family in peril, but she's also the love interest, and you want to see Drac find happiness," says Murdocca. 'Kathryn does it all: she can be heartfelt, she can create chaos, and all of it is a riot. She's incredibly funny and makes a great complement to Drac."

VAN HELSING (Jim Gaffigan)
Abraham Van Helsing" professor, inventor and monster-hunter" is Drac's self-proclaimed arch rival. Humiliated by Drac long ago, he swore he would get revenge even if it took a hundred years to achieve it. Luckily he's discovered the secret to immortality" kale!

'Van Helsing is an iconic character," says Gaffigan.

'He's the most famous monster hunter of all time. I was excited to make him the ultimate match for Dracula – and when I saw the character and found out he's also a very good-looking guy, I figured it would make sense that I would play him," says Gaffigan.

'When you're recording with Genndy, he's is so open to different ideas – he wants to make it fun, I think because he feels that will make the movie fun," Gaffigan continues. Just one problem: 'Van Helsing has so much energy, and I have no energy. It's exhausting to be an energetic person – that's no way to live."

'Jim is one of my favorite standup comedians," says Tartakovsky. 'I've always wanted to put him in a movie, and when this role came up, it was a perfect fit. We see him young, when he's a virile monster hunter – and then later, when he's… not. He's older and hasn't let his anger go."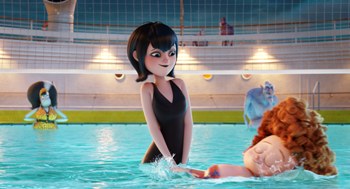 VLAD (Mel Brooks)
This oldest of the old-school vampires is turning in his cave and cape for a swimsuit and sunscreen! Drac's Dad may be ancient but he can still rock those swim shorts!

'Vlad is very comfortable with himself," says Murdocca. 'He can rock the swim briefs, let it all hang out, and never get self-conscious."

DENNIS (Asher Blinkoff)
Mavis and Johnny's 5-year-old son Dennis has a new pet that he is in love with " an elephant-sized puppy named Tinkles. Dennis can't bear to leave the mischievous puppy behind so he secretly sneaks Tinkles onto the cruise and disguises the massive dog as one of the passengers! How long will Dennis be able to keep this secret under wraps?

BLOBBY (Genndy Tartakovsky)
This blobby monster is always jiggling for a good time! He's also his own lost and found - you can sometimes discover an unexpected thing or two inside his gelatin body.

CRYSTAL (Chrissy Teigen)
Crystal, an invisible woman, is the girl made for Griffin. (And when he says he's into more than just her looks, you know he's telling the truth.)

'I love the relationship between Crystal and Griffin," says Teigen. 'You know that their love isn't based on looks – because they don't have looks."

KRAKEN (Joe Jonas)
Kraken is the ginormous beast who welcomes Drac and his friends to the lost city of Atlantis, the monster version of Las Vegas. He may look threatening, he is full of charm and a heck of a singer – he loves to carry a tune!

The kraken may look tough but underneath it all is the heart of a performer, so there's no one better to welcome the monster cruise to Atlantis that him. 'He's got a crooner vibe," says Joe Jonas.

'The song was a lot of fun to record – it's a big swing routine." And when he needed a big band swing number, Jonas knew who to call. 'I reached out to my friend David Foster, who happened to be working with Michael Bublé at the time," says Jonas. A short while later, he got a call back. Foster and Bublé had written the song in a burst of inspiration and with Jonas' voice in mind.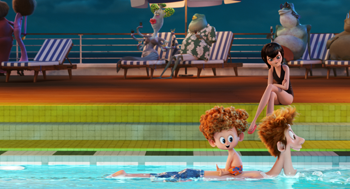 About The Production

Hotel Transylvania 3 represents a huge step forward for the monsters – and the animators – with the biggest adventure by far. 'This film is a lot bigger than the first two films – it eclipses them in scope and scale," says Tartakovsky.

'There are all kinds of new locations. We get to see the Bermuda Triangle, the lost city of Atlantis, an underwater volcano – these are the grand-scale places that monsters can go to take a break. It's comedic spectacle."

Of course, not everything is different. 'It's exciting that we get to really see what's beyond the hotel – but because we're on a cruise, which is a hotel on the water, we still get to do all of our hotel jokes," laughs Tartakovsky.

Naturally, the third film in the franchise continues the 'pushed," cartoony style of animation that is Tartakovsky's trademark and a characteristic of the first two films. 'Genndy's animation style really breaks physics," says the film's VFX Supervisor Michael Ford. 'So, the question is, how do we use our tools to unbreak it?"

It all starts with the storyboards. Where other films employ a storyboard artist to make a rough plan, Tartakovsky boards the entire film himself (roughly), with the artist drawing over his sketches. 'I've worked for a lot of directors and they're nothing like Genndy," says production designer Scott Wills. 'He sees the movie and knows the movie he wants to make. You can watch the animatic [a cut of the film created from storyboards] and it's very clear what he wants. It's because Genndy comes from TV, where the storyboards get sent overseas to be animated; everything has to be planned out. He does the same thing in features – the storyboards are really the template. Everything is very clear and he knows what he wants."

Tartakovsky also takes writing credit for the first time in the franchise with this film, sharing credit with Michael McCullers. 'A lot of Genndy's sensibility is written into the bones of this movie," says Senior Animation Supervisor Alan Hawkins. 'On the previous two films, we always had to look for ways to work Genndy's magic into the scenarios with a lot of dialogue. With this movie, there's a lot less dialogue and a lot more is dependent on the visuals. There are all kinds of crazy locations that help the visuals go that much further – like an underwater volcano or dancing your way through a bunch of booby traps."

A good example is the Gremlin Air sequence. As the family flies together to their surprise location, they are on a plane for monsters – one populated and flown by Gremlins. An ancient bomber that has been rebuilt over and over again, the sequence was a chance to throw in as many of Tartakovsky's sight gags as possible. 'There was a real attention to detail throughout the film," says Ford. 'If you look closely on the "Gremlin Air" plane and how the seats are constructed, there's duct tape that's been slapped on, there's wear and tear, each seat is a different color and a different kind of material. The plane is all cobbled together – there's plywood on the floor with wires above and below and each one of those wires was simulated so they move around adding to the chaotic nature of the sequence. We wanted it to feel real, tactile, in a cartoony way – there's a lot of detail that goes into making it feel real. Not entirely photo real, but our version of reality – real in the world of Hotel Transylvania."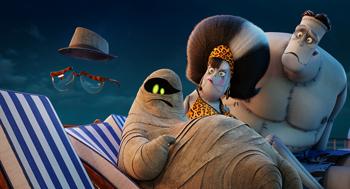 For the Imageworks team, the underwater volcano represented an exciting challenge – and, at first, an intimidating one. 'When Genndy first told us about the underwater Volcano, you could hear a pin drop in the room," laughs Ford. We worked hard to create a fun underwater world that our characters could explore. Part of the challenge was how to design a location that fit neatly into the world of Hotel Transylvania. 'The movie has a bright and colorful look, so the volcano couldn't be dark and scary. But you look at what underwater volcanoes really look like, and it's dark and scary," says Wills. 'I just had to start painting it without a real idea in my head of how it was going to look. When I did that, I had the idea that it would be red underlit, and it's very pretty and bright." Ford and his team were then able to dress the location with coral and kelp to add the details that make a location seem real.

Similarly, the location of the Bermuda Triangle represented a challenge for the filmmakers. Despite a relatively limited screen time, the location represented a challenge in every aspect, from the huge waterfalls to the ridiculously tall tower of ships that have met their ends there.

'It's a joke in and of itself: the Bermuda Triangle is a literal triangle in the middle of the ocean, with thousand-foot waterfalls falling into an abyss," says Ford. 'How do you create a thousand-foot-tall waterfall that's cascading into a big hole in the middle of the ocean? How's that going to look There's no real reference for that."

And then there are the ships. 'We had to build all of the ships that we were eventually going to destroy and decay" Ford continues. 'We needed a believable structure that we could shoot from all angles, but make it feel big and make it look like it had been there for a long time. It pushed our team to use all of the tricks in the book to make the massive pile of boats look impressive, but ultimately not take itself too seriously to stay within the comic style of the movie."

The climax of the film takes place at Tartakovsky's vision for the lost city of Atlantis – a cartoonishly large monolith that rises from the sea, protected by its crooning kraken. Once again, we wanted to give the location complexity and detail that would make it feel like a real place in the world of Hotel Transylvania. 'The city of Atlantis rises thousands of feet from the sea, so logically there's a ocean theme for the casino," says Ford. 'The casino itself is a giant aquarium – it's all glass, with fish and whales swimming above and below us. And of course we also added in all of the casino elements that you'd expect to see: bright lights, gaming tables, slot machines. For each of the slot machines, we created motion graphics – so that when a character pulls a slot machine, the screen actually animates. And there are dozens of different machines so there was a lot of artwork generated for each machine and it really adds to the feeling that the audience is in a real place."

Adding complexity to an already complex world was the fact that all of these sets – the cruise ship, the volcano, Atlantis, to name a few – were on water. 'Genndy's cartoony style doesn't necessarily lend itself to the physics of real water that our software likes to emulate," says Ford, 'and every single location has some sort of effects or simulation component to it. For example, not only is the cruise ship moving on the water, but it has an Olympic size swimming pool on it that we have a volleyball game in. Along with this we also needed to solve for really big impacts of large characters like the Kraken moving and dancing through the water."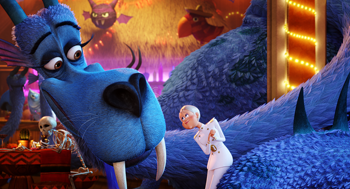 The kraken's effect on the water also offered a challenge that was equal in size to the monster itself. 'It sounds weird to say, but if things are too big in the computer world, it starts to break and fall apart," says Hawkins. The simulation software just isn't made to work at the extremes.

The solution, says Ford, was first to look a reference footage of large scale water events to see how it behaves. 'Our effects team looked at crashing waves, we looked at boats getting launched to sea or other large objects hitting the water, like giant ice structures falling into the ocean. In all of the reference, there's a lot of water vapor that gets generated and the water tends to get very aerated and white. We really paid attention to emulating that vapor layer and that helped push the look into something that felt right," he says.

From there, Ford continues, the "effects team needed to find new ways of simulating water with Genndy's unique animation style. We can play with time in our simulations – so we slowed down the speed at which a giant tentacle hits the water so that the splash wasn't as explosive. We did multiple simulations –one simulation when the tentacle hits the water, another when it's under the water and blended them, mixing multiple elements together, to create the look that Genndy wanted."

With the sets and locations designed, Hawkins and his team could bring the characters to life. In Hotel Transylvania 3: A Monster Vacation, two new main characters led the way: the ship's captain, Ericka, and her great-great-grandfather, the legendary monster hunter Abraham Van Helsing.

'Genndy came with a strong idea on Ericka from the very beginning," says Hawkins. 'When she's in deception mode – when we don't know that she's evil – she is very sweet and all of her dialogue sounds very pleasant, so we animated her as soft and warmly as possible. We kept her very calm and slow and smooth, in a way that characters don't usually move in the Hotel Transylvania world. When you're first introduced to her on the boat, you see her move in a way that's a little outside of the style of these films. But when she gets into her evil reveal, she starts moving a lot more sharply and quickly, her lines are less soft and rounded, and she gets a lot more straights in her posing. It was important to Genndy to create a character that's a match for Dracula, not just emotionally but physically. Dracula is our most pushed character – he can do almost anything – and so with Ericka, we had to find a way to do that as well. When she's being really evil, she's doing some pretty extreme stuff that is on par with what Dracula can do."

If Dracula and Ericka are the most pushed characters in the way they are animated, then Van Helsing is likely the most pushed in the way he is designed. 'That's Craig Kellman," says Wills. 'He's one of the best character designers in the business. Every version he gives you is a home run. He gives you designs that are so over the top and outrageous – and Genndy became his champion and didn't water them down, especially with Van Helsing. It's nice to see what Craig drew get up there on screen."

'His body is a machine, so it's rigid and that saved us a lot of time," says Hawkins. 'All the emphasis on animating him went into his face and hands. He's got a lot of jowly bits, so it was a bit of extra work animating his jiggle and overlap. We tried to keep him funny and silly and just a little gross – he's still the bad guy, but someone you can laugh at."

There are changes to the main characters, too, as all of the characters get a costume change for their vacation. 'Some of the wardrobe changes made the animation easier, and some of them made it harder," says Hawkins. 'Dracula, for instance, has his little short-shorts and Hawaiian shirt, which made it easier for us, because one of the biggest challenges in animating him is the cape – the cape is almost a whole character in and of itself. Mavis was a little harder because she has a sundress that is less form-fitting than her other outfit. We had to work closely with the simulation department and make sure that her structure underneath made sense so that the clothing relaxed into shapes that were appealing."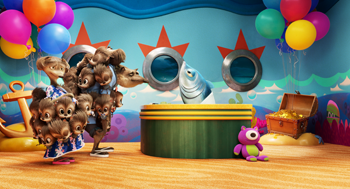 Fun Facts

• Director Genndy Tartakovsky voices Blobby and Blobby Baby.
• Producer Michelle Murdocca is the voice of Drac's phone assistant as well as Kelsey, the tentacle monster who says 'Look, it's a giant Kraken!"
• All the Gremlins from the monster airline are voiced by actor Aaron LaPlante.
• The birthday party sign in front of the cruise ship's Kids Club lists names from the actual production crew.
• Artists from 43 different countries worked on this film.
• After completing Hotel Transylvania 2, director Genndy Tartakovsky's parents-in-law treated his family to a cruise vacation; as he saw other families interact on what felt like a hotel on the water, he was inspired to write a script for a third film that would explore the comedic and cinematic possibilities of having Drac and his pack vacationing on a ship
• Genndy didn't want the Fishmen to bend forward because fish can only bend sideways so he asked animators to have the least amount of movement for them as possible; sometimes in scenes only their mouths or eyes move.
• In order to figure out how to animate a scene in which champagne is thrown at Drac's face, the head of model rigging had a champagne bottle opened towards his face a dozen times to see how it works (apparently it stings).
• If you look closely during the Bermuda Triangle sequence, you may spot several actual famous boats that allegedly disappeared in the mysterious location.
• Over 5,700 portholes were created for the ship.
• The movie was storyboarded over a period of 15 months and artists created a total of 90,000 story panels; of thoe only 10,000 panels actually made it in the movie.
• Dennis' giant dog Tinkles was first introduced in the short film Puppy! which was released in theaters in July 2017. He was initially supposed to only have a brief cameo in Hotel Transylvania 3 but audiences responded so strongly to his character that his part became a key roll in this film.
• In the short film Puppy! released a year before this feature film, Mavis can be seen reading the travel brochure for the actual cruise ship from Hotel Transylvania 3, months before it was officially revealed to the public.
• Abraham Van Helsing was a ghost in an early version of the script.
• La Llorana (Weeping Bride) can be spotted in the crowds in several sequences.
• One of the ships in the Bermuda Triangle was named after director Genndy Tartakovsky's wife, Dawn.
• Pay close attention to the snack packs handed out by the Gremlins crew to passengers in the airline; many jokes were slipped in on the packages.


Hotel Transylvania 3: A Monster Vacation
Release Date: June 28th, 2018