SLIME SQUAD VS THE CYBER POOS

Book 3 in the exciting and hilarious young series from bestselling Steve Cole, author of Astrosaurs and Cows In Action. It's THE A TEAM meets MONSTERS, INC - with a whole lot of slime!

Mad scientist Godfrey Gunk had a dream - a dream of creating a whole safari park of monsters on an old rubbish dump. It didn't work. Little did Godfrey know that actually after he left the rubbish dump, his dream came true . . .

Meet the inhabitants of Trashland, a whole world of different types of slimy monsters who all live peacefully alongside each other - at least they used to. . .

When the superhero Slime Squad's all-seeing, all-knowing PIE begins to have his computer compenents stolen they set out to tackle the crinimals. Little do they know they're about to face a whole load of cyber-poos!

It's time to fight crime with slime!

SLIME SQUAD VS THE CYBER POOS
Random House Australia
Steve Cole
ISBN: 9781862308787
RRP: $7.95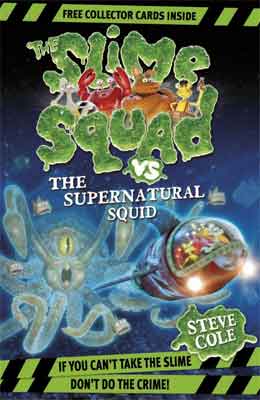 SLIME SQUAD VS THE SUPERNATURAL SQUIDS

Ghostly squids have been glimpsed in the waters round Trashland, and massive tentacles have snatched monsters in the night, dragging them into the water never to be seen again. The Slime Squad, and their Slime-Sub must investigate.

It's time to fight crime with slime!

SLIME SQUAD VS THE SUPERNATURAL SQUIDS
Random House Australia
Steve Cole
ISBN: 9781862308794
RRP: $7.95


Steve Cole is one of the most prolific children's writers working in the UK today. In 2010, Steve will publish more than 25 titles with Random House Children's Books including a picture book, a teen action thriller with bomb disposal expert Chris Hunter, a handful of new Astrosaur books, a couple of Cows in Action titles as well as launching his brand new series Slime Squad- phew!

Born in 1971, Steve Cole spent a happy childhood in rural Bedfordshire being loud and aspiring to amuse. He liked books, and so went to the University of East Anglia to read more of them. Later on he started writing them too, with titles ranging from pre-school poetry to Young Adult thrillers (with more TV and film tie-ins than he cares to admit to along the way). In other careers he has been the editor of Noddy magazine, the voice of a Dalek and an editor of fiction and nonfiction book titles for various publishers.