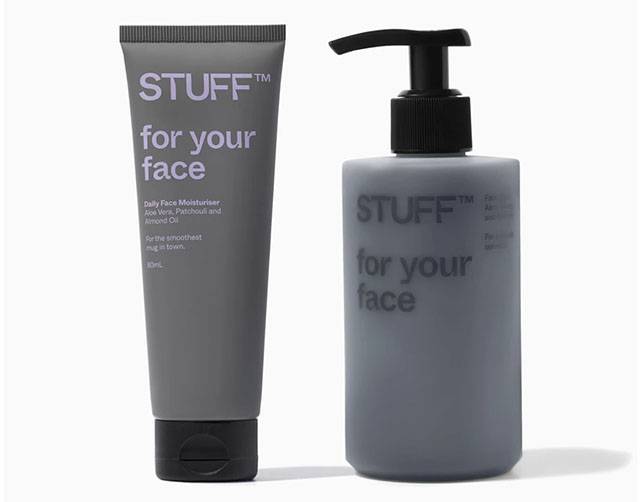 Say g-day to our second buddy to join the STUFF for your face line up:
STUFF Daily Face Moisturiser
Thing it as a trusty mate who brings out your best. Non-greasy and fast-absorbing, it contains nature's wonder-plant Alo9r Vera to moisturise, hydrate and nourish the skin, while helping to treat any inflammation or irritation. Then there's Almond Oil to soften and recondition the complexion, plus Patchouli Oil to promote cell regeneration, cal the skin and uplift the spirit... because we are all about leaving you looking and feeling good.
RRP: $25.00
The perfect partner to STUFF Face Wash, this refreshingly cool Daily Face Wash is intended for use on a regular basis to ensure the smoothest mug in town.
It'll help regulate oil production and control breakouts for a deep clean that keeps skin feeling smooth and soft. Why not just rinse my face with water, you ask? Well, would you clean your car or your dinner plate with just water? Hmm, maybe you would, but that's not the point – bacteria, dirt, oils and other stuff builds up and you gotta keep on top of it if you want skin that looks (and feels) on point. Ingredients include: Sweet Almond Oil, Charcoal, Aloe Vera.

RRP: $25.00
@followthestuff
Review: This STUFF is so good, the ingredients are the right mix of powerful and soothing and leave your skin looking refreshed. They have kept it really simple, which is how it should be, how about a women's range now.