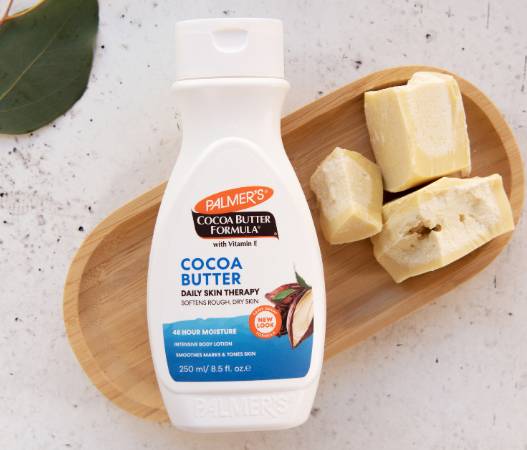 All Palmer's products are developed using scientific expertise to unlock and harness nature's most powerful ingredients to help women feel their most beautiful and confident selves.

Palmer's Cocoa Butter Formula has been a staple product for Australian consumers for over 20 years. Unashamedly thick and rich, the formula melts uponcontact with the skin skin to deliver powerful antioxidants deep into skin layers, forming a protective barrier for longer lasting hydration. Cocoa Mass Polyphenols support collagen retention and production to assist with natural skin firming andsmoothing benefits. Plus that delectable scent that Palmer's is known for!
The #1 Cocoa Butter beauty brand* has a whole new look and feel, that harness nature's most powerful ingredients to provide efficacy and results!
Cocoa Butter Formula Lotion Daily Skin Therapy
The original Palmer's Cocoa Butter Lotion landed Palmer's the title of #1 Cocoa Butter beauty brand in the World, and the whole new look issure to impress. The iconic rich, luxurious lotion,made with pure Cocoa Butter, melts on contact with the skin, helping to penetrate with antioxidants and lock in moisture. Naturally loaded with Cocoa Mass Polyphenols for superior moisture barrier protection, this skin staple is set to leave the skin soft, smooth and deeplynourished.
Available in 400mL for RRP $10.49
Available in 250mL for RRP $7.79