The Mother Of All Comedies
Emily Middleton (Amy Schumer) is an impetuous dreamer. She has ambition, but has just never been able to get it together. At least she has her newly successful musician boyfriend, Michael (Randall Park) or so she thought. Right before their exotic vacation, he dumps her being that he is on the cusp of stardom and believes there is a lot of or groupies on the road for him. Not only does he break her heart, he leaves her stuck with two non-refundable tickets to paradise.
Emily reluctantly turns to the one person who says yes, her mom Linda (Goldie Hawn). Emily and Linda's relationship has become distant, but Linda never let that stop her from posting on her social handles. 'She's a very nice person who is a little bit afraid of everything," Hawn says of Linda. 'She puts multiple locks on her door, lives with her cats and her son and that's her life."
Linda Middleton has no room for adventure in her quiet, suburban life. Linda is your typical ultra-conscious, over protective single mom who takes pottery classes and walked on the wild side in her younger days. 'Her husband left her, and I think that affected her a little bit," Hawn says of Linda. 'I think that was something that made her feel not that attractive in many ways. She wasn't ready to get out into the world."
Intrigued by her mom's adventurous past and also just needing someone with a pulse, Emily decides it's time for her mom to spice up her life again and ask her to join her on this once in a lifetime trip. 'Emily invites Linda on the trip because she cannot find anyone else to go with her," says Schumer. As with any mother, Linda is concerned for their health and safety, but once she learns her daughter broke the cardinal rule of travel by purchasing non-refundable tickets, she was in.
Help me put the FUN in non-refundable.
-Emily Middleton
Once they arrive in paradise these polar opposites immediately clash on everything from to how much sunscreen to use to the proper usage of flip flops. Emily thwarts any hopes for mother-daughter bonding. 'This is not her chance to get close to her mom," explains Amy Schumer. Despite Emily's intentions, Linda sees the vacation as an opportunity. 'Linda goes on the trip because she wants to spend time with her daughter," Schumer continues. 'She's desperate to spend time with her daughter."
Put this on, it's a rape whistle.
Mom, this is a dog whistle. Is this in case I'm getting raped by a dog?
-Linda and Emily Middleton as they arrive in Ecuador
Needing a break from the smothering, Emily heads to the hotel bar where she meets the very handsome James (Tom Bateman) who convinces the pair to come with him on a road trip to explore the local culture. 'She gets charmed by me very quickly," says Tom Bateman.
Smitten by James and busy taking selfies, a distracted Emily ignores her mother's distress signals not realizing they have been lead into a trap orchestrated by the treacherous Morgado (Oscar Jaenada). 'Morgado is one of those guys you don't want to mess with," says Schumer. Snatched, disoriented and locked in the trunk of a car, Linda and Emily escape by accidentally killing one of the henchmen and hitching a ride on the back of a truck.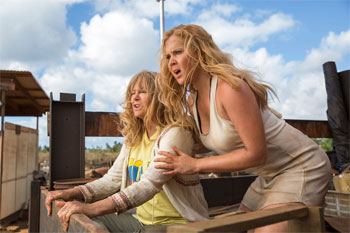 Ok, don't panic. I got this.
Emily, this is a real phobia of mine.
Being tied up in a trunk? I think everyone has that one.
-Linda and Emily Middleton while they are tied up in a car trunk.
Reaching civilization, sort of, they come upon a shanty town with a pay phone. They decide to call the one place they know will do whatever it takes to save two American women stranded in a foreign country fighting for their lives, the US State Department. On the other end of this call is Morgan (Bashir Salahuddin) who is less than sympathetic to their situation.
. . . when you travel internationally, you take a risk. People are mugged, kidnapped, murdered every day. I've gotten three calls like this since lunch.
-Morgan, US State Department Clerk
Desperate, Emily & Linda turn to Jeffrey (Ike Barinholtz) Emily's agoraphobic brother, for help. 'Jeffrey's a guy who lives his life online, with video games, chat rooms, and Reddit," Barinholtz says. 'He's definitely a momma's boy, and he still is kind of stuck in some kind of perverse adolescence." He decides the way he can help is to relentlessly call Morgan from the State Department.
Having zero faith in Jeffrey, Emily and Linda make one last call to the imperiled duo they befriended at the resort in Ecuador, Ruth (Wanda Sykes) and Barb (Joan Cusack). Barb is retired special ops who is always ready to return to action when necessary and voluntarily became a mute for national security. 'Barb made a strong choice to not speak because she spent so many years in Special Ops, and then the CIA, and didn't want there to be any issue with spilling the beans," says Cusack of her character. 'Ruth is Barb's hype man, since Barb can't talk," Sykes says of her Ruth's relationship with Barb. 'Ruth has to tell you how great Barb is, and then we get to see that Barb has these skills."
After assessing the lack of immediate help they've received, they are forced to face reality. They are on their own and must work through their differences if they are going to survive. Having found a new sense of strength and support for one another, Linda and Emily meet Roger (Christopher Meloni), a guide who exhibits questionable abilities as an outdoorsman, but promises he will get them safely to Bogota.
Snatched is not only a journey from New York to the jungles of the Amazon, it is an emotional and hilarious exploration of the ever evolving relationship between a mother and her daughter. 'I think in the beginning, she thinks that she's doing her Mom a favor by forcing her to go on this trip. She thinks she's going to help her and it's going to be a great adventure," says Katie Dippold, the writer of Snatched, about Emily. 'I think deep down, Emily looks at how her mom is living and doesn't want to end up like that. She thinks if she can make her mom have this awesome life, then that will make her feel better about her future. She then realizes that she's a pretty selfish person."
Coming to terms with her immaturity and selfishness, Emily gets a newly found understanding and respect for Linda. With this, comes the determination to get them out of the mess she created. " The greatest lesson of all is she learns that she will never have a better friend or advocate than her mother.
Casting An Icon
Rewind to the mid 80's when a young Amy Schumer watched her parents' VHS tapes of 'Private Benjamin," 'Overboard," 'Wildcats" and every episode of 'Laugh-In" she could get her hands on. 'Goldie Hawn has been my hero. I've loved her my whole life," says Amy Schumer.
For Snatched, Amy Schumer had only one person in mind to play her mother: Goldie Hawn. 'She's made me laugh probably more than anyone, and I only ever saw her in this movie." Amy Schumer had a serendipitous encounter with Hawn when the two actors wound up on the same cross-country flight. 'It was destiny," Amy Schumer exclaims. 'I stopped her in the airport and said, -I really want to make this movie with you. This is happening.'" At that time, Goldie Hawn was not familiar with Schumer and kindly responded 'OK, honey. Thank you so much."
When the two met again at a party a couple years later, Hawn took the offer more seriously. 'I saw Trainwreck, and that's when, to me, a star was born. I thought, -OK, this is someone who can do it all.'"
When the official offer for Snatched came along, Hawn considered the role in the larger context of her life's work. 'Everything that I've ever done in my life has to bring joy," Goldie Hawn says. 'I thought, -Hmmm. I wonder if there's more joy to bring, more things for me to do.'"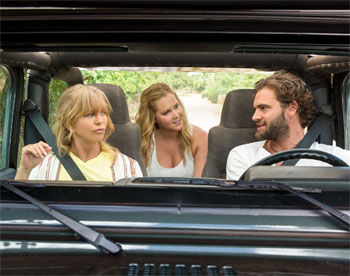 Snatched marks Goldie Hawn's return to the silver screen after a fourteen-year hiatus. 'I never missed it. I really didn't," Goldie Hawn says. 'I'd spent many, many years in front of a camera and producing. I really loved it. But I got to a time in my life when I think, just philosophically, -what else am I going to do?'" Never content to remain idle, Goldie Hawn turned her focus to her charity, The Hawn Foundation, and developed a school program used by nearly a million students around the world.
Casting Everyone Else Who Is Not An Icon
For this film, Amy Schumer rounded up the who's who of comedy to join her on this outrageous comedic adventure. Leading the pack, of course, is Goldie Hawn along with veteran actress and two-time Academy Award®-nominee Joan Cusack ('Working Girl") who took on a role of Barb which required only nonverbal communication. 'I thought, -I've never had that option, and may never have that option again,' Joan Cusack says of playing Barb. 'It seemed like a good challenge. I knew there were funny people around, so it wasn't such a huge risk."
Cusack also embraced the opportunity to work with comedy legend Goldie Hawn. 'For me, there's Barbra Streisand in What's Up Doc?, and there's Goldie Hawn in Private Benjamin. I don't think you can do better than that for interesting, smart, funny, and beautiful," Joan Cusack says. 'It was written that Barb didn't speak, and then I think some people in Hollywood were like, -Well I can't show my client a script with no lines,'" Amy Schumer jokes. 'I'm like, -I'm an actor and I'm telling you, no one wants lines.'"
Amy Schumer was also eager to have fellow stand-up comedian Wanda Sykes ('Black-ish") join the production as Ruth. 'Working with Wanda Sykes, especially on this movie, is meaningful for me. She's one of my favorite standups and a friend, and she really makes me laugh," Amy Schumer enthuses. 'I love Amy Schumer, especially doing stand up," explains Wanda Sykes. 'To be a part of a movie with her and Goldie Hawn and a bunch of strong women - that was a big draw."
Joan Cusack and Wanda Sykes formed a rapport immediately. 'They've developed their own dynamic off screen, where they help each other and coach each other through the scene, which is nice for me as the director. They're taking responsibility for their own dynamic and they're working it themselves. They need that chemistry because it's important to their character, to play old friends," director Jonathan Levine comments.
During their stay, Emily meets the handsome James, played by Tom Bateman ('Murder on the Orient Express"). 'He auditioned for us and was really great and really funny, and evidently he's really hot. I think he is. The scenes between him and Amy are so fun for me because they're romantic, and they funny, and yet there's an interesting tension to them. The two of them have great chemistry together," Jonathan Levine says.
Jason Bateman notes that he was constantly aware of the formidable talent of his co-stars in his comedic 'trial by fire": 'I remember a scene we were doing with Amy Schumer, Joan Cusack and Wanda Sykes, and I thought, -This is the big time.'"
Playing Emily's basement dwelling, video game playing brother is Ike Barinholtz ('Suicide Squad") who Hawn immediately became a fan of when they shared scenes. 'This was like watching him fly," Goldie Hawn says of the seasoned improvisational actor, who recently starred alongside Tina Fey and Amy Poehler in Sisters. 'This was all improvised. It went right from a few lines into the stratosphere."
Randall Park ('Fresh off the Boat") portrays Michael, Emily's hip musician boyfriend who sets the story off by dumping Emily. 'He is such an original, interesting, funny actor. Once I had it in my head that he could play Michael I couldn't get past it, and no one else could," Amy Schumer enthuses.
Park was eager to re-team with Amy Schumer after a small role in Trainwreck. 'He's a guy in a band that's just getting some recognition, and he just wants to get ass," Amy Schumer says of Michael. 'He's like, -I've now come to a place where more girls will touch my penis and I want to explore that.' And you can't really blame him." And Michael's grunge look? 'I just wanted to wear a wig. I'm wearing a wig and that is everything to me. It just helps me be -that guy,'" Randall Park jokes.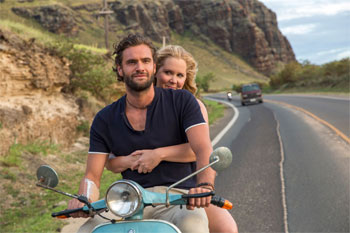 'He's only here for one day, but his presence is felt throughout the movie because his breaking up with Emily is what inspires her to bring her mom on this trip. The breakup sets the whole story in motion. Randall Park is doing something that I have not seen him do before. He created this whole character of this Williamsburg Indie rock guy," Jonathan Levine says.
Bashir Salahuddin ('Late Night with Jimmy Fallon") plays the state department agent who takes Jeffrey's call for help. 'I do most of my stuff with Ike Barinholtz, the funny, talented, completely fucking out-of-control Ike Barinholtz. They let us have some fun and improv, and we're just kind of going for it. We're both Chicago guys, so we take our comedy very seriously. It's been amazing to work with that caliber of a performer."
Christopher Meloni ('Law & Order: SVU") stepped into the role of Roger, an explorer searching the Amazon who guides Emily and Linda through the jungle. 'Chris Meloni is so funny and so talented. Wow, is he funny," Goldie Hawn says. 'Every day in this movie somebody else comes on and just thrills us with their ability to be funny and smart and off the cuff and improvise, and he's our new favorite."
'Between Bashir and Ike and Randall and Christopher and Tom, we have sort of an embarrassment of riches, of people that have come through and made us laugh," executive producer Tonia Davis says.
Along the way, Emily and Linda also meet Arturo Castro ('Broad City") as a doctor who saves Emily from life threatening tapeworm. 'My mom always thought I would be a doctor, so this is the next best thing. Sorry, ma."
From Lunch To The Big Screen
Chernin Entertainment is responsible for such hits as the action comedies 'Spy" and 'The Heat" the latter of which was written by a former television writer and lover of buddy-cop movies, Katie Dippold. At a lunch meeting with Peter Chernin and Jenno Topping celebrating production wrapping, Katie discussed a script she was working on that was loosely based on her own life. 'We made -The Heat' with Katie and loved the experience of working with her," says Topping.
'Based on just one or two sentences, Peter and I decided to buy it from our discretionary funds, develop it and got Amy Schumer on board." Distinguished comedy director Paul Feig ('Bridesmaids") also enjoyed working with Dippold on 'The Heat" and signed on to produce alongside his producing partner Jessie Henderson. 'I made -The Heat' with Paul, Peter, Jenno, and Katie and we were so excited about working with Katie that we wanted to do additional projects with her," says Henderson. 'She was always telling us warm (and of course funny) stories about her relationship with her mom, and then she figured out how to make that relationship into a movie."
Katie Dippold looked homeward for inspiration when writing Snatched. 'My mom is a lovely, wonderful woman, but I feel like she's gotten too cautious," Katie Dippold shares. 'I started thinking about taking her on some crazy trip, and taking us off the beaten path just to shake things up." With that, the story of a South American mother-daughter adventure was born.
Once Amy Schumer signed on to star as Emily, Katie Dippold worked with Amy Schumer and Amy's co-writer Kim Caramele to make the character more in Amy Schumer's voice. 'We all have a very similar sense of humor," Katie Dippold says of Kim Caramele and Amy Schumer. 'When you work on something for so long and you get tired of it at points, and then you get a pass back from two people who you think are so smart and hilarious." Schumer added some masochistic personal touches to her character. 'I have trouble remembering who wrote what joke unless it's something very mean about myself or something where I'm physically humiliating myself," the self-deprecating Amy Schumer jokes of the trio's creative process.
Desperation forces Emily and Linda together. Emily has suffered a breakup and Linda begrudgingly takes his place. 'Linda has no interest in going to South America. Her dream trip would be going to a flea market in Maine, or any shopping situation in the United States of America," Katie Dippold notes of Linda's cautiousness. 'She goes because she doesn't want her daughter to go by herself, and because her daughter's in pain going through this break-up, and she wants to help her."
'Amy and Kim are very smart, and I feel like there is a center of our senses of humor, the things that make me laugh the most. It was awesome to get new life breathed into it," Katie Dippold says of the collaboration. 'We just hit it off and have very similar sensibilities," says Amy Schumer of Katie Dippold. 'We've all seen a lot of comedy and written a lot and we're all kind of we're nerds."
Filming In The Jungles Of Oahu
With the script in place, director Jonathan Levine (50/50, The Night Before) signed on to direct. 'We already loved his movies, and then I met him and we have the same temperament. There's no ego. Everyone's an equal. It's collaborative. He's the boss and his word goes, but he doesn't exercise that unless he really needs to," Amy Schumer says of Jonathan Levine.
Production began on May 31, 2016 at the brand new Four Seasons at Ko'Olina on Oahu, which doubled for a resort in Ecuador. Any production would have a difficult time finding a hotel willing to close its pool for filming, but for Snatched they were willing to compromise. 'They've been so gracious to us. It photographs beautifully and it's just a beautiful place to be," Jonathan Levine says.
The cast and crew moved all over the island to capture city, suburban and tropical locations. 'The crews are great, and there are so many different looks. We have the jungle, beautiful resorts and even New York downtown. It is a beautiful place with wonderful, welcoming people. We're very lucky to be here," Jonathan Levine says.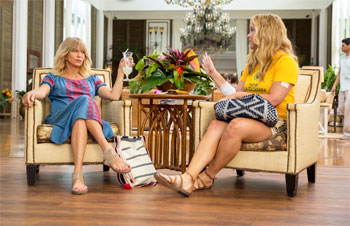 Production designer Mark Ricker had the unique task of creating all of the separate worlds of Snatched. For the bar where Linda and Emily meet Roger, Mark Ricker looked to his own travel photos. 'The specific inspiration came from one of my backpacking trips through Costa Rica or Guatemala. I went back through the archives and found some photographs," Mark Ricker says.
As James courts Emily, he takes her to a romantic, magical local haunt with bottles and lights hanging from the trees. Mark Ricker built a history to inform his design: 'In my mind, I decided that this was a place where locals have come for generations. If you had a drink you tipped a kid and then he'd climb up and hang the bottle. We tried to just create something that felt like layers of years and years and, a magical place that Amy's character would be seduced by."
Another set allowed Salahuddin and Barinholtz to improvise during their phone conversation scenes. In order to ease the improvisational moments between the two actors, Levine built Agent Morgan's office inside of Linda's living room. Jeffrey and Morgan's phone conversations were conducted only feet apart. 'We shot two cameras at the same time, so that they could play off each other," Jonathan Levine says. 'I think it really enhanced the performance and it also allowed them to sort of play off each other, um, in a way that they wouldn't have been able to do if we had done a phone call separately."
Costume designer Leesa Evans had the unique challenge of two stars who don't change clothes for much of the movie. Evans had nine different versions of Goldie Hawn's 'Hola" look, and Amy Schumer's white dress, all with progressive degrees of disrepair. Hawn, for one, didn't mind Linda's casual costume. 'I love my -Hola' shirt because I get to wear it through the whole movie. And I love it because I think it's funny. I like the color yellow. I just go in and I throw that shirt on, I know just where the microphone is going, I know exactly and I get dressed in about three minutes and I'm happy and I have nobody pulling and yanking at me all day long."
Executive producer Kim Caramele ('Trainwreck") joined her sister for the retail store scene that opens the movie. 'It's so fun getting to do a scene with Amy. We do a lot on the TV show together, but it's always also a little nerve racking because she's so funny. When you're in front of the camera and as soon as they yell -action,' she's really unpredictable. She's going to try and do things deliberately to make me laugh. She likes messing with me."
Amy Schumer and Goldie Hawn's kinship enhanced all elements of the production for Jonathan Levine. 'Seeing Amy Schumer and Goldie Hawn together for me is really exciting. They're incredibly strong actors and obviously incredibly funny, but they find the human moments, too, and will do anything for the joke, above everything else. Seeing the way they play off of each other is really special," Jonathan Levine says.